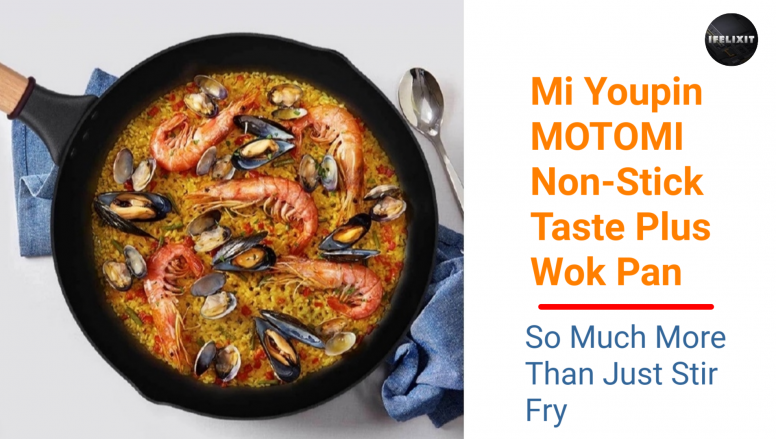 It's no secret that I'm a die-hard fan of Mi devices and gadgets. Mi Youpin MOTOMI Non-Stick Taste Plus Wok Pan is a Non-stick wok which is a no-brainer for the entry level cook or hobbyist like myself. It does not have to be seasoned and it's easy to clean.
Youpin MOTOMI is under Mi Ecosystem, let's see the key features of the wok. What a wok? Woks date back 2,000 years to the Han Dynasty in China. Wok simply means cooking pot in Chinese. Woks traditionally have rounded bottoms and very smooth, rounded edges, perfect for heating quickly and evenly over a small flame. They typically have long handles that allow them to be shaken during cooking, sometimes eliminating the need to stir at all. They are best known for stir fried, with the heat source centralized. It can be used for a variety of cooking tasks, for braising, making sauces, soups, deep frying, steaming and more.
Key Features:
Compatible with multiple stoves: Gas stove, Induction cooker, Convection oven.

MOTOMI Super Non-stick: Selected high-end C3 series non-sticky layer of Grebe Industrial Coatings.

Bleached wooden handle for anti heat and design.

Coin lock design: Using a coin to dismantle the handle and convenient for picnic.

Safe and Healthy: Aluminum Alloy body, non-harmful materials, able to resist high heat and fast heating.

Tough Pan Cover: High-quality tempered glass with edges made of silicone for safety, durability, practicality and comfortable to use.

Diameter: 30cm

Capacity: 5.2L



Note: Don't use a scouring pad or anything abrasive. Avoid heating a Nonstick woks to extreme heat as the coating will deteriorate.
With contemporary time, it comes with a lids which is good for steaming.
The handle is made of bleached hardwood.
With the help of a coin just use the coin to push and twist the screw slot to fasten/unfastened the handle.
For a lasting use of the Non-stick surfaces, use the included wooden cooking spatula or reinforced polyamide plastic or bamboo spatula.
Here some of the dishes cooked using the Mi Youpin MOTOMI Non-Stick Taste Plus Wok, it's drooling and scrumptious.
Indonesian Pork Cooked In Soy Sauce With Ginger
Stir-fried Egg Tofu with Ground Chicken
Chinese Stir-fried Eggplant and Green Beans.
Stir-fried Cauliflower and Broccoli.
My Thoughts
Mi Youpin MOTOMI Non-Stick Taste Plus Wok is fantastic, it gets heated up very fast on the induction cooker, I presumed it will be the same using gas although I have not tried. When it comes to the functionality of a wok, the heat is widely spread which is an advantage and heat retention is superb, very good for green vegetables like cooking Chinese Kale which will retain the green color when being served fresh. The downside, I would suggest it comes with a heat sensor to gauge the ideal cooking temp or to alert the cook of overheating. As cooking is my hobby, I am very much aware of the common technique and precautions of cooking.
"Realizing the Mi Fan's Dreams"
Related threads