Hello Mi Fan's
While Huawei is still reluctant to officially unveil the Kirin 9000 chipset that will power its upcoming flagships, AnTuTu and Geekbench results have leaked in sufficient quantities for an early look at the performance we can expect.
Let's start with the GPU, a Mali-G78 (core count unknown). It scores 287,000+ points, well ahead of the current Android champ, the Xiaomi Mi 10 Ultra's Snapdragon 865+, which posted a score of 258,171. However, it's slightly behind the Exynos 1080 graphics score.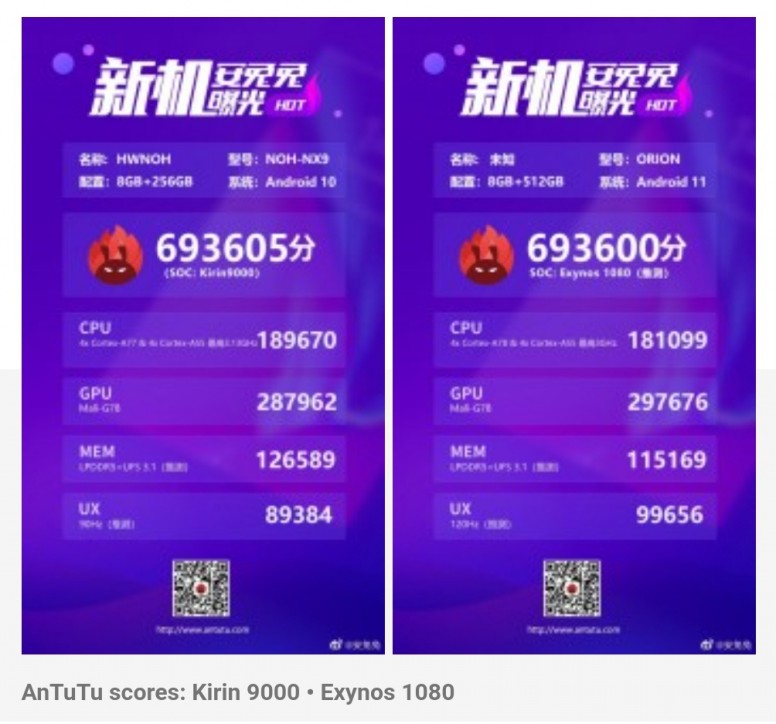 Huawei has the first mover advantage as the Mate 40 should be out this year (and probably some Honor models too, assuming chip supply resumes). The new Exynos chips may arrive next year (it depends on when vivo launches the X60, according to Ice Universe).
This phone, NOH-NX9, features a 90Hz display and runs Android 10 (with EMUI) on 8GB of LPDDR5 RAM and 256 GB of UFS 3.1 storage. It's not quite clear which phone this is exactly, though a Huawei Mate 40 is the most likely suspect (as those will be the first with the Kirin 9000).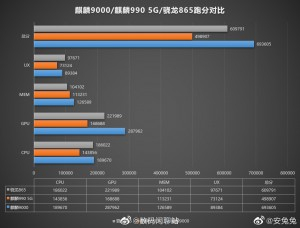 Comparison: Kirin 9000 vs. Kirin 990 5G vs. Snapdragon 865
Moving on to the CPU, AnTuTu is a tad more detailed in its report than Geekbench. It reveals that the big Cortex-A77 cores are clocked at 3.13 GHz. This is higher than even the Snapdragon 865+, which is the current leader in mobile clock speeds with a prime core running at 3.09 GHz. This is partially due to the improved process, 5 nm.
The A77 is an older generation, however, it was used in some 2020 chipsets. It's still an upgrade over the outgoing Kirin 990 5G, promising 20% higher clock-for-clock performance over the A76 cores.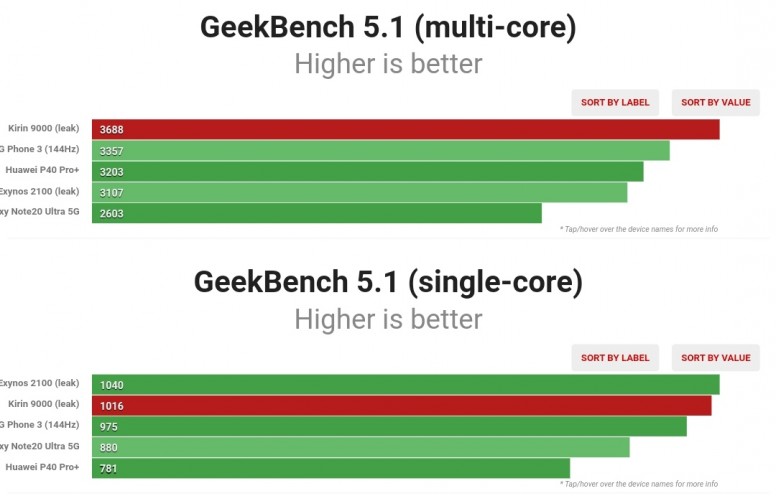 The Kirin 9000 beats the current Snapdragons in single-core and multi-core performance, though we should see the first phones using the Snapdragon 875 in the first quarter of next year, which may tip the balance of power back the other way.


Source