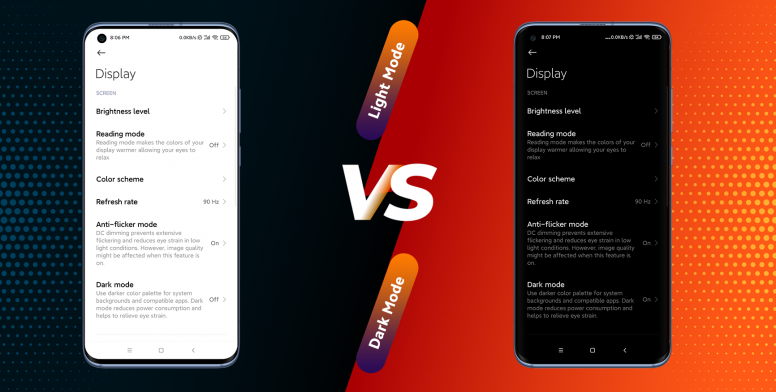 Hello Mi Fans,
The battle between dark mode vs light mode is simply never ending! Since its inception Dark mode has definitely taken over the tech world. Users everywhere have different tastes, different expectations, different reactions to certain stimuli, but there will always be an ardent fan base for Dark UI. Dark mode is believed to be an eye-friendly alternative to the traditional blindingly bright user interfaces sported by most apps, sites, and platforms. But many of the users have immense preference for the light mode as well.
MIUI 12's revamped Dark Mode undoubtedly gives you an aesthetic appeal with it's cool and sleek looks. It can reduce strain on eyes & save battery on your device. A feature that's apt for low light condition as well. And you can also enable it for 3rd party apps too. Also built-in dark mode capabilities will tout smart wallpaper dimming.

One of the biggest benefits of dark mode is that it is better for your eyes. Everyone's been through the pain of sitting in a dark room whilst being blinded by the brightness of your screen. By turning your screen dark, you can surely give some relief to your eyes. While dark mode is absolutely amazing there are situations in which light mode is far better for you and your phone, you just need to realize when those moments are. Like I always feel that light mode is far better for you when sunlight is present.
Many are of the opinion that Dark Mode might stand out for general usage, as it is less harsh, and saves power. But for specific tasks such as reading and other tasks performed for extended periods of time, Light Mode is the way to go. What do you think? Are you using dark mode on your Mi Phone? Or you are on the Light Mode side? Share with us!
Dark Mode or Light Mode: Which One Do You Prefer For Your Mi Phone?
Take part in the poll and share your thoughts below!