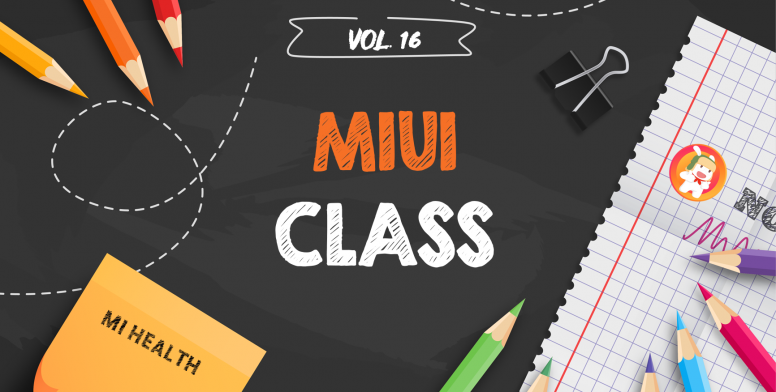 Hello Mi Fans,
With MIUI 12 Xiaomi has revamped the Mi Health with a plethora of useful and interesting features. Our self-developed AI motion behavior perception algorithm is based on Xiaomi MACE Micro. Not only is the data accurate and high-precision, it also saves power, and the power consumption is less than 1% * throughout the day. Mi health app automatically records the whole day's exercise including Walking, running, riding, and climbing stairs on your phone. With MIUI 12, Xiaomi introduced a couple of new features which brings improvements for the step counter, new sleep tracking features, and a sedentary reminder. And over all the entire app interface is much clear and simpler. The data displayed are well sorted and easy to understand.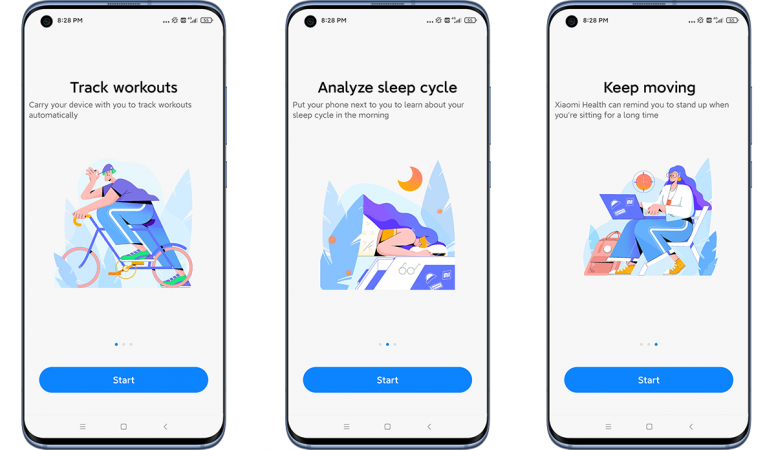 Lets see the app's features and functionalities:
At the home page there are 7 tabs - Workouts, Sleep, Weight, menstruation Data, Standing up counts, Blood pressure and Heart Rate. You can click on respective tabs to have a detailed view on related data & statistics. You can track your step count using Mi Health. More advanced functionality includes sleep time and duration tracking. It can apparently track sleep in the background, too. You can also track menstruation cycles by putting in a starting date in the calendar. The app will also let you set exercise goals and give you Health Scores based on the activity it tracks about you like your sleep, step count, and BMI (Body Mass Index). Lastly, it will recommend you increase your goal if you start reaching it consistently.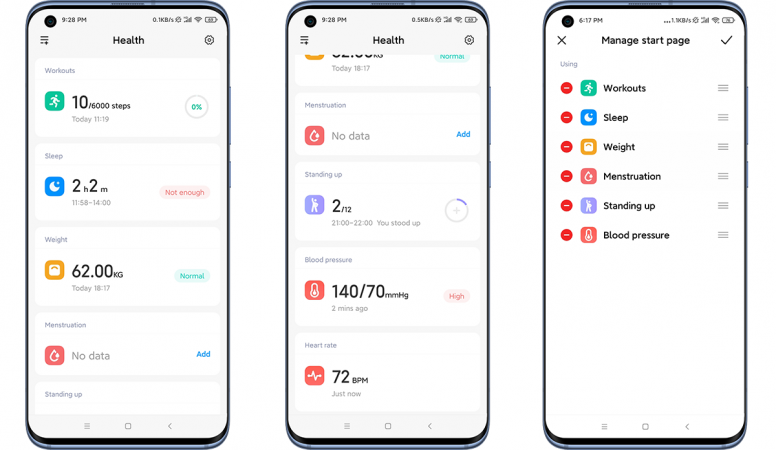 You can view work out data as daily, weekly or monthly basis. You can even view the time you spent on moderate and high intensity activities and calories burnt. But before starting any work out, don't forget to select the proper type. You can find several work out modes like Running, Cycling, Walking, Swimming, Freestyle, etc. Another useful feature is the Weight & BMI. Mi Health can even help you with the data of Body Fat Percentage, Muscle percentage, Body Water Percentage, Protein and so on. So on a whole it gives you a fair idea about the body composition data like proportion of water, Visceral Fat, Bone mineral , Protein etc. Quite comprehensive!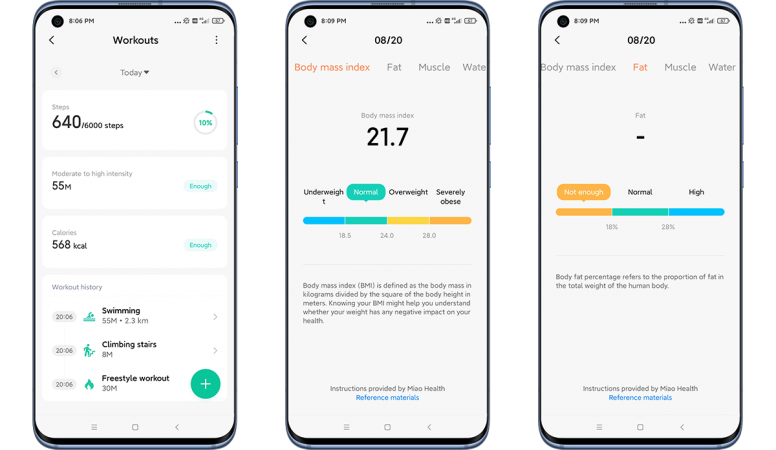 The sleep tracker monitor your movements through the night to determine the quality of sleep. It also record the duration of your REM sleep i.e. the time you were dreaming and record snoring to help you improve sleep hygiene. You can record your sleep status by placing your phone on your pillow. You can clearly have a look at when you went to bed last night, how long you slept, how deep you sleep, and whether you had sleep talk or snoring. Sounds get recorded while you sleep. Microphone gets turned on and off according to your bedtime schedule. But remember to your keep your device sufficiently charged.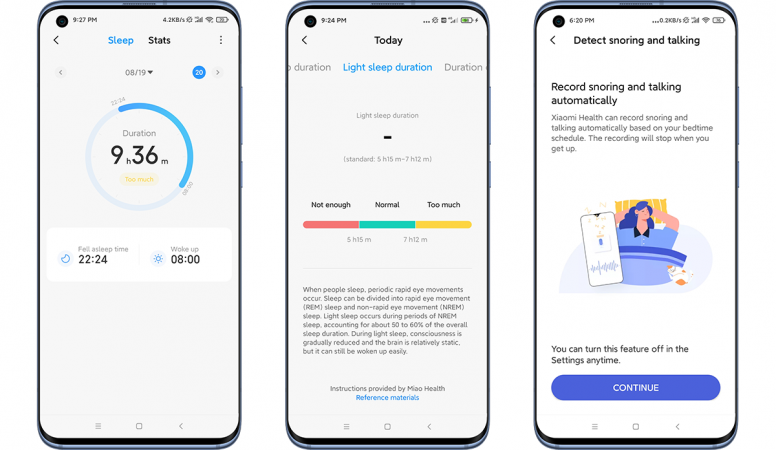 Standing up feature is my favorite apart from sleep tracking. It can give you details how many times you stand up after a break on a daily, weekly and monthly basis. You will also receive a reminder to stand up after 1 hour of inactivity. Just at the bottom of the app you can avail details of your blood pressure and heart rate. For heart rate, if you are viewing monthly data, you can find out how many days it was low, normal or fast.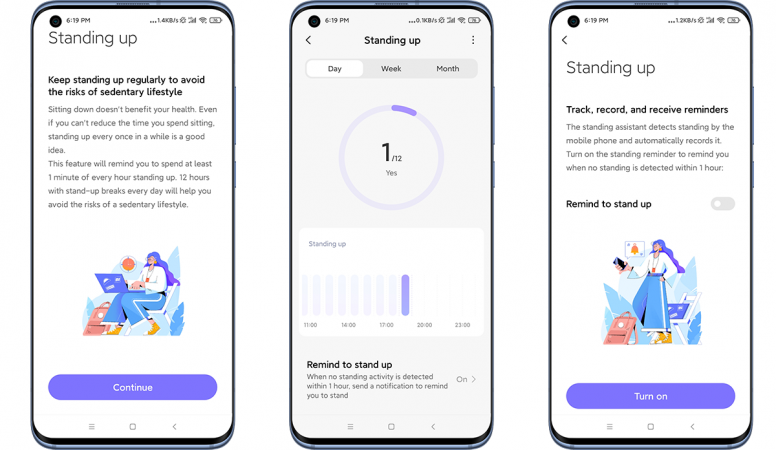 You can also keep your important and basic information about your health to be able to show it to health care providers in case of emergency. Such information include, Gender, date of birth, blood type, emergency contact etc. Once you turn on sync, you can sync your health data with the cloud and access it from any device.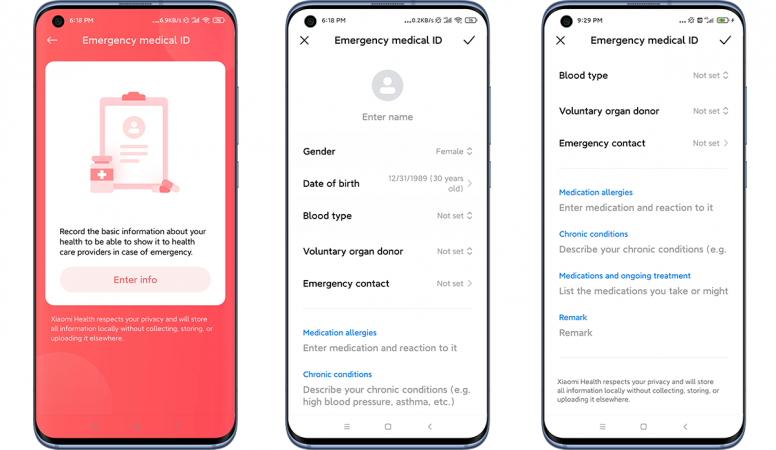 Mi Health App can do pretty much everything as other popular health apps. Currently This Feature Is Available Only on China ROM, If Its Planned For MIUI Global Rom, then It Will Be Made Available Soon! For me sleep tracking is the best feature from all aspects. What about you? What do you feel about Mi Health app?
Hope You Liked This Amazing Feature
Share Your Thoughts in Comments Below!
Rate