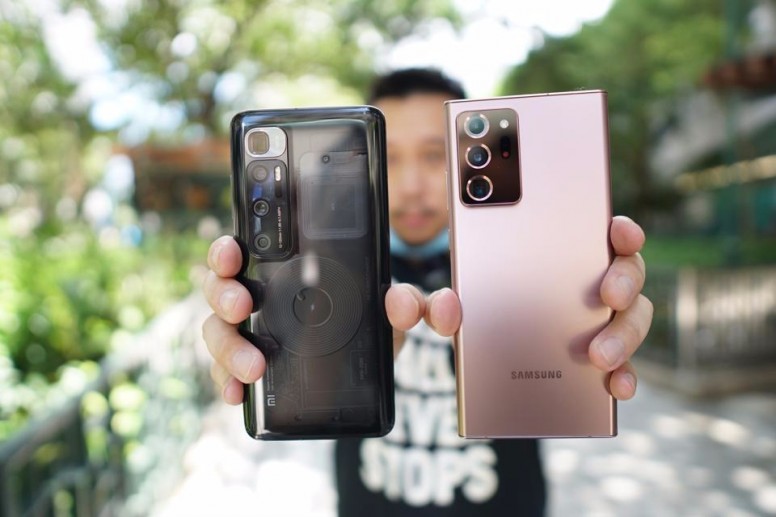 The Xiaomi Mi 10 Ultra (left) and Samsung's Galaxy Note 20 ultra

The year 2020 marks Xiaomi's 10th anniversary as a company, and the Beijing-headquartered tech giant is celebrating with a surprise announcement of the Xiaomi Mi 10 Ultra. Despite keeping the same model name as the Mi 10 series that was released a few months ago, this phone isn't just a minor spec bump. It's got a new design, and uses a different main and zoom camera.

Of course, to audiences in the west, using the moniker "Ultra" will seem like it's following in Samsung's footsteps, whose highest-end flagship phones began using the same moniker this year, and had just announced a Galaxy Note 20 Ultra. But that wouldn't be entirely fair, one because HTC had used the Ultra name before, and two, Xiaomi's phone isn't set for release outside of China, and its official Chinese name is translates more literally to "Xiaomi 10 Supreme Collector's Edition."

Regardless, a camera shoot-out is in order, not just because Samsung's and Xiaomi's latest share a word in their names, but also because Xiaomi's Ultra also moves away from that 108-megapixel Samsung camera sensor that Xiaomi had used in the Mi 10 Pro. It is that same 108-megapixel camera that had given Samsung's spring flagship the S20 Ultra troubles due to focusing issues, and is now still being used in the most recent Note 20 Ultra.

The main shooter of Xiaomi's latest is now a custom-manufactured 48MP ultra-large pixel main camera that adopts 1/1.32-inch sensor. This drastically improves low-light performance, because the image sensor is larger and the lower megapixel count actually helps light intake.

Xiaomi's Ultra phone also introduces a couple of industry firsts: it charges via an included 120W fast charger that can fully charge the 4,500 mAh battery from 0-100 in 23 minutes. I haven't tested the 0-100 run yet, but I did test the phone for a five minute top-up and the 120W charger pumped 22% of juice in five minutes (video below). The phone also supports wireless charging up to 55W speeds if you use Xiaomi's official charger. Needless to say, these speeds are jaw-droppingly fast and makes the charging on an iPhone look like it's five years behind.

Samsung's Note 20 Ultra is no slouch either: it added a new laser autofocus sensor to mostly fix the focusing issues of the S20 Ultra, while the Periscope and ultrawide angle cameras remain mostly unchanged on the hardware front, but with some software fine-tuning. Like before, the Note 20 Ultra's 108-megapixel camera is used to shoot 9-in-1 pixel-binned photos.

Standard 1X daytime shot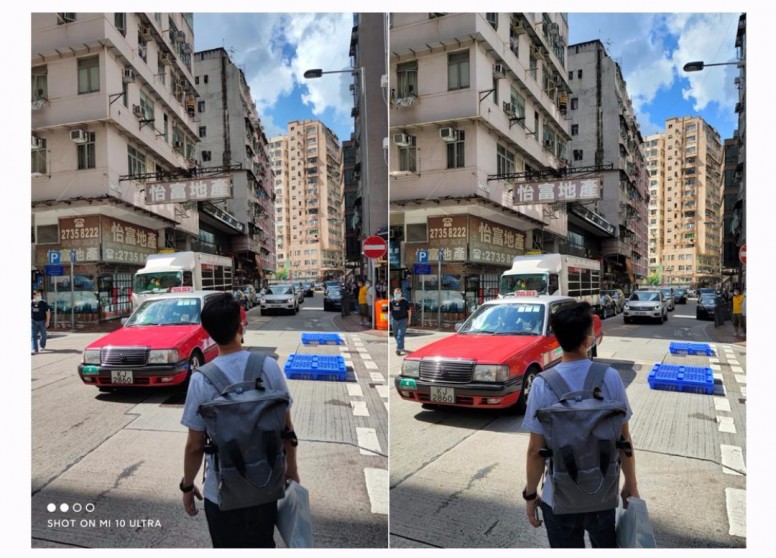 1X standard shots with the Mi 10 Ultra and Note 20
Ultra.

(Note: the Mi 10 Ultra watermark can be disabled, but I left it on for this test for easy differentiation between a Xiaomi image and a Samsung image. For cropped shots without the watermark, note that Xiaomi's image is on the left.)

This is a slightly challenging shot due to the extremely sunny mid-day sky, the ground drenched in deep shadows cast by tall buildings and a moving vehicle. Despite all that, both cameras knocked it out of the park. The skies are properly balanced in both shots, though Samsung's sky exhibits the same exaggerated dialed-up contrast that some love, some do not. Xiaomi's shutter speed is a bit faster, hence why the taxi is a few steps behind in the shot (I took both pictures simultaneously).

Let's move to more challenging shots.

Ultra-wide angle camera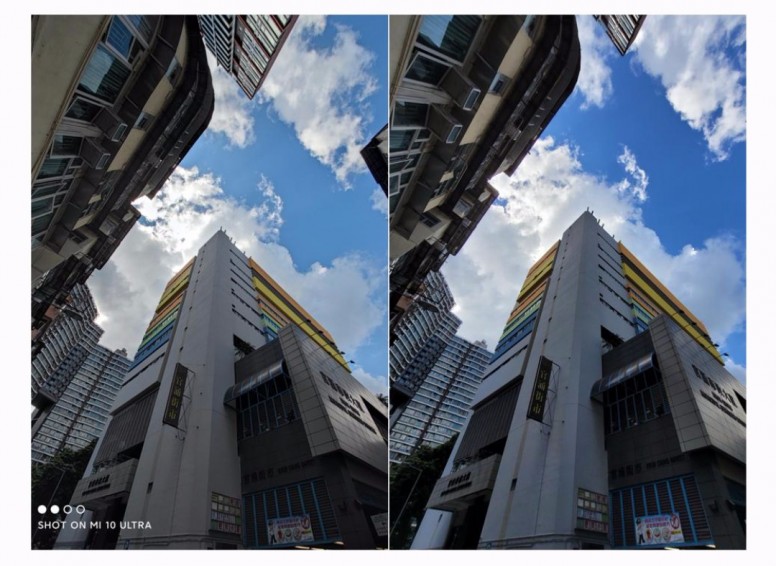 Ultra-wide angle images.

Both Xiaomi and Samsung's ultrawide angle cameras have some of the widest field-of-view around. Xiaomi's 20-megapixel camera 20-megapixel lens captures a 128-degree field of vision, of a 12mm equivalent, while the Note 20 Ultra's 12-megapixel ultrawide grabs a 13mm equivalent field of view. Results are, once again, very close, but Xiaomi's f/2.2 aperture pulls in slightly more light than Samsung's f/3.0.

But a 20-megapixel camera has more pixels to fill an ultrawide, and so when blown up to actual size, Xiaomi's image is larger, and if I scale up Samsung's image to match, you can see Xiaomi's ultrawide image is sharper, particularly on the Chinese characters of the sign and the vents to the left of it.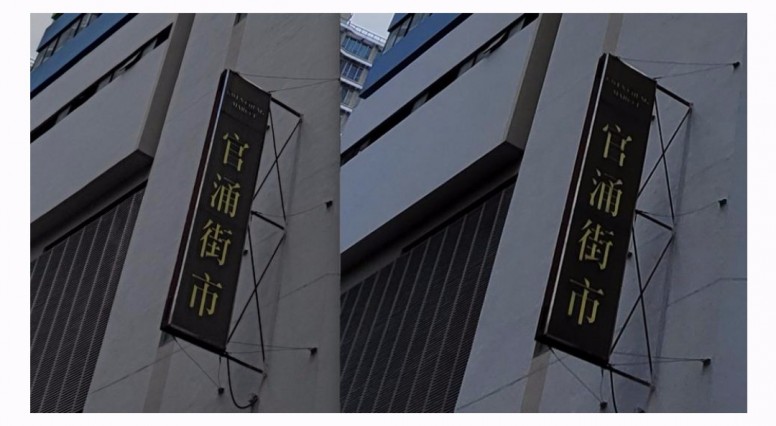 zoomed in ultrawides.

10x zoom
Both of the Periscope zoom lens here produce 5x lossless optical zoom and 10x near loss-less. Xiaomi's hardware appears a bit superior, as it's a 48-megapixel quad bayer Periscope lens that uses pixel-binning to achieve the equivalent of a 1.6μm pixel size while the Note 20 Ultra's Periscope lens is a 12-megapixel sensor with a 1.41.0μm size.

Here's the reference image from where I was standing; I'm going to zoom into the tires of the pink truck.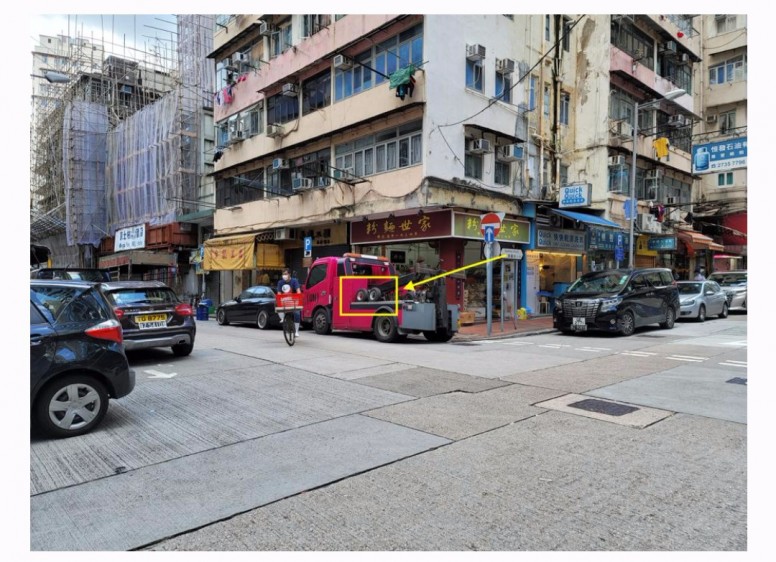 1X reference image.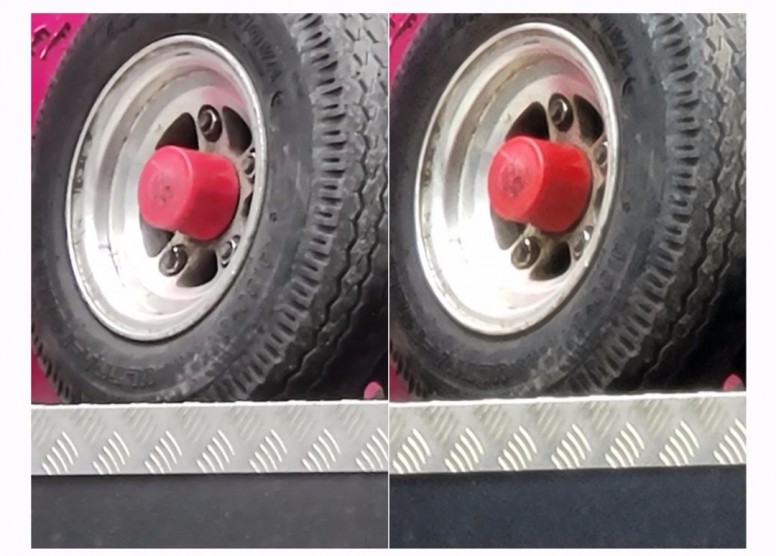 10X zoom images, with Xiaomi (left) and Samsung (right)

Both 10x zoom shots are very good but not quite true lossless, like what the Huawei P40 Pro Plus is capable of. Samsung's image (right) has more accurate colors, but Xiaomi's image is a tad more crisp, especially the texture in the steel plate under the wheels.

Let's examine another 10x zoom.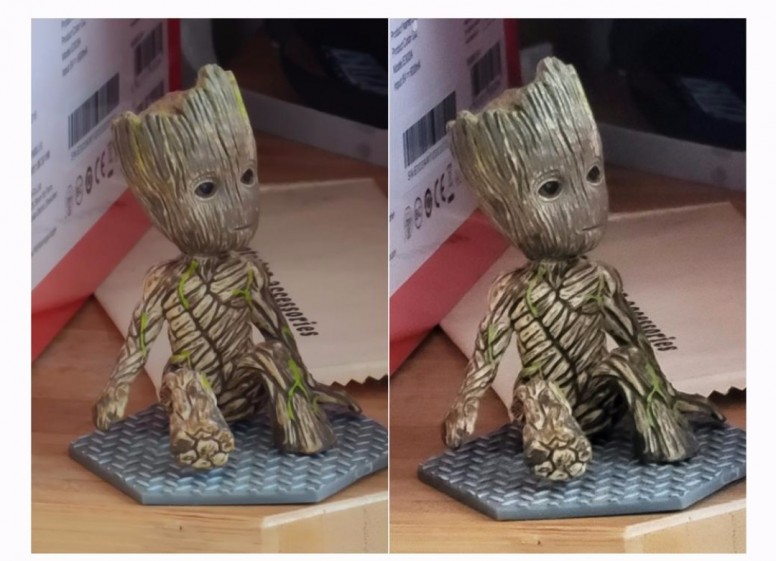 10X zoom.

Here, Xiaomi's lead is more noticeable. The textures of the Marvel figurine in Samsung's photos are clearly digitally sharpened, and there's noticeable noise behind the figure, whereas the Mi 10 Ultra's image is cleaner and more naturally sharp all around.

Still, both of these are very good shots. For reference, below is the same 10X zoom with an iPhone 11 Pro (right).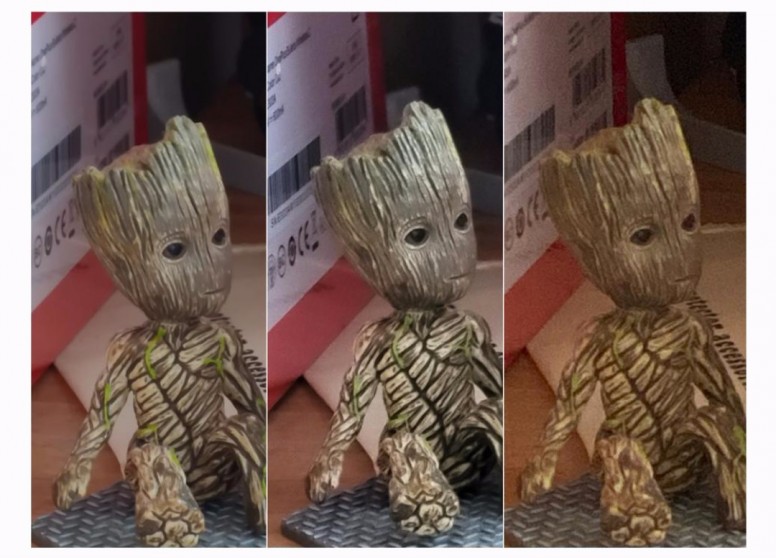 10X zooms

50x zoom
Samsung's spring flagship, the S20 Ultra, advertised a 100x zoom that was a bit too blurry to be of any real use. Samsung decided to tone down the marketing hyperbole and cap the Note 20 Ultra's digital zoom at 50x. Xiaomi, however, takes the approach in the other direction and pushes the digital zoom limit to 120x, the highest we've seen yet. For this test, we'll focus on 50x, since that's the maximum Samsung's phone can do.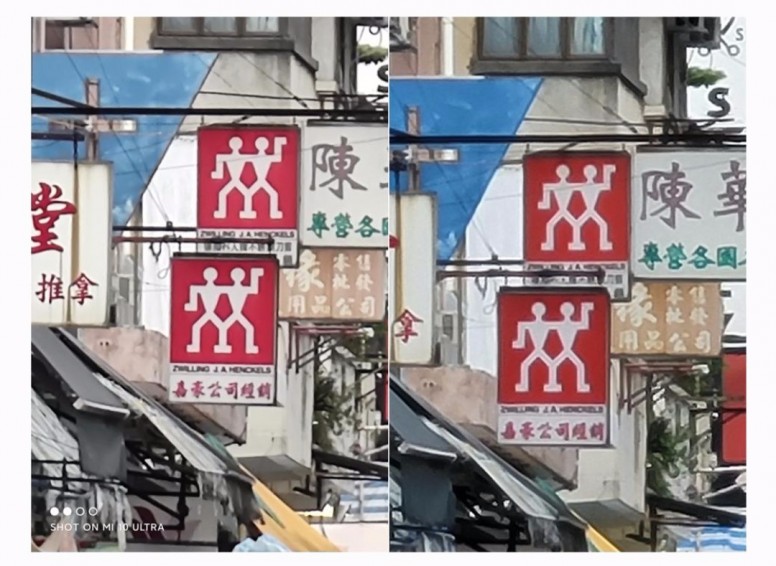 50X zoom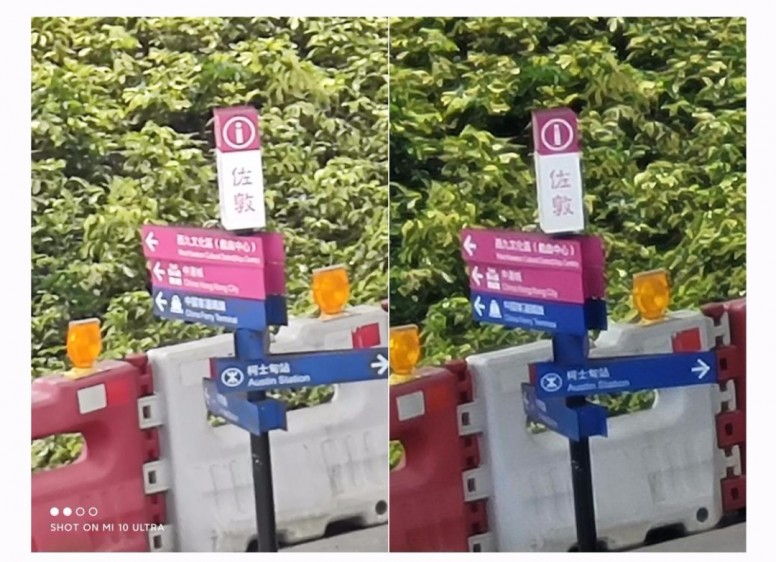 50X zoom

None of these 50x shots are particularly sharp or detailed, but considering how far 50x zoom is, it's still impressive modern day smartphone cameras can do this. For me, zooming like this is still useful because it allows me to read signs from far away.

120x zoom
As mentioned, Xiaomi's camera can boost zoom all the way up to 120X. In the below sample, I zoomed into the basket of a bicycle outside my room window.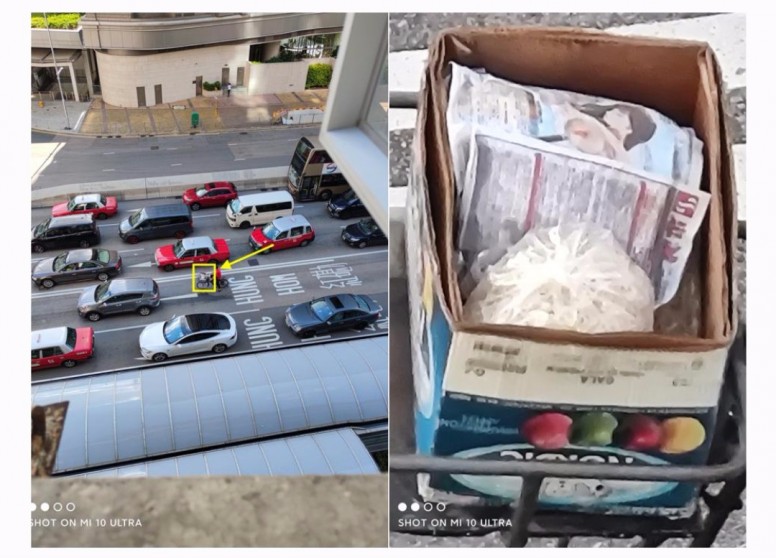 120X zoom.

It's a blurry shot, sure, but I can actually make out the contents in the basket—dry Chinese noodles, some wrapped in Chinese newspapers.

Extreme low light shot
The Mi 10 Ultra's custom-built main camera was designed to excel in low light conditions and it shows here. In the below sample, shot in my living room with all lights off and just a bit of natural light from a window at the other end of the apartment, Xiaomi's large 1/1.38-inch sensor was able to pull in drastically more light than the Note 20 Ultra's 108-megapixel camera.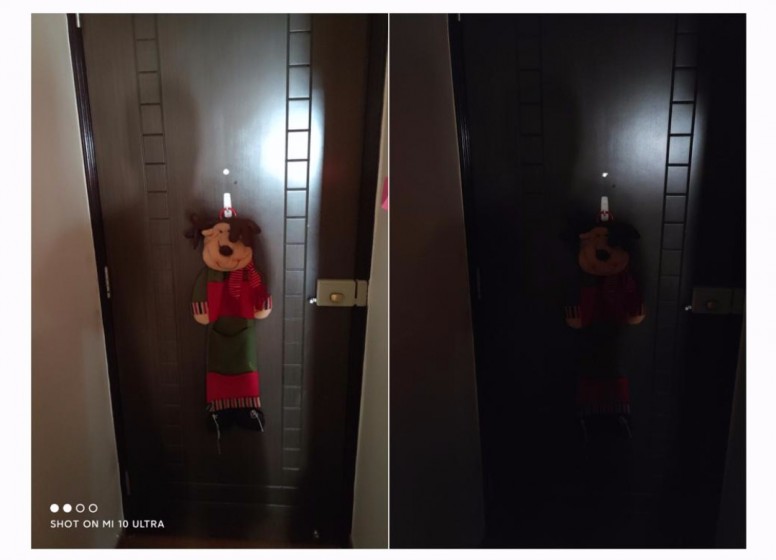 Low light shot.

The good news for Samsung is it has a better night mode than Xiaomi; when I turn night mode on for both phones, the Note 20 Ultra pulls back ahead. But this night mode requires standing still for five seconds, so it's not always possible to shoot with this mode in real life situations.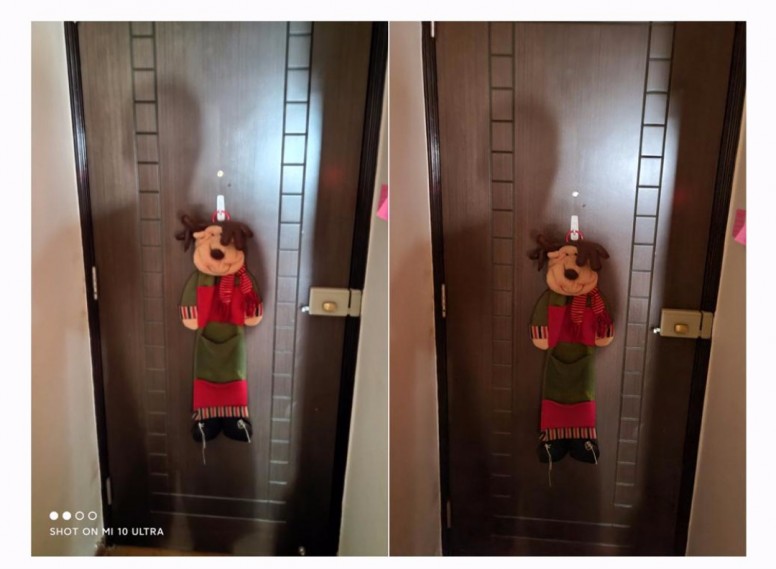 With night mode on.

Bokeh portrait shots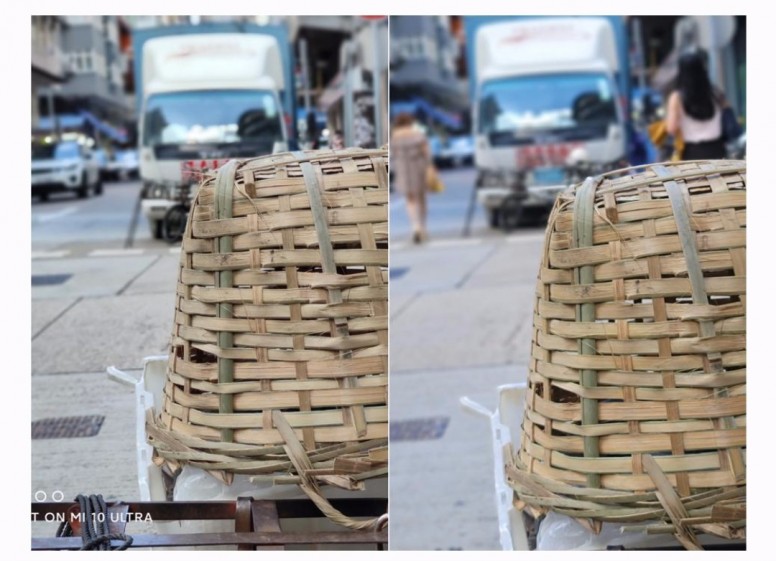 Bokeh portraits.

Both phones capture excellent bokeh images, with natural looking depth-of-field blurred effects. Xiaomi uses a dedicated telephoto camera to help with the portrait, while Samsung appears to make do totally with software.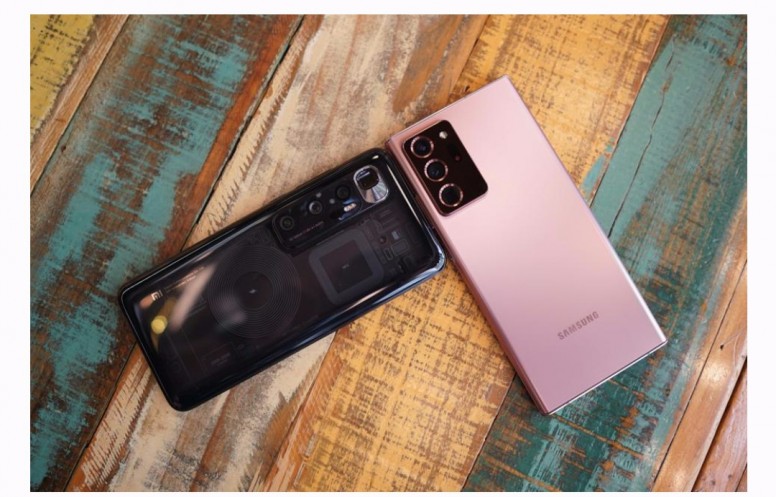 The Xiaomi Mi 10 Ultra and the Galaxy Note 20
Ultra.

So far from this early camera test, it appears Xiaomi's Mi 10 Ultra has a slightly more capable camera system. But there's still more testing to be done, and of course, there's a lot more to a phone than just the cameras. Both of these are among the most powerful flagships around, with Xiaomi's specs perhaps unrivaled by anyone other than Huawei's P40 Pro Plus.
Source: Forbes