Today Xiaomi wanted to reveal one of the most striking software developments that integrates its new Xiaomi Mi 10 Ultra . Squeezing the high speed of its LPDDR5 RAM, it is able to use this memory as internal storage .

In detail, this new functionality called RAMDISK allows you to take advantage of the high reading and writing speed offered by LPDDR5 RAM. While this reaches a rate of up to 44GB / s , the UFS 3.1 storage of the Xiaomi Mi 10 Ultra does not exceed 1,700MB / s in reading or 750MB / s in writing.

Taking into account these theoretical details, Xiaomi has developed the RAMDISK technology allowing the installation and execution of applications and games in the RAM itself . With this we achieve a higher speed of installation, as well as execution.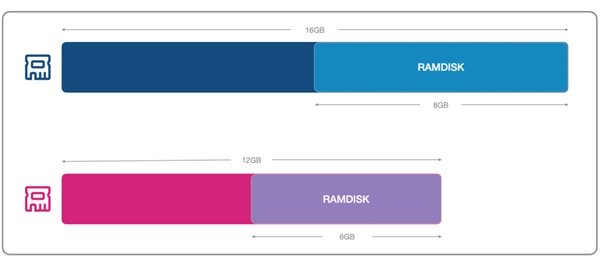 This Xiaomi technology saves up to 60% in loading and installation times


As explained by Xiaomi, this technology allows us to save around 40-60% in loading and installation times compared to using the internal memory of the terminal directly. To do this, RAMDISK reserves approximately half of the RAM memory for installing applications and games.

To use it, you need to enter the store and click on "Trial mode" This will download the application that you can use immediately. Currently, the supported games are "Glory of the King", "Elite of Peace" AND "Speed QQ" (The second is a Chinese version of PUBG) and in 10 seconds they can be installed. One of the best advantages of RAMDISK is the fact that no fragments are stored inside the memory which, in the long run, can slow the device down. There is a disadvantage: since applications are installed directly in RAM, if the smartphone turned off, the same application would be immediately deleted. To avoid this, a function was made available that allows loading this application from RAM to internal memory.