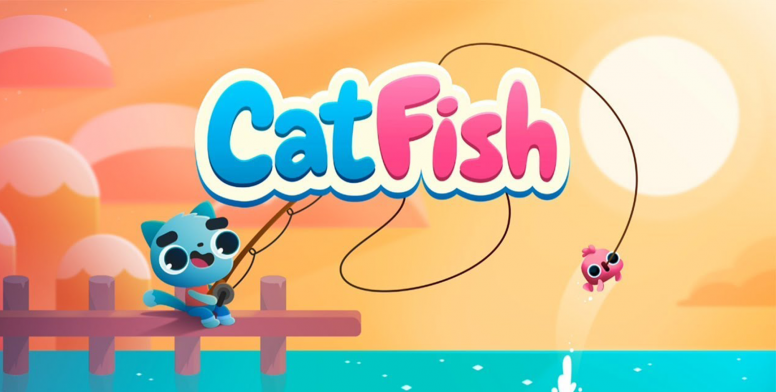 Hello Everyone!
Hope you all are doing great! It's the end of the month! And it's time when I am back to all of you with my new game review! Do you love fishing? For those with the answer yes, We gotta go for fishing today. And for those with an answer no, well folks, be ready. You are gonna love it soon. Yes, you got it right. Today's game is all about fishing - CatFish. I am going to make you meet few of the interesting cats today, who are on the mission of making a huge fish collection. We gotta help them out. Developed by NeverEnding Games, CatFish is a really interesting and funny game with more than 1 Million downloads.
This game is all about gearing up and waiting for a fish to bite and reel it in playing a fun mini game. They will struggle for sure, so you better be on your game, otherwise you could lose the fish and maybe even your equipment. Earn experience, level up, unlock stuff and complete your fish collection! And that will go on giving you an amazing experience. Staring from the introduction page to all the levels, graphic is colorful, vibrant and really awesome. Through out the game there is utter cuteness involved. And the background score is apt as well. Specially those meow sound of the cat, haha. Here is a preview for you all: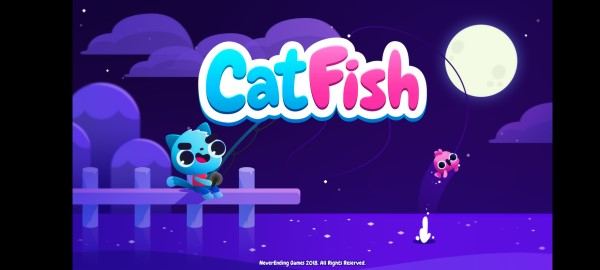 When playing the game for the first time, a cute and colorful welcome page gives treat to your eyes. You need to login with your google account to save your scores & progress in game. Completed sign in? Now it's time to say Hello to a cute little cat. Be ready to take a time just to chill out. Fishing with these cats are relaxing and exciting. But those slimy fishes really fight sometimes. Remember, these cats. your companions, are vegan. They are just creating a huge fish collection. Apart from the fish you need to collect different treasures too. Some of the treasures can be sold to collect coin which you can use later on to buy crystal and other accessories.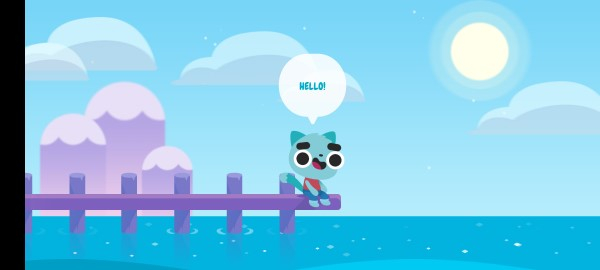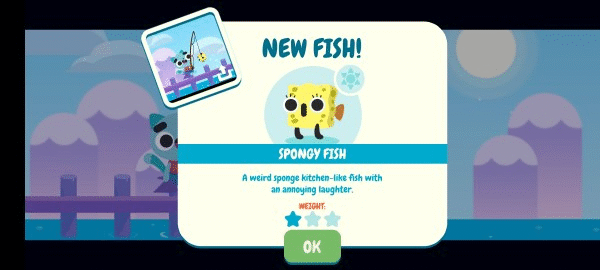 Initials:
Now it's time to choose the fishing gear. First step is to select the character, to be precise the Cat. With clearing more and more levels, you can unlock various different cute cats. Then comes choosing fishing rods. Here also, various different rods available which would be unlocked upon completing various levels. So for starter you need to go with the basic Rod. Tap on it to select it. Next is fishing line. There are Basic line, good line, Copper line and so on. Tap on the basic line to repair and use it. You need to spend some coins to repair it. Final is, selecting your Bait. Try using bait according to the weather. It's to catch new fish.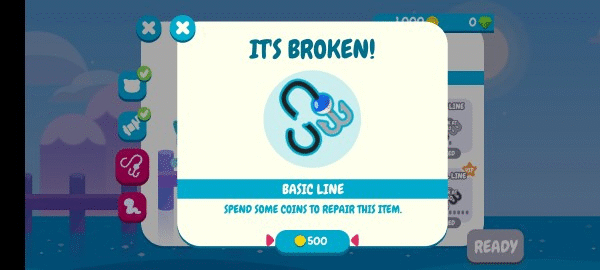 Gameplay
All set? Just click on Ready to begin the fishing. It would take a 5 second warm up time before proceeding. If you see the doc, beside the blue cat there are places for 2 more cats that are unlocked while leveling up, so you can fish three at a time. Overall the fishing is quite easy and explained with a simple tutorial. You need to throw the line and wait for it to catch something then reel it in. The entire game combines of tapping and swiping through the screen. The things to be remembered here is, the more you throw the line the longer the more you would have to wait for a fish to get struck into it.
Another is, the more you tap the faster a fish gets caught the faster and you would be one step ahead for catching it. There are gems and coins available to level up or to repair broken gears. You can watch ads to increase coins. After you are done, the fish you caught would be displayed on screen. In the left upper corner there is an icon displaying your current level at game. If you click on it, it would show the achievements and progress. For example, if you are at level 2, you need 2 more fishes to get your level up.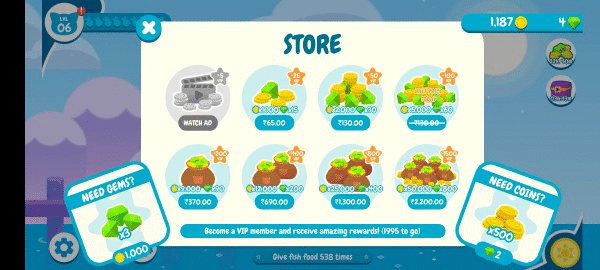 Like I said before apart from fishing, you need to collect different treasures too. The gameplay involved in collecting different treasures is different from the fishing. Here you have to keep tapping on the treasure to move it upward within a fixed time frame. But mind it, there are hurdles in form of colorful buggy fishes from whom you have to keep your treasure saved. If it collides with any of them you loose a life. By default you can play with 3 lives. Once you lost all 3, you need to start that round from start. I do not have any complaint on that. All game comes with a fixed set of lives. But the waiting period before any level or after you lost life and want to start new round is absolutely painful.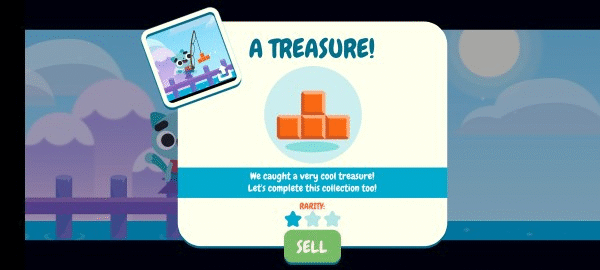 Some times its even more than 45 mins. Either you have to wait that time or spend crystals to escape it. There will be opportunity to escape the waiting period by watching ads too occasionally. It's annoying. Especially when you are fully hooked into the game and do not have enough crystals to skip the waiting time. Just at such situations, there comes an interesting way for the rescue. You can tap anywhere on screen to give the fish colorful food. Each time you tap on screen it will reduce the time you wait by a little bit. Your fingers might pain but for the love of fishing, you can't mind about it!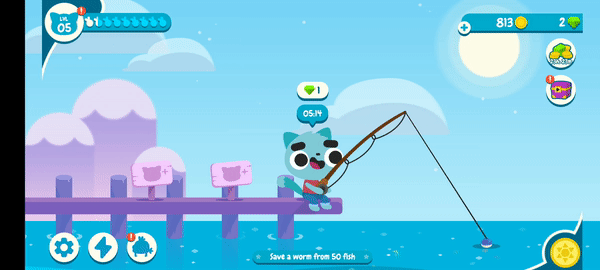 This is pretty much about the gameplay. Oh, did I say? The game offers a weather system and cycles of night and day and a convenient change of weather could also be available if you watch advertisements. I love the rainy weather. Its fun to go fishing and enjoying the rain. Of course not in real life but in virtual world of CatFish! In the Settings, there is not much to do. However you can change your preferred language. Or can edit audio settings as per your choice.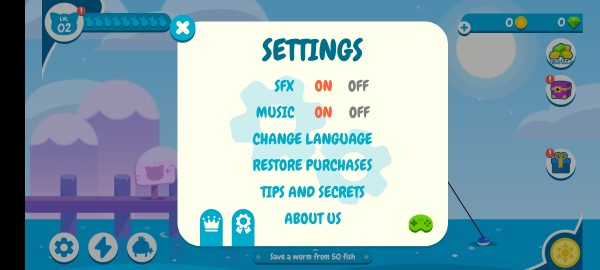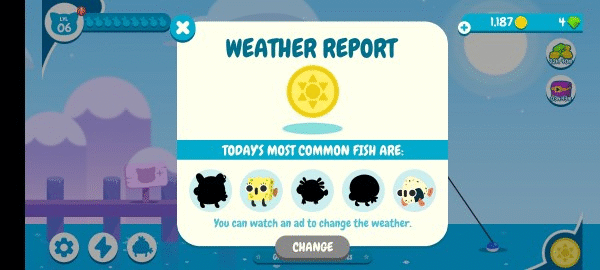 Pros:
Cute Game. Fun to play
Excellent and on point graphics
Different fishes and cats to be unlocked

Cons
Constantly tapping sometimes can be exhausting
Watching advertisements to make progress in game

Coming to how do I feel about the game- Well, I feel quite satisfied overall. It is indeed a super cute and adorable game. The graphics is excellent and on point. Initial levels are really easy. It's just tapping and swiping. But yes, constantly tapping can be a bit exhausting at times. Another disappointment for me is to wait for an hour or watching ads to gain more coins in order to repair the broken fishing rod. But no pain is no gain. On your journey of endless tapping you will be rewarded with some beautiful and uncommon fishes. Not to forget changing weather is a nice add on too. If you are fond of such tapping game, go, give it a try.
I will give it 4.5 out of 5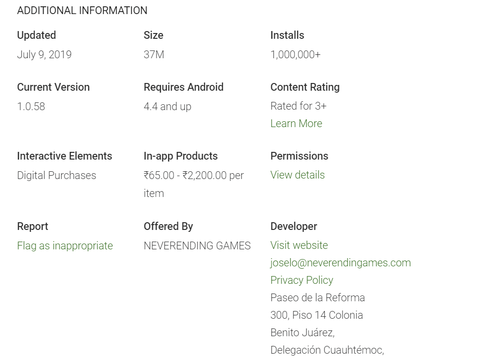 Download
CatFish
From Google Play Store

or,
Download APK
Rate