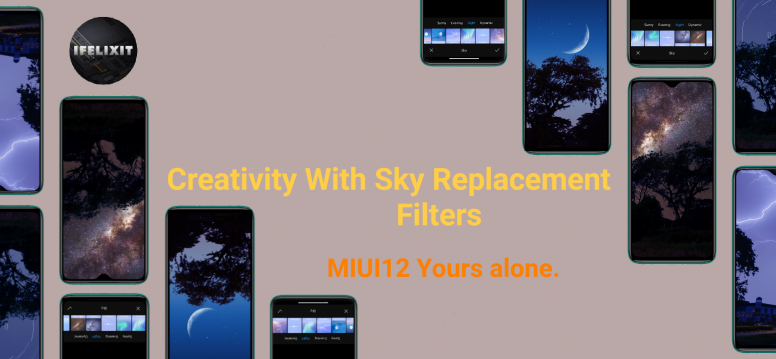 Hei MIUI-ers,
This is a quick guide to express your creativity with Sky replacement filters. Enhancing the sky on a photo is a pretty straightforward process. With the new MIUI12 Mi Gallery editors simply select the AI Sky Replacement filter from the Sky filters catalog on the bottom with the option to adjust the filter amount with the slider. This feature allows you to modify pictures with skies with new sky patterns and color tones.
What so special, the MIUI12 gallery app. Where are the filters for sky?!
Sky Replacement Filters were initially added in the MIUI11 as part of the photo editing functionality within the MIUI Gallery app. In MIUI12 this feature is enhanced, where MIUI-ers can add creativity to their images, in this case an image with a predominant sky element and spice up with the different presets available depicting the sky in different scenes. The presets will alter the appearance of the sky to reflect the lighting condition.
To adjust the opacity and density of the filters, use the slider, as shown below.
Using Sky replacement filters
Launch the Gallery app from the home screen.
Select an image that has a vivid sky to add the filter.
Then click on Edit Sky and there are four options, Sunny, Evening, Night and Dynamic.
For the new filters you need to download them accordingly. These are some examples that are available.
Milky way.
Astrophotography.
North lights, the Aurora.
Full moon and the clouds.
Moon crescent.
Lightning bolt.
Star trail.
Stars.
If that doesn't suffice you, you can experiment with Dynamic filters, as follows.
Milky way.
Snowing.
Fireworks.
Raining.
Twilight.
Definitely it's amazing, after using the filters to spice-up your images, where you could completely clear out the clouds from the original image and add blue and red hues to the sky and add a darker tone to the subject of the original image. At the same time the sky replacement filter changes the patterns in the sky accordingly. The smarter AI algorithm helps in recognizing and optimizing details within an image over different scenarios and maintains those details in the picture, making it look as real as possible. With the new MIUI12 Gallery, you can experiment, you can mix and match the filters to your own preference.
That's all to it.
"Solving with simplicity"
[MIUI12] Related threads
Rate