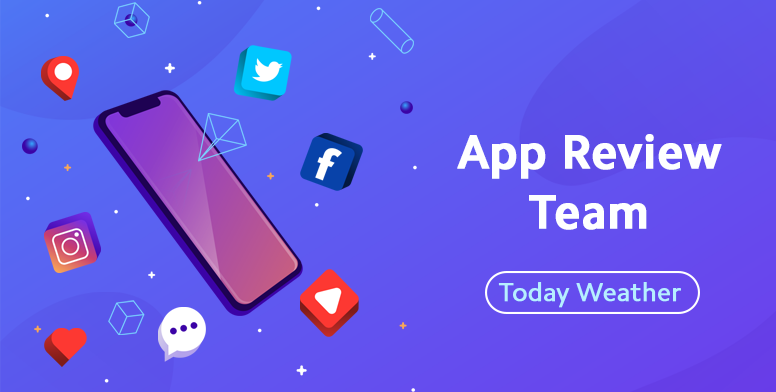 Hello Everyone!

Hope you all are doing good! Checking the weather is something that we all pretty much do everyday. Gone are the days when weather forecasting was little more than fortune-telling. With various weather forecasting app poping up , featuring radar, satellite imaging and numerous advances in meteorology, knowing your current weather condition are easier than ever. When you're on the road or away from home, or can't get to the TV? That's where weather apps come in. Today I am going to review one such app for you all - Today Weather - Widget, Forecast, Radar & Alert.


Today Weather app brings you accurate and detailed weather information in a more vibrant, eyecatching style. It provides one of the most accurate local weather forecasts. It shows you the weather conditions and expected temperatures, and it will even send you notifications before it starts raining or snowing, so you don't get caught by surprise! When you first open the app, it welcomes you with a beautifully designed homepage. In the next page, you will be required to give location access to the app and that's it. You are ready to go! By default Today weather would display the dark themed welcome page but you can change it to some lighter appearance later from settings. The app is clean and visually appealing.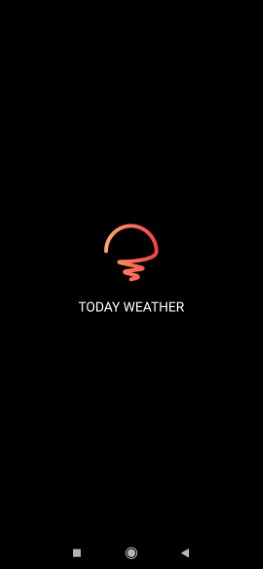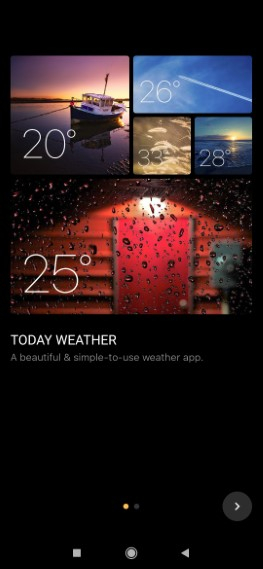 After you are finished with initial set up of setting your name, and giving location access to Today weather app, it will directly take up your current location,and will show you current weather condition.You can view weather of wherever you want. Just add them to the list. Each of the location is displayed with beautiful images. With every visit, the images get changed. They are synced most of the times with current weather condition. And trust me, all are beautiful and appropriate for the weather outside. We all prefer visuals than simple statistics. And Today weather understands it better than any other app. By complying with it, they make absolutely enjoyable for us to watch out the weather. Just swipe the screen and one by one location will be displayed. I have added 4 different location. Can we have a slideshow here?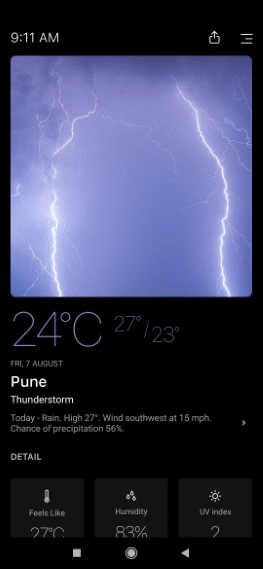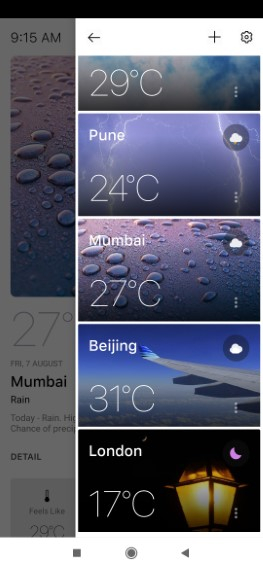 Details:
When you swipe down the screen, the first part shows a summarized weather condition. You will find temperature, humidity, UV index, Dew point etc. The next part shows weather situation on hourly basis and then daily basis. Click to expand it, you can get information about next 48 hours. After the forecast of next 24 hours, scroll down a little, and in the next part, you will find Next 7 day forecast. The details of highest and lowest temperature with humidity percentage are displayed there. If you click on the side arrow, next 10 days weather information will be shown. A small summary of weather condition is also added for each days here. Very much informative and useful. You can easily have a fair idea of the upcoming weather.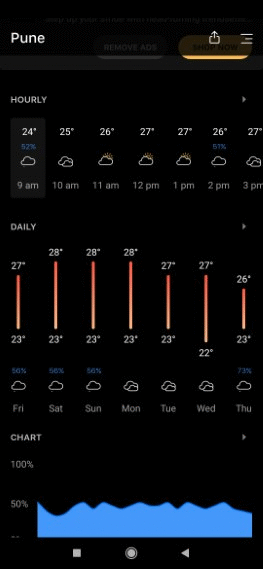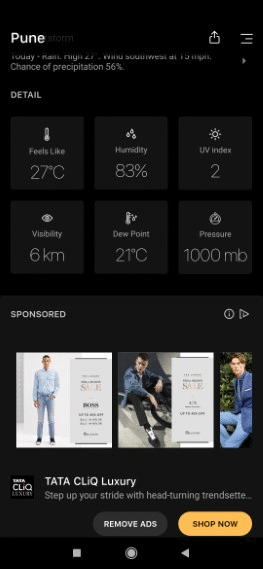 Now this app will take you to the chance of rain of the current day. Its displayed on 4 hourly basis. Next comes Air quality index, to communicate to the users how polluted the air currently is or how polluted it is forecast to become. With this app, you can also get the timing of sunrise and sunset too. Sunrise and sunset is done. But what about moon? It should not be left untouched. Today weather app shows When its New Moon, when its Full Moon by date! Next comes the wind speed and wind direction.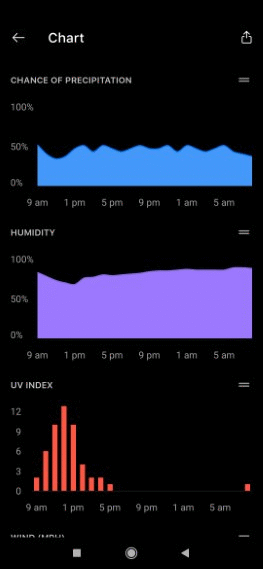 And at the end, there comes Doppler weather radar, is a type of radar used to locate precipitation, calculate its motion, and estimate its type (rain, snow, hail etc.) But its a premium feature and needs up gradation. Another feature of this app is, it shows alert if there is any severe weather condition, be it today or upcoming. There will be red dots which will give indication regarding an alert for severe situation. Click on it, you will get the details. Rain and snow alarm is for premium users. You can upgrade to premium for $8.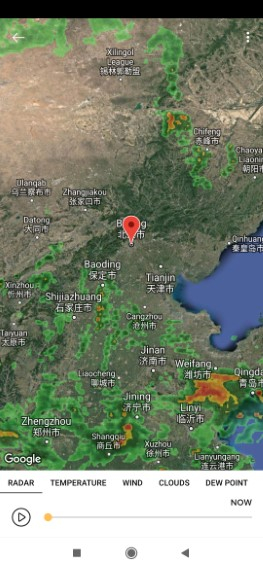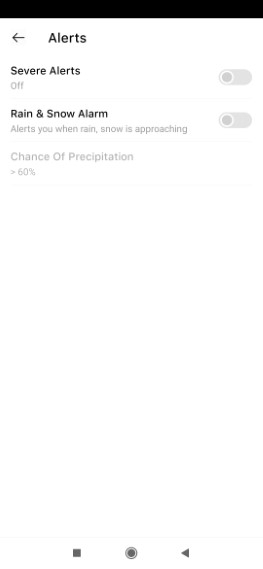 Settings:
My most favorite thing about the app is that throughout the day, images in the featured area gets changed, almost every time syncing with current weather condition. You can also add your own favourite image to it and share it to the world! Under the settings, we have features, icon set, units, data source, update frequency etc. In the feature, you can shortlist which of the things you actually want to know and keep it in the display. There are Photos, Next 24 hours, Next 7 days, Chance of rain, Air quality index, etc. We have a special Pollen count for the people of united states here.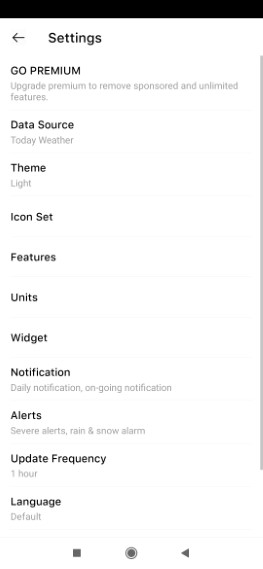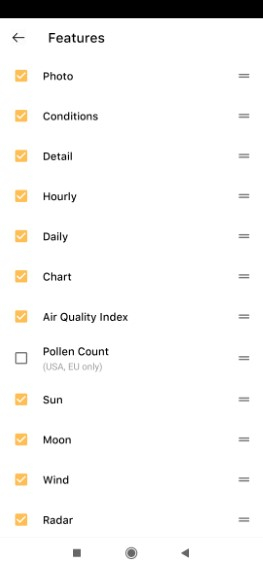 There are 4 types of icon set available. Though unfortunately you can only use the first set if you are a free member. Other 3 falls under premium subscription. You can set the Units for Temperature, Distance, Speed and Pressure. Set the data source according to choice now! It can be weather underground, Dark Sky, Weather.com , Accuweather.com etc. You can set whether to receive Severe weather alerts or not. Talking about the widgets there are a lot of beautiful widgets available with Today Weather app. You can even customize them as per your wish.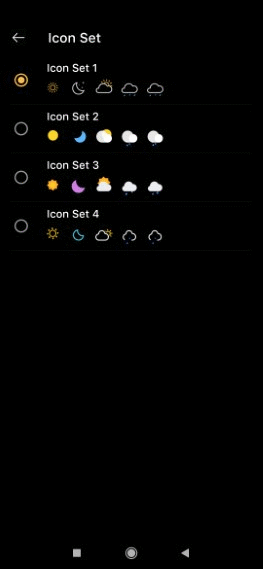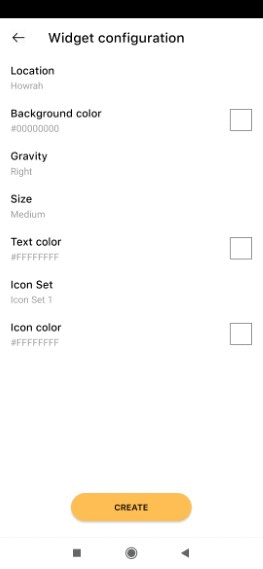 Pros
Weather details of current day, next 48 hours, next 7 days, even next 15 days are displayed
You can get weather information of wherever you want
Other useful information like Humidity, Air quality index, Wind speed, sunrise, sunset, full moon night etc
Every time you open the app, you can see loads of beautiful images which get synced according to weather condition.
Severe weather alert and Rain alarm is there.
Various beautiful widgets are available for easy access.

Cons
Advertisements
There is no other visible cons.



If you are looking for up-to-the-minute weather info, this is the app for you! It has just about everything you need to keep an eye on the sky. Even if you don't upgrade for paid version, you won't be missing much. I love how beautifully the pictures get changed, most of the time in accordance with your current weather condition. The ability to add your own favorite pictures and share it with the world is also quite interesting. The most noteworthy feature is the app's ability to send notifications whenever a weather alert is issued. Planning your summer vacation plans ? may be on a beach? Try this app and don't let unexpected showers or severe weather ruin your days.

I will give it 4.5 out of 5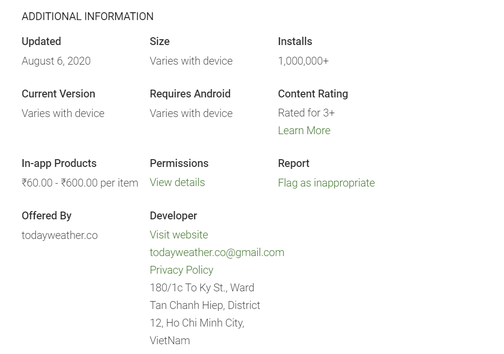 Or,
Download APK
Rate