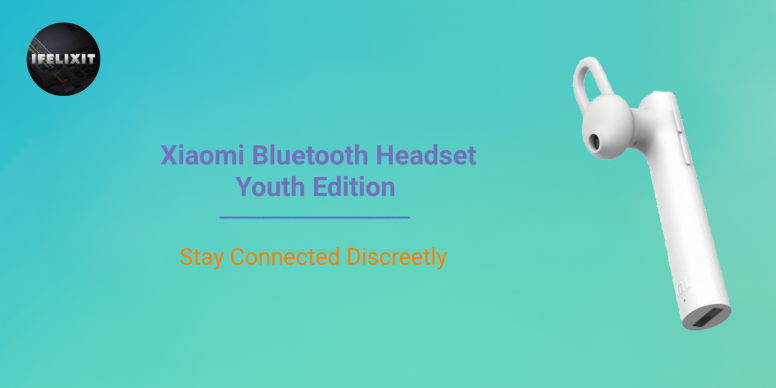 Hei Mi fans,
Today, I am gonna review the Xiaomi Bluetooth Headset Youth Edition. Experience the freedom of wireless listening, coupled with exceptional sound and eye-catching design. Go wherever the music takes you and stay connected with a nano sized dongle.
Previously a winner for Design Award 2015, it has been further improved and upgraded with Bluetooth 5.0 connectivity, system upgrade and a new packing as well.
Comes in a cute box to symbolize the Youth edition.
All the description and specifications in Mandarin and the date of manufactured, in April 2020.
What do you get in the box? As you can see, the S/M/L size Earbuds, a Quick Guide, the charging cable and the Xiaomi Bluetooth Headset Youth Edition itself. The latest version of the Xiaomi Bluetooth Headset Youth Edition bearing a model number (LYEJ07LS) which maintained the simple design that does so much, featuring the two discreet rocker buttons for volume adjustment and music controls. That way you have quick access to these functions without unlocking your phone.
With Xiaomi Bluetooth Headset Youth Edition you get an advanced Noise Cancellation DSP technology for noise reduction and also reduces 4G network interference.
The headset weighs 6.5 grams and connects via Bluetooth 5.0 and has buttons for volume and music controls. You can also use the buttons to change tracks, reject or accept calls, redial numbers, and for three-way calling.
It's lightweight, weighing 6.5g powered by a 50mAh battery that has a standby time of 80 hours, a talktime of 4 hours and takes about 1.5 hours to fully charge. To realize a good energy it utilizes Realtek Chip for Bluetooth and supports HFP, HSP, A2DP, AVRCP for Bluetooth Protocol. The CSR8610 Bluetooth chip improved the transmission performance coupled with CVC echo reduction to filter out ambient noise. In compliance with Bluetooth 5.0 help reduces 4G network interference hence improving sound clarity, in addition has excellent battery life. The headset can be simultaneously paired up to two devices. In the aspect of health impact, it remit a low radiation therefore has a low health hazard.
Using The Bluetooth Headset
Press and hold the top button for a few seconds to power on, you will see the Blue LED lighting up.

To switch off, press and hold for a few seconds until the Red LED comes on.

To pair with your Mi Phone, enable Bluetooth on your phone. Next press and hold the top button of the headset and keep holding until the Blue LED is blinking.

On your phone pair the Chinese text which is the headset and manually change the device name accordingly.

Now your headset is paired with your phone.



Functions:-
To redial the last number, double press the button on top.

Single press the top button to cancel the call.

To receive a call, just press the top button.

Press and hold for a while to switch to the next song when listening to music.

To increase the volume use the up and down volume button on the body.



My Thoughts
Without a doubt the Bluetooth Headset Youth Edition has improved over the earlier version to last longer, shortened charging time, improved the Bluetooth connectivity for power efficiency and clearer transmission. This makes it an ideal gadget for driving, exercising or in the office, keeping your hands free to deal with other chores. Furthermore, the headset has a nano-coating which makes it oil resistant, it can conveniently be paired to two devices and has a range of up to 10 metres. Conclusively, getting a HD call quality on both ends of the call, perfectly balanced and so discreet that you'll hardly know you're wearing it, which makes it a perfect gadget for me.