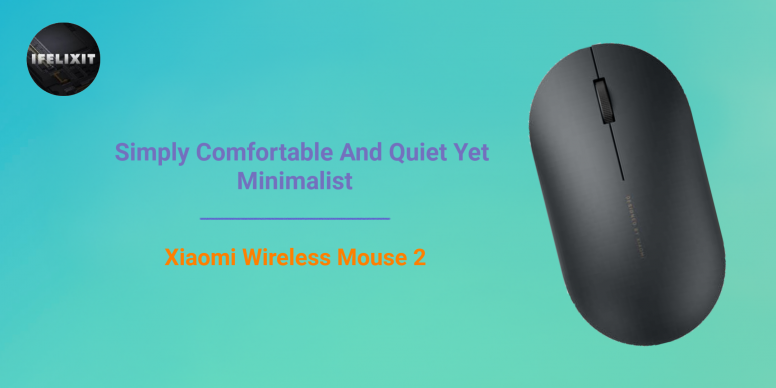 The latest version of the Mi Wireless Mouse is simply comfortable, very quiet in its operations and adopts a minimalist, symmetrical design with 2.4G wireless reception. What more can ask for?
The packaging.
The description of the Xiaomi Wireless Mouse 2.
The Quick Guide in Mandarin.
High-quality mute button for easy use without disturbing people around you. The intimate mute button design makes the mouse operation quiet, quick rebound and durable. Whether it's in the bedroom, meeting room or the library, it won't bother others .
Symmetrically designed for the left and right hands flexibility. Streamlined shape fits the hand to enjoy the comfortable grip, fits the curve of your hand and gives a better support for the palm of your hand, even if you use it for a long time and will not tired down your palm.
Equipped with an Integrated magnetic adsorption top cover, easy to disassemble and easy to install. It's powered by one AA battery and supports a Plug & Play 2.4G receiver.
The delicate soft coating, warm touch to the fingertips with an upgraded material and surface finish is very textured. The fluffy effect particles are added to the spray paint coating, which is delicate and skin-friendly.
Aluminum alloy anti-skid roller, a texture upgrade, easy to operate, the roller surface is sandblasted and anodized to prevent slipping and sweat.
1000DPI photoelectric sensor can also be accurately positioned when moving fast. Adapt to a variety of colors, materials, desktops, easy to meet office and daily needs.
Verdict
Your hand likely touches a mouse all day long. That's why you need a precision mouse that is sleek and stylish as well as functional. It's enjoyable to navigate a comfortable mouse and enhanced with the low-profile design delivers a precise navigation without the bulk of a traditional mouse. At the same time you can enjoy a wireless freedom and features a wheel for great scrolling performance. The smooth, sculpted shape fits comfortably in your hand for hours of work.
"Realizing the Mi Fan's Dreams"
Trending threads