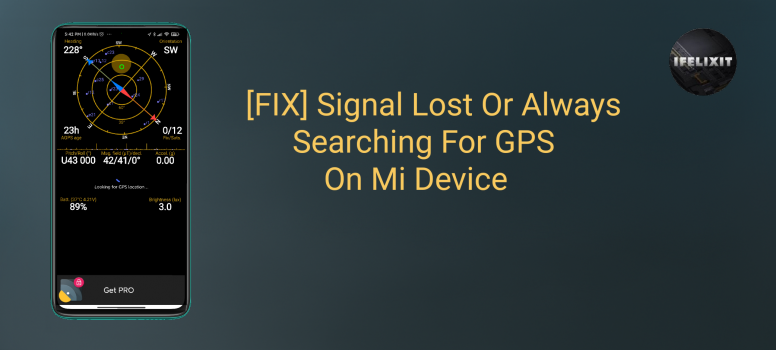 Having problems with the GPS receiver (no lock), or issues with the sensors, wrong compass orientation and so on? This normally happens occasionally to sets purchased from China with a China ROM. Most of the questionnaire is like: GPS constantly loses satellite fix or doesn't get a fix at all. Changing Region settings still has adverse effects. Let's get it fixed.
GPS sensors are receivers with antennas that use a satellite-based navigation system with a network of 24 satellites in orbit around the earth to provide position, velocity, and timing information.
Steps for the fix
Allow all the necessary permission.
Launch the GPS Status
Steps to follow if you have a non-locking GPS
Tap the 3 lines Side menu / Manage aGPS state.
Select 'Reset' to clear the internal state of the GPS.
Select 'Download' to re-download the assistance data. You will need an active internet connection at this step.
Close the GPS Status application for 10 seconds.
Go outside and find a spot in the open space with the sky visible.
Make sure you have the 'Keep the screen on' settings turned on, go-to Settings / Display & Tools.
Let the program run and try to acquire your GPS position for at least 15 minutes.
Note:
Certain phone cases block the GPS signal (remove the phone from it, if you are not sure.)

If you travel a long distance without turning on the GPS (i.e. flight) you can expect much longer fix times at your destination initially.

You cannot expect the GPS to work in your basement! (yes I'm serious)



There are many factors that determine the amount of time it takes for your GPS to determine your position, but a persistently slow or non-responsive GPS may be suffering from outdated assistance data (A-GPS DATA). Outdated A-GPS DATA can make it difficult for your GPS to determine your location resulting in long delays for a GPS lock. By resetting your device's A-GPS DATA, will speed up the time to a first fix.
From the screenshot, it took GPS Status to GPS Fix in 2s after the procedure. And accuracy is +/-3 meters using the
GPS Test
app. That's all to it.
"Solving with simplicity"