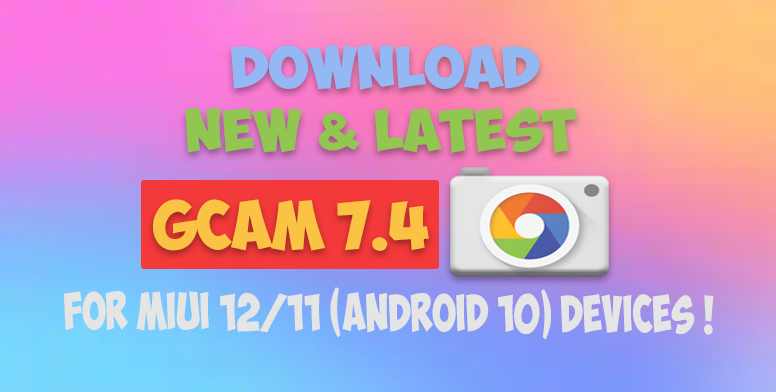 Hello Mi Fans & MIUIers,
Google Camera "GCam" for Android is the best ever camera application developed by Google basically for Google Pixel Devices but now it is ported for many other device. It is a trending application which is known for its portrait shorts and natural colors contrast. Google Camera ports have become very popular in between Mi Fans too, as many see them as an easy way to dramatically improve picture quality on a wide range of devices. With the ported Google Camera app, you can use Google's superior HDR+ optimization as well as their Portrait Mode on your non-Google device. However, Google Camera requires Camera2 API support to work, which makes this otherwise-easy fix require a few more steps in order to function properly.

Now-a-days Camera2 API is enabled by default in Xiaomi devices but most Xiaomi devices in the past have lacked Camera2 API support out-of-the-box. To enable the API, most Xiaomi devices require either root to modify their build.prop, or just an unlocked bootloader to run fastboot commands. Since the launch of these devices; POCOPHONE F1, Redmi Note 7, Redmi Y3 etc these devices have Camera2 API support enabled by default by Xiaomi, which removes the need to unlock the bootloader, root the device or install any Magisk modules to use Google Camera. Once a Google Camera port is available, end users can simply install the app and enjoy the improvements in image quality.

What is Google Camera or GCam for Android?
Google Camera or shortened as GCam is the Camera App installed on Google Pixel series of phones. The Google Camera (GCam) is exclusively made for Google devices and cannot be installed on any other OEM Android phones directly from Play Store without any modification! Popularity of the Google Camera is because of it's advanced features, such as: Manual settings, RAW image capture, HDR+ etc.

Why to use Google Camera or GCam?
Google Camera [Gcam] captures Overwhelming and alluring pictures in HDR+ with good saturation. Skin Tone Looks natural. Slow Motion video recording [with audio]. Images are Pretty Sharp and Support 8X Zoom. Some devices support Slow motion in stock camera but not Record audio So, this is another advantage of Google Camera.

What is Portrait Mode on Google Camera or GCam?
Apart from the sharp details, Good saturation, Natural colors and Skin tone Google camera also provides an excellent feature which is known as portrait mode. The portrait mode of Google Camera has the good accuracy of edge detection it never gets confused in blur whether it is a front camera or rear camera. Portrait mode is very natural and customizable you can also set up the blur density which is good for you.

What is Lens Blur on Google Camera or GCam?
Google Camera [Gcam] Lens Blur is pretty similar as portrait mode. In this feature, you can use portrait mode with the objects also. You have to Click a Shot simply and Move you device slowly to upward you will see this guide in Google Camera[Gcam] app. It also Supports portrait mode after clicking a shot. You can select which object you want to blur after taking a shot.

To know more about Camera2Api and to verify if your device's Camera2Api is Enabled,
Go through this below thread;
***What is Camera2 API, How to Verify and Enable it to Install Gcam on Your Smartphones?***

Download Google Camera (GCam 7.4)
The new and latest version of Google camera i.e. GCam 7.4 is extracted from Google Pixel 5 Smartphone and is now available for All Xiaomi Smartphone's which is running on Android 10 build based on MIUI 12 or MIUI 11 ROM. Here is the first build of modded Gcam 7.4 APK for you all;



Download Here:

or,




[Caution: Though it's not a harmful app for your device, But it's a moded app.

So, use at your own risk.]




Thanks to the developer Parrot043.




Mi Fans, do you use GCam?

Let us know in the comments below!
Rate