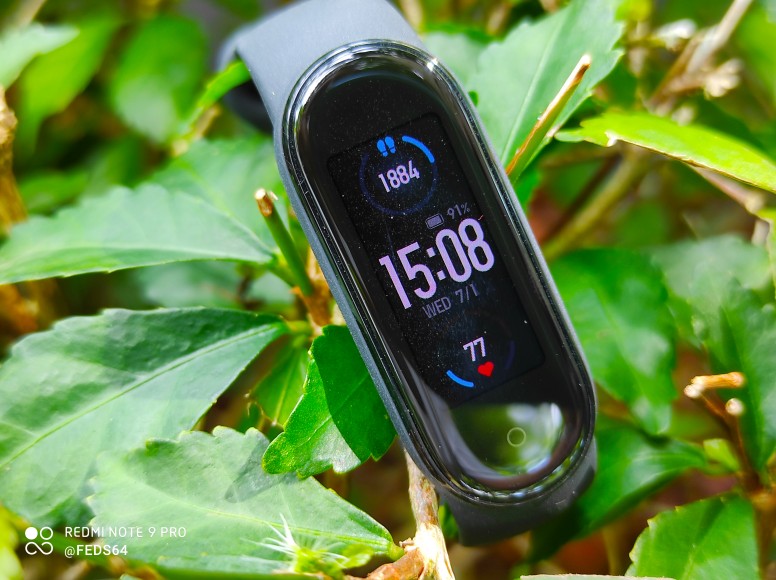 The hype for Mi Smart Band 5 is real and it's finally here, launched yesterday, July 15 along with other Xiaomi Ecosystem Products. To summarize the launch, Xiaomi has added more exciting features, related to health wellbeing. In light of that, all these functions make the Mi Smart Band 5 a thoughtful, personal health assistant on your wrist.
Meaning, within the main home screen you could tap the step display to see more steps details, like distances, calories burnt and etc. or simply tap the heart beat display to activate the manual measuring, all right from the home screen, without having to swipe up, down or left.
As you play around and swipe down the screen, you will notice more amazing features that will fascinate the beholder. You might wonder, what's the upgrade I am getting as a user of the previous band series, to make it fair, I am going to make the benchmark as the Mi Smart Band 4, "the best selling wearable band" for this review.
This round Mi Smart Band 5 have focused on better monitoring health factors and well-being and a most elaborated workout fitness tracking fine tuned to track elliptical to yoga which is incredible. In fact it introduced 5 additional workout tracking, that is, indoor cycling, elliptical, jump rope, yoga, rowing machine on top of the 6 sport modes available on its predecessor, like outdoor running, walking, cycling, indoor running, swimming and exercise. To make the tracking possible, it uses a high precision 6-axis sensor a combination of low power-consumption 3-axis accelerometer and 3-axis gyroscope and PPG heart rate sensor.
As the theme says, "Get smart, live more", Mi Smart Band 5 features 24/7 heart rate monitoring with 50% more accurate PPG sensor than its predecessor. With this it can redefine the additional essential features like PAI, Stress algorithm, Breathing training, interactive Women health segment to manage and forecast their menstruation and managing our Sleeping quality. All these contribute to a healthy lifestyle and knowing our body comprehensively at the very least.
Mi Smart Band 5 comes with Breathing training feature which helps with stress management to relax with breathing exercises.
On top of many health-related features, Mi Smart Band 5 also introduces more useful features. In terms of displaying style, music control, remote control and night mode which is a value added feature for our convenience.
What's more, the Mi Smart Band 5 also supports more than 100 of customized themes to choose from, including fifty-four IP featured themes such as Spongebob Squarepants, Neon Genesis Evangelion, Hatsune Miku, and Detective Conan. You can also customize the interface by adding function modules based on their preference, everyday mood, and personal style.
IP featured themes such as Spongebob Squarepants, Neon Genesis Evangelion, Hatsune Miku, and Detective Conan to suit your preference. Note: Spongebob Squarepants is available on Global meanwhile for China region Mi Account, all IP animated watch faces is available.
Besides many performance improvements and features, remote photo-taking, music playback, find my phone, phone muting, phone unlocking, incoming call notification, do not disturb, WhatsAPP notification, app message alerts, calendar reminder, event reminder, weather forecast, timer, countdown timer, alarm, Bluetooth broadcasting, online dials, custom dials, preset dials, screen locking, charging progress display, choice of wearing method, OTA upgrades are the other features that come standard now on Mi Smart Band 5.
Curious to know what's inside that does all that we have talked about? As for specs, the Mi Smart Band 5 has an apparently faster chipset than its predecessor, Bluetooth 5.0, 16MB of storage, 512KB of RAM and a barometer for gauging atmospheric pressure on a different altitude during our climbing session and so on.
On the power management which is very vital to keep us with uninterrupted juice, it's fitted with a 125mAh Lithium-ion polymer battery, that supports 14 days of continuous usage, offering ease of mind especially when travelling and adopts a brand new charging solution, simply snap the magnetic charging cable onto the back of the Mi Smart Band 5 when the battery runs low.
Another over the edge features, is that most wearable overlook is the Lock button, this is especially useful for those who never take off their band during showers or when you do your routine swimming, especially since water droplets can make the capacitive and touch screen go haywire.
Mi Smart Band 5 is feature-laden wearable, it rated at 5 ATM Resistant Rating and can withstands pressure equivalent to a depth of 50 meters.
To satisfy my curiosity, I did a submerging test and see whether something is going to happen, of course, to my dismay nothing happened, and the Band survived the test.
After using and playing with it for about a month, with most of the features to make a comprehensive review, conclusively it's an awesome user experience. With the upgrade in performance and new functionalities it is noticeably quick, smooth and the least to mention very intuitive wearable out in the market. With that said, I am poised Mi Smart Band 5 will be the next "Big Hit Wearable" and a "Big Bang for the Price" range. On top of that it's a perfect travel companion. And my suggestion that it is imminent that SpO2 sensor and Ambient Light sensor be available for the sequel.
Rate