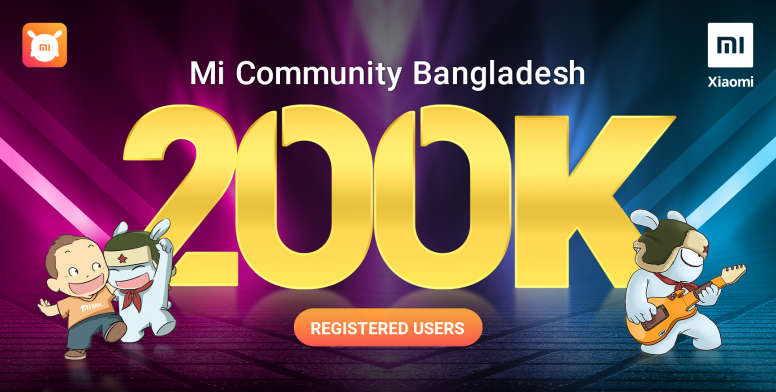 Thank you Mi fans for wishing Mi Community Bangladesh. You have expressed your best wishes by putting up wonderful entries in this contest. It's time to announce the winners.
Top 3 Entries:
Top 20 Entries (includes the top 3):
Congratulations to all the winners.
For the top 3 winners, each of you will receive a gift pack. Please send your full name, complete postal address along with the phone number to me through PM by 17th August, 2020. Failing to do so, you won't be able to claim your prize anymore!
Mi Community points and the Exclusive medal will be disbursed to the Mi account of the eligible winners.

~~~~~~~~~~~~~~~~~~~~~~~~~~~~~~~~~~
Greetings Mi Fans!
It's our immense pleasure to let you know that Mi Community Bangladesh is now 200,000+ members strong! THANK YOU Mi Fans!
This amazing milestone would not have been possible without the incredibly amazing Mi fans who have turned the Mi Community into an active platform to share, connect and express their views about Xiaomi products and their features. To make this achievement even more joyous, Mi Community Bangladesh is presenting a giveaway!
Share your wishes in a creative way using a photo/video and win Exclusive Gift packs as well as Exciting Rewards.
How to participate:
Prepare something that shows/depicts Wishes to Mi Community Bangladesh. This can be a simple drawing, a printout, an image shot on your smartphone or even a video. Be as creative as you can.

Reply to this thread with a photo or video (YouTube link only), add a description of your photo/video entry and share your wishes to Mi Community Bangladesh.



Selection Criteria:
Entries will be chosen based on the concept to produce the Image/Video.

Only Bangladeshi residents will be considered for being selected as one of the Top 3 Winners.

Mi Community Bangladesh's decision will be considered as final.

Mi Community Bangladesh reserves the right to make changes to the contest and disqualify an entry in case of cheating, in any form.



Contest period:
Entries can be submitted from now onwards till 11.59 PM on 17th July, 2020 (GMT+6)

Results will be announced on or before 7th August, 2020



Contest Rules & Regulations:
The entry must need to be original.

In case of multiple entries, only the first one will be counted.

Photos taken with Xiaomi products are a plus point.



Prizes:
Top 3 winners will be awarded with Exclusive Gift pack.

Top 20 winners will be rewarded with 2,000 Mi Community points each along with an Exclusive Medal.

Everyone reply to this thread before 17th July 2020, 11.59 PM (GMT+6) will get a '200K Registered Users' medal



Medal Preview: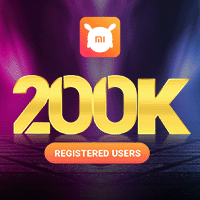 MILLIONS of THANKS Mi Fans!
Looking Forward to Your Creative Wishes.
Rate