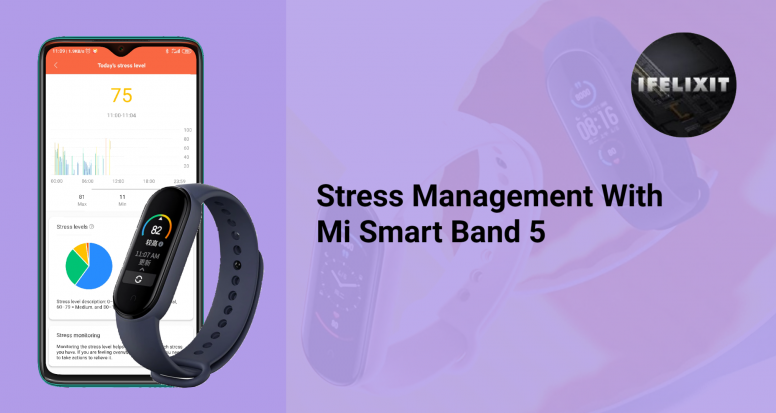 Hei Mi Band users,
Mi Smart Band 5 is the latest wearable activity tracker offerings by Xiaomi. It was announced in China on 11 June 2020, and went on sale from 18 June 2020 in China which has already apparently sold out on that very day it came online. Mi band 5, comes with a larger display, more fitness activities, women's health, and magnetic charging. This is the 5th generation of the Mi Bands and sports a larger display of 1.1-inch colored AMOLED screen, compared to 0.95-inch on Mi Band 4. It's more prominent display gives it more room for menus and features to be displayed.
Mi Smart Band 5 offers unique health tracking functions, like Stress monitoring function that can advise wearers when they should consider to adjust their breathing through Breathing training function or try to rest and relax. Both these functions make the Mi Smart Band 5 a thoughtful, personal health assistant on your wrist.
Using Stress Function
Stress psychologically refers to feelings of mental restraint and tension. Appropriate stress can help improve the efficiency of work and study. Excessive stress can cause physical and mental suffering and affect health. Stress monitoring is to help you check how much stress you have, if you are feeling overwhelmed by stress, you need to take the necessary actions to relieve it. You can check your current stress level manually, depending on the level otherwise it will be monitored throughout the day automatically. The stress value is calculated by combining heart rate variability data and stress models, and the results are for reference only.
Measuring stress:
Comfortably tighten the band around your waist, about 1 finger width away from your wrist bone, and hold it still.

To check your Stress status, scroll down the menu on your Mi Smart Band 5 and click Stress.



Tap the recycle icon below, it will start measuring and show the results in a moment later.



On the Mi Smart Band, scroll and browse through the statistics and show the highest and lowest stress level of the day.



Or launch Mi Fit app, tap on the Stress level statistic, to view in detail.

In the Today's stress level page, you can view your stress level history, swipe right to see the previous day's and left to go back.

For Manually measured results, tap the Manually measured results card to see the result and Stress level description.



Using the Breathing function
Mi Smart Band 5 comes with Breathing training feature which helps with stress management to relax with breathing exercises.
To access the Breathing menu, scroll down and tap the Breathing feature.

To perform the training, Relax yourself in a guided breathing exercise.



Keep quiet and relax your body



Inhale and exhale as instructed by the animation



After the exercise is complete, it will display your Heart rate count and the number of Breath taken.



The result clearly shows that Heart rate dropped just in a minute exercise, which will help you in managing your stress level, in my case from 71 to 69 BPM. This will directly decrease your stress level. Together, these make the Mi Smart Band 5 a thoughtful, personal health assistant on your wrist. That's all for now.
Do You Find The Features Helpful?
Rate