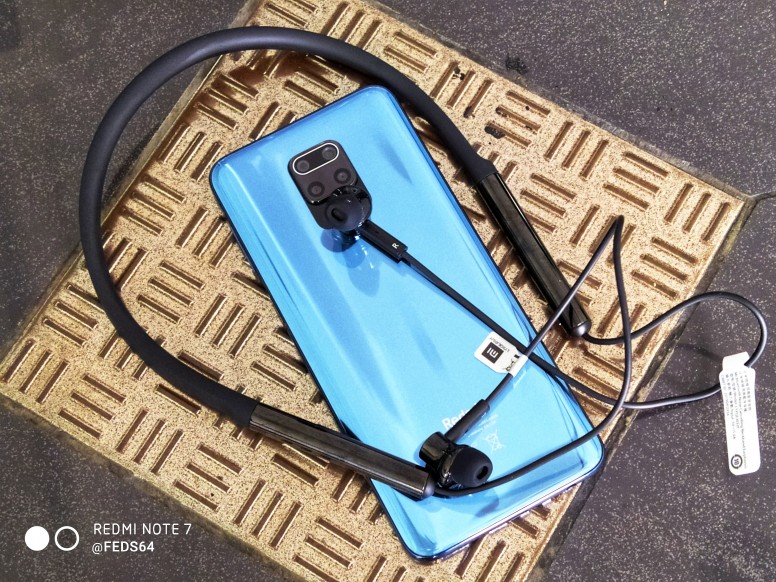 Hei Mi fans,
Today, I am gonna review the Mi Bluetooth Noise Canceling Necklace Earphones. Experience the freedom of wireless listening, coupled with exceptional sound and eye-catching style. Go wherever the music takes you.
The Mi Bluetooth Noise Canceling Necklace Earphones from Xiaomi combines High-Resolution Audio capability with bold, distinctive design with vibrant sound they will amaze your ear drums.
Main Features:
● Hybrid digital active noise cancelling, two-level switch to meet your needs
● Dynamic driver and balanced armature driver, more pure and mellow three frequency
● Magnetic earbud, hang it around your neck without worry about dropping
● Bluetooth 5.0 chip, support Sony LDAC tech, fast and stable data transmission
● 20 hours of music playback time, no worry about power failure
● Comfortable and soft neckband, no burden to your neck
The Mi Bluetooth Noise Canceling Necklace sound driver has a big dynamic plus moving iron, a double unit sounds to let you hear more details, which adopt a 13.6mm diameter large moving coil and moving iron acoustic structure that can effectively guarantee a powerful noise reduction effect and has an excellent music performance to achieve a true tri-band balance.
A two-level Noise Reduction, Strong level, suitable for aviation, subway, high-speed rail and other noisy environment, while Low level: suitable for lively scenes , such as shopping malls , streets and cafes, while the Earphone Flight Mode is a pure Noise Reduction after powering on, no need to connect Bluetooth device, It can turn on the noise reduction function automatically and effectively eliminate external noise to enjoy the pure noise reduction environment brought by the lasting quietness. Magnetic design, to avoid entangled of cable.
Mi Necklace Earphones support Bluetooth 5.0 and Sony LDAC which make wireless listening easy and transmits approximately three times more data at the maximum transfer rate of 990 kbps than the conventional Bluetooth Audio, to enjoy High-Resolution Audio content.
LDAC Features
LDAC is an audio coding technology developed by Sony that enables the transmission of High-Resolution (Hi-Res) Audio content, even over a Bluetooth connection.

Unlike other Bluetooth compatible coding technologies such as SBC, it operates without any down-conversion of the Hi-Res Audio content and allows approximately three times more data than those other technologies to be transmitted over a Bluetooth wireless network with unprecedented sound quality, by means of efficient coding and optimized packetization.

Stable connectivity and ultimate clarity

Experience High-Resolution sound quality on devices designed for LDAC. LDAC provides an enhanced wireless listening experience for all your music, the way the artist truly intended. You can also change the bitrate to suit your wireless environment.



Check out this track: "
Feel Me
" by Selena Gomez
Try to listen to these two tracks for the Hi-Fi and Master audio lossless quality.
In order to get the best performance, it's recommended you change the bit-rate, goto the Developer Option and force a higher bit-rate to Optimized for Audio Quality, which will outperform both Qualcomm aptX and SBC which only streams at 330kbps.
Next Mi Necklace Earphones supports Hands-Free Profile (HFP), Audio/Video Remote Control Profile (AVRCP) which is designed to provide a standard interface to control TVs, Hi-fi equipment, etc. to allow a single remote control or other device to control all of the A/V equipment to which a user has access and Advanced Audio Distribution Profile (A2DP) which defines how multimedia audio can be streamed from one device to another over a Bluetooth connection.
My verdict
Tested on the Mi Bluetooth Noise Canceling Necklace Earphones which support the LDAC audio Codec which allows streaming high-resolution audio over Bluetooth connections at up to 990 kbps at 24 bit/96 kHz.
For those music lovers will appreciate the clarity and high definition audio experience on the Redmi Note 9 Pro. The build and design is comfortable for an entire day outing. I must admit the bass and treble is superb, although i am used to high fidelity gadget.