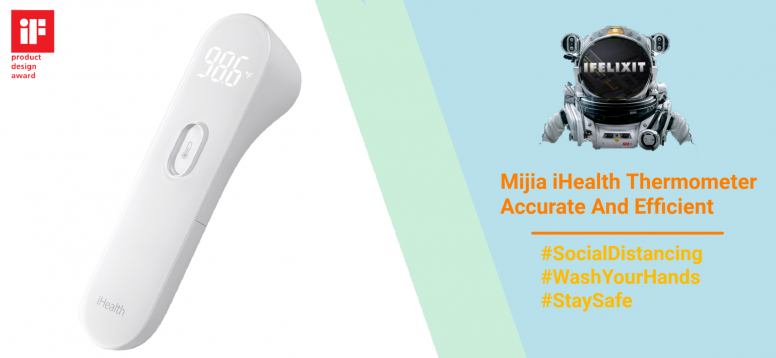 Hei Mi fans,
Wassup everyone? Hope to find everyone to #StayAtHome #SavesLives during this challenging time of isolation. Today, I am gonna review the Mijia iHealth Thermometer Accurate And Efficient to foster a good #Hygiene to #WashYourHands and stay #Hygienic to #StaySafe and #SocialDistancing in light of the contagious Covid-19 as a preventative measure. This is the second unit of iHealth Thermometer, I purchased for the isolation period and this far the packaging has improved which I had reviewed in the MIUI Forum.
Having a thermometer aimed at your forehead every time helps to identify your temperature and the people around you, especially during meetings and so forth can quickly measure surface temperature without touching people's skin and using non-contact devices to avoid spreading any infections.
iHealth Thermometer PT3 is an infrared No-Touch forehead thermometer that displays body temperature reading within 1 second. With a built-in distance sensor and environmental sensor, it avoids chances of invalid measurement and makes adjustments for accurate readings.
High precision: ultra-sensitive infrared sensor measures IR energy emitted from the forehead and collects more than 100 data points per second.

Concealed LED digital display with clear data, easy to use for the elderly and children

Adopting advanced German Heimann Sensor for accurate detection

Powered by 2 x AAA battery

Fast testing in just 1 second, get reading instantly.

Safe & Hygienic. No-Touch design, non-invasive measurement.

Gentle vibration to alert when a reading is completed. No annoying beeps.

Hold. Aim. Press. Only 3 steps to test, easy for self-measurement.

Readable at night with LED backlit.



iHealth Thermometer measures infrared energy radiated from the skin at the center of the forehead area. This captured energy is collected through the lens and converted to a body temperature value (Display of oral equivalent temperature). It's important to know each individual's normal temperature when they are well. This is the only way to accurately diagnose a fever. To get reference value, we suggest taking multiple readings to determine the normal temperature. For a specific method, take a multiple of readings (around 5-10 times) in one minute and take the top number for reference.
Thoughts
As the isolation extended, it's our social duty and responsibility to comply with the curfew and restrictions in our respective region. I was fortunate and very happy with the iHealth Thermometer and putting it to good use during this challenging period. With 1-second quick detection, non-contact infrared thermometer, advanced German Heimann Sensor, and clear LED digital display, this thermometer will give you a more convenient, hygienic and accurate body temperature measurement. After one second measuring, it will vibrate to give you a reading without a nuisance beeping. Amazing right? According to WHO guidelines suggest that thermometers can be part of a broader strategy towards health screening. Wash your hands regularly for 20 seconds, with soap and water or alcohol-based hand rub, Cover your nose and mouth with a disposable tissue or flexed elbow when you cough or sneeze. Avoid close contact (1 meter or 3 feet) with people who are unwell and Stay home and self-isolate from others in the household if you feel unwell.
Rate