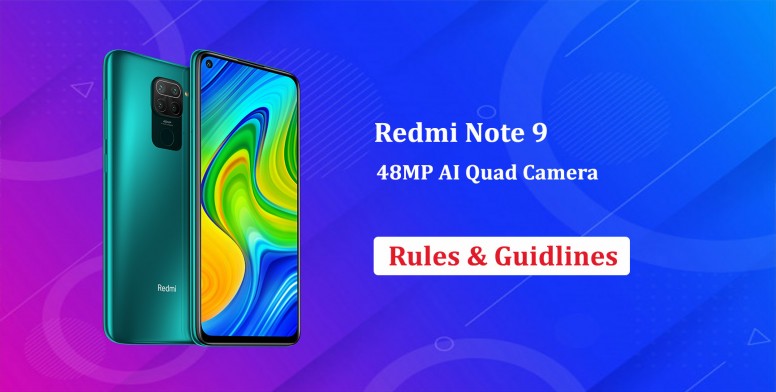 Hello Mi Fans,
Welcome to Redmi Note 9 Device Sub-Forum! Before you begin to start a new post in this sub-forum, please read the Rules & Guidelines to understand how things work here.

1. Search before Posting a Thread
There are chances that some user has already posted the same thing before you, be it any news, or any doubt or problem you are facing with your device. So it is advised in your interest to search first before posting, this may save your time. In order to keep this forum clean, we have no option other than deleting the repeated threads.

2. English as a Common Language
Though Bangla is our mother language, we suggest the use of the English language so that members of other Countries can read us. If for any reason you have to post a few lines in your regional language then translate them as well.

3. No Spamming
Spamming includes anything from replying in any thread with just words like "Ok", "Thanks", "Great" or just Smileys etc. or creating unnecessary threads with no content, so refrain yourself from doing so. Those replies and threads will be deleted, and spammers will be notified once. Spamming even after notifying may lead to warning/ban.

4. No Nudity, Profanity, Racism and Swear
Strict measures will be taken against such users, kindly refrain yourself from posting such things.

5. Sufficient Contents
Be clear and have a better title to turn the attention of others towards your thread, don't post one-liner as we may not be able to understand what the thread all about is. Be clear in asking a question and make a detailed guide when sharing a review. Failure to comply will result in your thread being deleted without any notice. Also please do not ask to rate or support your post/thread in PM as well as don't even mention anywhere in your post/thread. You will be asked to remove that and if you don't, that post/thread will be deleted.

6. Don't Post Sales and Advertisement links
Under no circumstances, users are allowed to post any thread related to any products like facial creams or anything like that. If you want to do that, this is definitely not the place and is considered as spamming. Also, users are advised not to post links to their blogs/youtube channels. Such threads will be deleted without notice and a warning will be issued to the users as well as violation will be recorded. In serious cases, users will be banned.

7. No Leaks
Threads, containing external links to official files (full ROMs or OTA zips) will be considered as a LEAKS and will be dealt with very SERIOUSLY and accordingly!

Important Note: Thread posted on grounds of multiple appearances in different sections by the same user (if came in appearance in this section) will be deleted on sight without any further notice and a warning may be issued (depends on the case).

Measures were taken by Officials
Firstly: Warning to the user (max for 3 times).
Second step: Ban for 7days. (Can be extended up to 3 months depending on the case)
Third step: Permanent Ban.

Disclaimer: Mods are not responsible if you don't read the rules and don't follow the rules. If your thread or post gets deleted and if you get any warnings or ban, then only you will responsible for that. Don't ask for unnecessary questions in PM, and don't fill unnecessary complaints because all the rules are stated clearly. Please read the rules beforehand. Thank You!



Special thanks to our admin

mnnahid

Bhai & all S/Moderator for continuous support and inspiration.
Rate