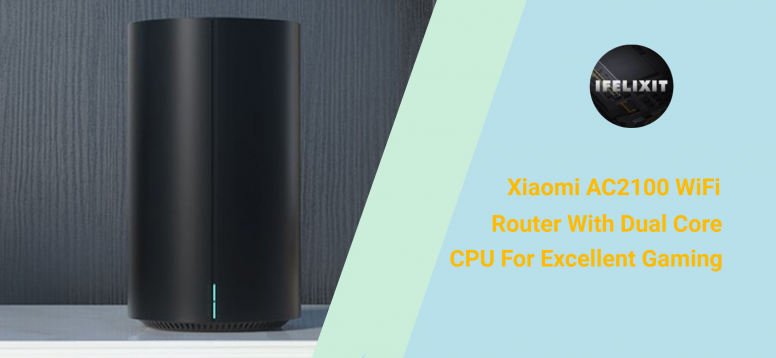 Hei Mi fans,
With #StayAtHome and social distancing now becoming a way of life, an increasing number of people are relying on the internet for work, education and entertainment. This has placed greater demand on our network infrastructure, reducing the bandwidth available for each user, and is leaving people frustrated at seemingly slow internet speeds. How to overcome it? Well today, I am gonna make a Xiaomi AC2100 WiFi Router With Dual Core CPU For Excellent Gaming review. Let's see how it stacks up!
Features
1. Mi Router AC2100 equips a high-performance MT7621A processor clocked at 880Mhz frequency with 128MB of internal memory.
2. Maximum speed of 2100Mbps, integration of dual band 2.4Ghz and 5Ghz band.
3. Supports Beamforming, enhanced and optimized signal between connected devices
4. Stable Connection with 4x4 MIMO for Die-hard gamers.
5. Comes with MiWiFi Router App based on OpenWRT, which is accessible via Web or app.
6. Built-in with UU Game Booster run your games smoother and resolve package loss.
7. Built-in 4X4 omnidirectional high power antenna mobile phone, computer, host gaming power acceleration dual frequency full gigabit high speed routing
Using Xiaomi AC2100 WiFi Router
The Xiaomi AC2100 router provides two frequency bands of 2.4GHz and 5GHz without mutual interference. The dual-band concurrent wireless connection delivers the rate up to 2033Mbps to meet the faster Internet speed requirement of the device. The 2.4GHz frequency band features longer transmission, better coverage and better wall penetration performance and the 5GHz frequency band uses 802.11ac technology, with less interference and high speed, which ensures the smooth high-definition video and large online games playing. So, what are you waiting for?
It provides the Multi-Devices Transmission at the same time which the 5GHz band adopts the new generation of Wave 2, MU-MIMO (Multi-User Multiple Input Multiple Output) technology, which changes the inefficient transmission mode that only one terminal can occupy the channel at the same time, and allows communication with multiple terminals at the same time and supports 1000M Bandwidth.
It's equipped with one Gigabit WAN port and three Gigabit LAN ports, and adapts to the high-speed bandwidth of up to 1000M, which allows you to make the most of every megaband bandwidth of the operator. The high-speed Dual-core CPU offers a maximum performance, with the dual-core four-thread 880MHz processor, a comprehensive performance will greatly be improved, easily supporting data forwarding of Gigabit Ethernet port and Gigabit dual-band WiFi. Combined with lower network delay, ensures the best gaming and surfing experience.
Three-dimension Cooling Structure.

Good thermal conduction design and large channel convection, with large heat sink, effectively reduce the chip temperature and maintain excellent system state at all times.



Hidden High-Performance Antenna, Covering Evenly at 360°.

Built-in four omnidirectional high-gain antennas, with reasonable internal layout, feature wider coverage and better transmission performance after precision debugging, with no performance impacts caused by the antenna damages or improper placement.



The 5GHz band the the AC2100 router adopts the structure of 4 receives and 4 transmits, to make the most of WiFi performance and provide smooth game playing and video watching experience.



Stable Connection with 4x4 MIMO, it doubles the transmission rate and prevents interference from other accessed devices, delivering a stable rate.

Integrated 6CH signal amplifier for Better Through-wall Performance.

The 2.4GHz and 5GHz wireless chips integrate 2-way and 4-way iPA+iLNA respectively. iPA (built-in power amplifier) effectively enhances the signal transmission power and the iLNA (built-in low noise amplifier) improves signal reception sensitivity, to ensure longer transmission distance, better through-wall performance and wider covering range.



Intelligent Correction Algorithm.

The 5GHz band supports LDPC (Low Density Parity Check Code) error correction algorithm to enhance the anti-interference capability during data transmission, significantly increase the WiFi signal coverage, and to improve weak signal and ensure more stable and efficient transmission.



Supports beamforming technology to automatically detect the location of mobile phones, PC and other terminals in the network, to enhance the signal of the position and ensure wider coverage of WiFi and stable signal.

One-Click Comprehensive Detection of Potential Vulnerabilities for Privacy Protection.

With the technology accumulation of Xiaomi Smart Home for many years, the AC2100 provides security protection for various mainstream smart home devices in the market, and one-click detection of potential vulnerabilities technology allows to prevent intelligent lock attack, smart speaker intercept, etc.



Supports for IPv6 which features a larger address space, making the Internet of Everything possible and improving router forwarding efficiency and security. The AC2100 support for IPv6 is to facilitate access to the education network resources of well-known universities.

Easy Management of Kids' Online Time and Contents.

Via the setting of networking time and range of URLs allowed for the devices, that will effectively ensure kids to utilize the Internet safely and the functions such as online and offline reminders, Internet Daily Reports, etc., help you to know the websites your kid visited in detail.

Support Anti-Wi-Fi Squatter that pushes notifications to the mobile phone in real time that there is a new device and supports putting it to the blacklist with one click.

Mi WiFi App 5.0, More Intelligent and makes it easier to manage routers and their access devices. Integrated anti-Wi-Fi squatter, WiFi optimization, restart plan and other practical functions, protect network security while maintaining a better working condition.



Note: When setting Mi Router AC2100 for the first time, it is more convenient to use the Xiaomi Home App without having to enter the password.
AC2100 WiFi Router for gaming
Built-In Game Accelerator with Low Latency making more stable. In addition, it's built-in with a game accelerator which allows you to enjoy the ultra-low latency and the ultimate gaming experience without borders and the built-in console game accelerator support for playing at multiple platforms like PS4, Switch, Xbox game platform acceleration, without high latency, login failure and so on. Note that the service is supported by Netease UU Accelerator, and you need to register and bind the Netease UU account at MiWiFi App.
Furthermore, AC2100, integrates 128MB large memory with more data cache spaces, for game acceleration to ensure the stability of data transmission and stable connection with each access device.
Verdict
Xiaomi AC2100 WiFi Router With Dual Core CPU for excellent gaming and you can be rest assured you won't be disconnected like the above mishap. With AC2100 High-speed Router combined with Dual Frequency, Full Gigabit Ethernet Port, Dual-Core CPU, High-speed Concurrent Multitasking with 360º hidden antenna will uniformly give the coverages in all directions. Plus the built-in Game Acceleration can help you win your gameplay swiftly. In addition the 128MB storage further enhance your gameplay.
Rate