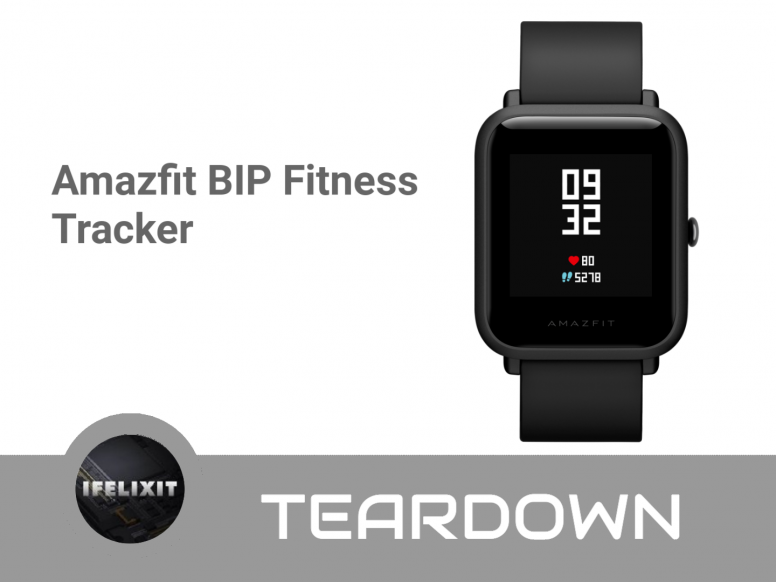 "Strong sales of the Amazfit-branded smart sport watches exemplifies consumers' growing awareness and support of the product line following its late 2016 launch," With the strong sales of the self-branded smart sport watch product line which reflects their ability to provide consumers great value at a premium price point. In addition, international interest in the Amazfit-branded products increases our confidence in broadening our markets." Total overseas sales volume of Amazfit Smart Sport Watches has exceeded more than million in units.
Up to date, I accumulated 5 units of BIP since it came out as a China version. Today, I am going to tear it down and see the components that make the BIP ticks and tracking.
Amazfit Bip features an astonishing 30+ days of battery life on a single charge, a reflective always-on color touch display, GPS, barometer, geomagnetic sensor, PPG heart rate sensor, 3-axis accelerometer for activity, sports and sleep tracking, while weighing only 31 grams. Amazfit Bip comes in 4 vibrant color options and allows you to receive emails, text messages, calls and app notifications on the watch display. You can track your runs (indoor and outdoor), cycling and other sports with detailed GPS routes and stats.
Key Features
Record-breaking battery life: Up to 30 days with regular use and up to 45 days with minimal notifications.

Super lightweight: Comfortable to wear every day, as well as for sports and sleep tracking.

Notifications: Receive notifications for calls, messages, emails, and other apps on the color touch display.

Multisport tracking: Track your runs, cycling and more with mapped routes, detailed stats and heart rate zones.

Latest technology: GPS, 3-axis accelerometer, optical heart rate sensor, barometer and compass.

Always-on display: the reflective color touch screen is always on and provides at-a-glance view for time, date, steps, weather, sports stats etc.



Amazfit BIP has an IP68 rating which is resistant to dust, rain and splashing. I tested this by submerging it into the beer and it survived that test.
Technical Specs
Always-on reflective 1.28 inch color touch display

2.5D Corning gorilla glass 3 + AF coating

Optical heart rate sensor for heart rate zones

Geomagnetic sensor (compass)

Air pressure sensor (barometer) for elevation

GPS + GLONASS for route tracking

20 mm standard width changeable watch band

IP68 rating - resistant to dust, rain and splashing

200mAh Li-Polymer Battery

31 grams total weight



Well, let's get started and check out the inside! All you need is a heat blower and a suction cup to pry open the display from the watch, angle tweezer, opening pick, Phillips and flathead bits.
Remove the wristband to make working practical.
To remove the display, use the heat blower around the edges of the display a couple of times. Use the opening pick to wedge the display. It should easily be removed, since it is glued with a thin rubbery band adhesive. Then unattached the display flexible cable connector.
Next unscrew the only screw in this teardown. That would expose the vibrator and battery ribbon connector becomes loose when the metal plate is removed. Then use the pick to wedge the battery up.
The metal plate on the side is the element of the barometer with a tiny hole through the watch body as shown above.
Next we remove the optical heart rate monitor, flip up the zif connector to release the cable ribbon. Next remove the motherboard and take care to do it slowly not to break the cable ribbon of the vibrator motor. What's left is the antenna of the GPS, the glass protector for the optical heart rate sensor, the charge terminal and the crown which hold in place with a c-clip. Both sides of the motherboard comes with dry thermal paste and simple heat sink for heat dissipation.
As from the chipset, 8mb (25LQ64CVIG) flash onboard, if it helps those solving unbrick cases, to reflash the microcontroller using a programmer ST-Link or JTAG debug. For reference, you can get more info from the following github link:-
Thoughts
Amazfit BIP is pretty easy and straightforward, when removing the motherboard take extra care on the vibrator ribbon cable. Battery and screen is easily replaced if there are mishaps.
Rate