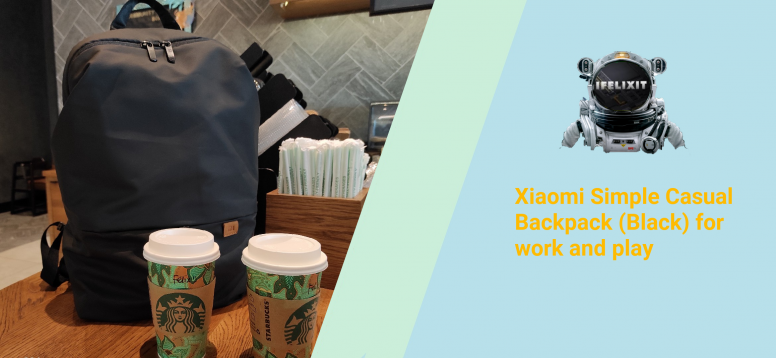 Hei Mi fans,
Wassup? Hope to find everyone cheerful and staying safe. Always believe something wonderful is about to happen! Well, as you contribute more to the Mi Community, like the Chinese saying, Every step makes a footprint and it's only reciprocal to be rewarded. So today, I am gonna review the gifts that I got. Let's check it out!
Walla! It's a Xiaomi Simple Casual Backpack (Black) plus other items which I am happy to receive. Let's get started, the Backpack comes with 20L volume, measuring 275x150x430mm which is excellent for short trips just throw in your essential items and will accommodate a 15.6 inch laptop. Its spacious so to speak.
The outer layer fabric is 100% polyester fiber, lining is 100% polyester fiber and the filler to cushion your back and other areas is 100% polyethylene foam cotton.
It's sporty and blends nicely in the ambiance.
Xiaomi Simple Casual Backpack is lightweight, portable and convenient to carry around and only weighs 490 gram.
The front compartment makes it easy to slip in your passport or documents to easy access and very practical.
The waterproof side-pockets easily tug in coffee cups or umbrellas, this is possible with the seamless technology, which is integrated and does not have to worry about seeping into the main bag .
Super waterproof and easy to clean the backpack since it's made of a special waterproof coating fabric. Even if it gets dirty, just wipe using a paper towel and its sparkling clean again. Furthermore, comes protected with 4-level water resistance to protect your items from rain to some extent, ease for working and going home.
One of the cool features is the anti-theft which is a hideaway from the prowlers who won't suspect of the location at the back with a hidden zipper design.
The comfortable feeling of icy fabric and fits nicely the contour of your back, with 50% ice-sensing mesh material added, making the ice silk interlacing process not only very cool but has strong perspiration and heat dissipation.
Comes with xiaomi custom zipper which is very smooth and slip resistant.
The backpack handle is made of nylon webbing and filled with high-rebound eva polymer material, even if it's loaded it still feels comfortable.
Shoulder strap webbing buckle design makes shoulder strap webbing look better and stylish.
S-type strap making it easier to carry on the shoulder which enlarges the force area of the shoulder, disperses the force point of the shoulder and reduces the number of accidental slippage of the shoulder strap.
Nylon cart compatible with hand carry suitcases.
Cleaning direction:
Soak and wash in cold water, do not dry in direct sunlight, air dry in a well ventilated area. Washing will cause shrinkage and discoloration, which is normal. When washing, dark fabrics may fade, do not use detergents containing bleach or fluorescent agents. Do not use detergent excessively when there are stubborn stains such as oil stains. Dark fabrics are wetted by water or discolored due to friction. Take note that direct sunlight or fluorescent lights for a long time will cause discoloration. Pay full attention when storing. (Please read the washing and curing information carefully, and keep it properly for easy reference.)
Verdict
Thus far, it's fantastic and convenient for me to carry my essentials along with me. As from my experiment spraying water directly on the backpack, I would validate that it is waterproof as long not over the zipper area, which water can sip in. As for space it's spacious alright, I can fit too many stuff until it gets bulky. I do recommend it for short and impulsive trips. Always ready on the go.
Rate