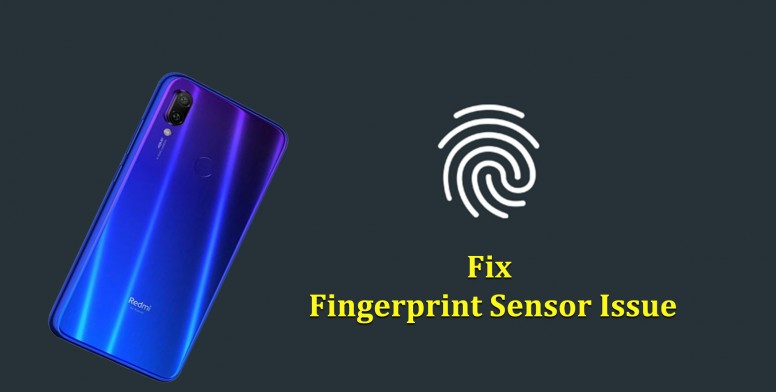 Hello Mi Fans,
Hope everyone is well on this Eid holiday. On this Eid holiday, today I have come to you with tips on fingerprint scanner.

Fingerprint Scanner or Sensor is the newest and heavily used feature on almost all the new smartphones. The Fingerprint acts as a tough layer of security for the device as it uses the biometrics of the finger to detect the original users of the phone. Sensor errors are common on smartphones and let us read them in detail.

Today in this post I will tell you the best solutions to fix all the Fingerprint issues on all the Xiaomi devices. As the Fingerprint issues are mostly due to software glitches, therefore, solutions to fix the fingerprint problem are generally the same for all the Xiaomi Models. That is all the solutions below can work for all the Xiaomi devices.



How to fix Fingerprint Not Working Properly, Missing Fingerprint option?


Solution 1: Reboot the Phone:
You might have already rebooted your affected Xiaomi phone a hundred times. Try once more. Because it's recommended before performing the upcoming fixes. In fact, most problems can be solved by rebooting. After reboot your device check again the fingureprint. If it doesn't recognize your fingerprint, proceed to the next fix.

Solution 2: Clear fingerprint apps Cache data:
Your fingerprint's cache stores the files which help the fingerprint apps to work faster. Cache files are created for ease of use and better user experience. However, sometimes these cache files may get corrupted and it can start bringing up errors which will not allow you to use the fingerprint sensor. To fix the problem, we can clear the cache files.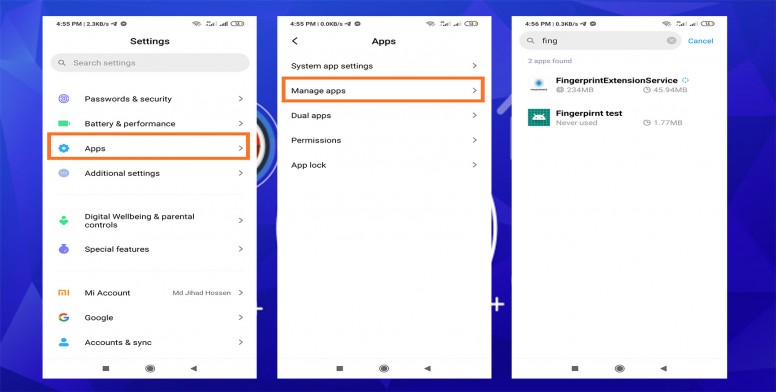 To clear catch file follow the steps-
Open Settings- Apps- Manage apps- select FingerprintExtensionService & Fingerprint test- Clear data.

Now once again and check if the problem is fixed.

Solution 3: Fast-Reboot the Phone:
You can try the fast-reboot option, if reboot & clearing catch data isn't solve this issue. It clears the volatile memory & give access on all sensors. In order to do it-
Power off your Xiaomi device.
Press and hold the Power button & Volume – keys until the Mi Bunny icon appears on the screen.
Keep the keys pressed for a few more seconds until the phone turns off again.
It clears the volatile memory and you can check again the fingureprint. If it doesn't recognize your fingerprint, proceed to the next fix.


Solution 4: Calibrate fingerprint sensor:
If the above methods do not solve your problem, here is one more solution you can try Calibrate fingerprint sensor by CIT test.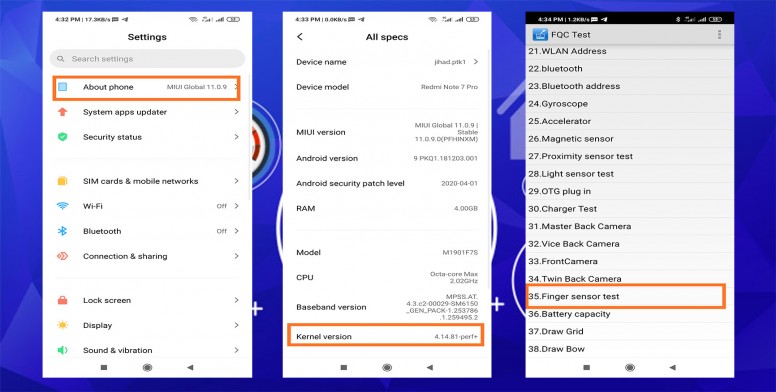 To calibrate fingerprint sensor follow the steps-

Open Settings- go to About phone
Tap 5-6 times on "Kernel version". This will enter to Engineering Mode (CIT)
From "QC test" menu, go to option "Finger sensor test"
Finger sensor test Fpc will start.
Select "Fail". This will reset the sensor.
Exit CIT mode and test your Fingerprint sensor. If was a problem with the sensor, it should be solved now.

Solution 5: Delete previous fingerprint data & Re-add fingerprint: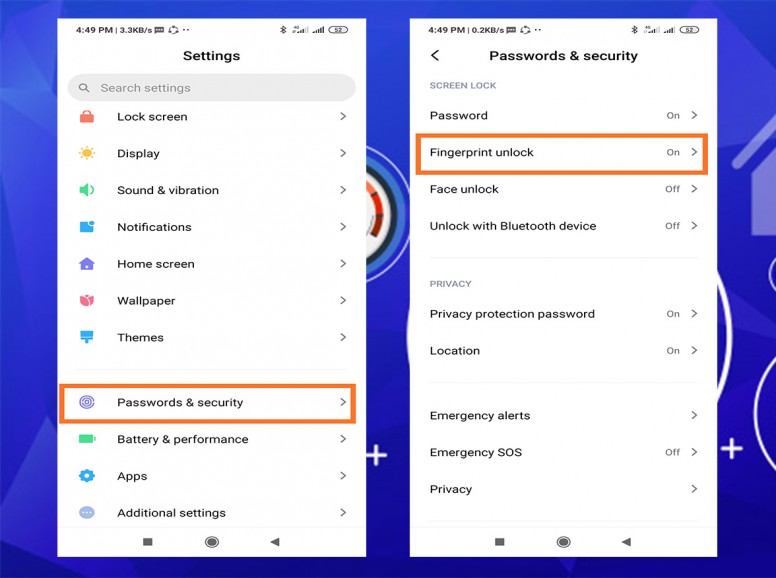 Try removing and re-adding your fingerprint by going through Settings- Password & security- Fingerprint unlock- Fingerprints1/2- Remove fingerprint. Reboot device & re-add fingerprint data. If it doesn't recognize your fingerprint, proceed to the next fix.

Solution 6: Checking for System Updates:
There were many instances where the MIUI software provided by the Xiaomi wasn't properly configured and it malfunctioned due to which the fingerprint sensor was not working. Therefore, in this step, we will check to see if any update is available to fix the software problem.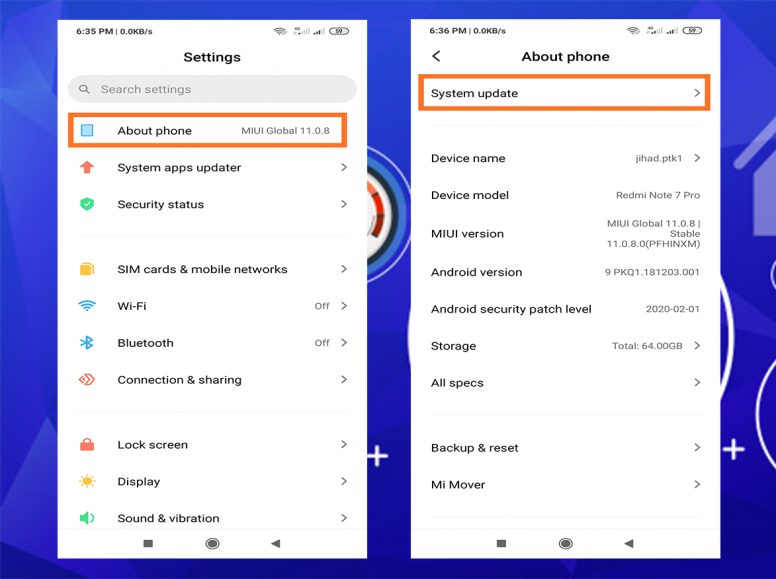 Follow this steps to check system update-
Go Settings- About Phone- System Update. Here, you will find the latest update if available for your device.


Solution 7: Factory Reset
Factory reset is your last resort but if nothing else works, you have to do it. It wipes everything from your phone and you will get a clean device requiring the new phone setup wizard to be completed. So, backing up is absolutely required.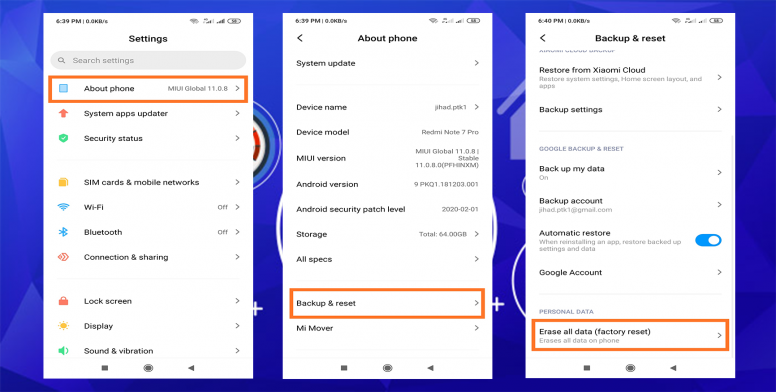 Follow the steps to factory reset your phone-

Open Settings- About phone- Backup & reset- Erase all data (factory reset)


I hope that either of these methods would work for you and you are able to solve your Fingerprint issue.

In case you are not able to do that, chances are, it might be a hardware related issue, and you need to visit service center.

How helpful is this tutorial. Tell us in comment section bellow.



Special thanks to our Admin

mnnahid

Bhai & all s/Moderators for continuous support and inspiration.


Coronavirus (COVID-19) Advisory:

Wash your hands frequently
Maintain social distancing
Avoid touching eyes, nose and mouth

More Tips and Tricks:
Our Social Network:
Rate