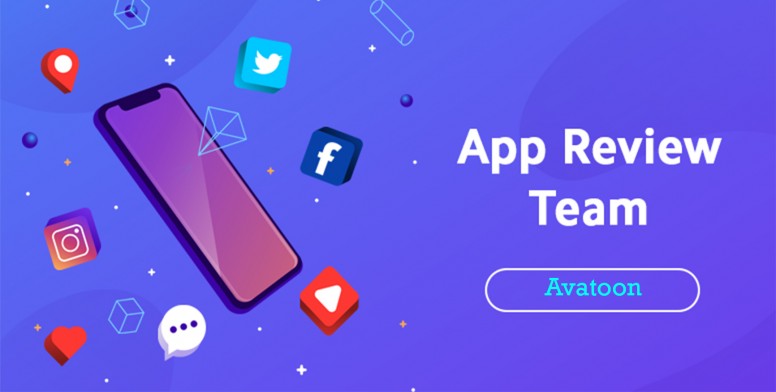 Hello MIUIers,
Hope you all are doing well. We are spending most of the time in social media interacting with other persons and also playing online games with friends. We must be sending emojis and stickers to our friends time to time. If you would be able to create your own avatar and then send to your friends then wouldn't it be awesome. If you are interested to create your own avatar and share with friends then Avatoon is your go to app. So lets go into the review to know more about Avatoon.
R E V I E W
FIRST LOOK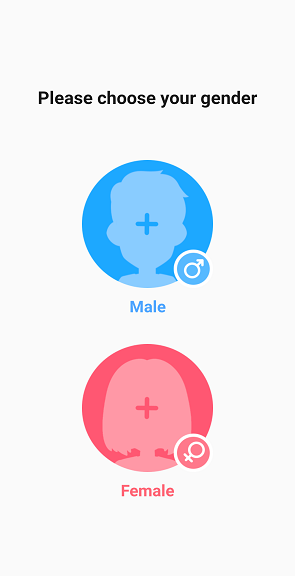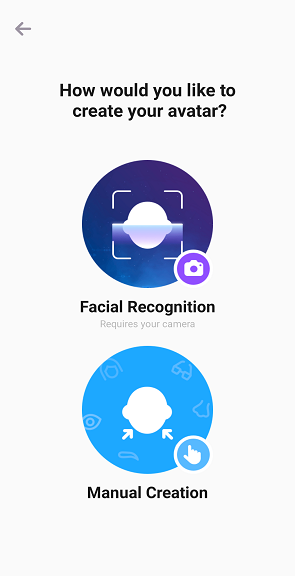 Firstly you will need to choose a gender then you have option of facial recognition or manual creation. I prefer facial recognition because it is more unique than manual creation so I went with Facial recognition. It will ask for access to camera and once you provide access you can click your picture and start creating your very own avatar.
Firstly after you choose one of the 2 methods facial recognition or manual creation you get your avatar and now you are ready to edit your avatar.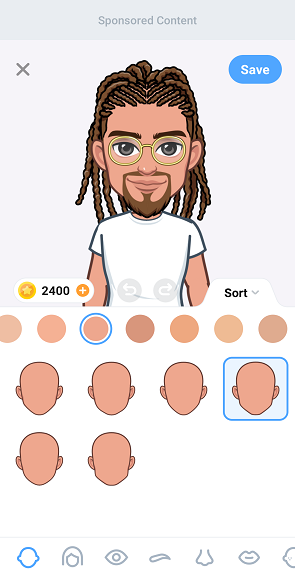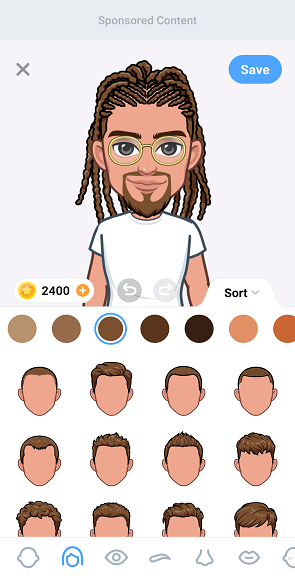 You can choose from different face styles, hair style, eye style, nose style etc. The choices are enormous just choose whatever you prefer and apply it to your avatar. I got this look as default and I am quite hapy with it where I have made some changes to make it look attractive.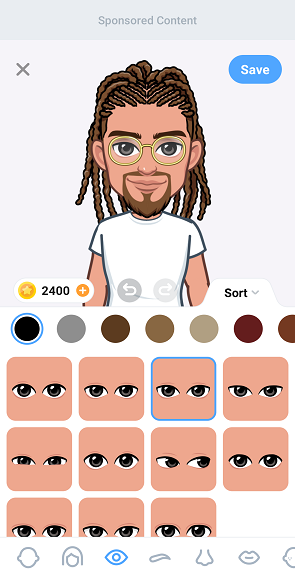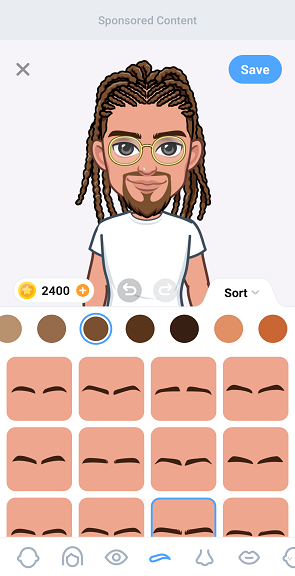 You can even choose color for your hair, eyes etc so there are really many varieties available for you. I always prefered to have blue eyes so I have chosen blue eyes for my avatar. There are even accessories available like glasses available so you can try them too. So cool
. Currently I have 2400 coins available and we can use them later.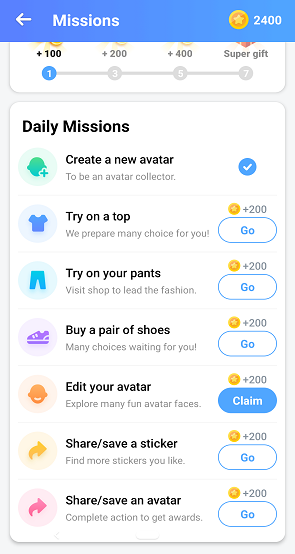 There are daily missions available that you can fulfill to get coins. Complete these missions to get extra coins which we will need for later.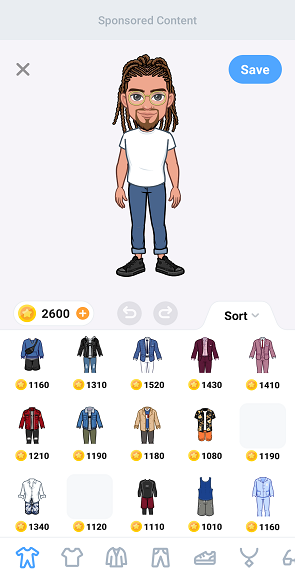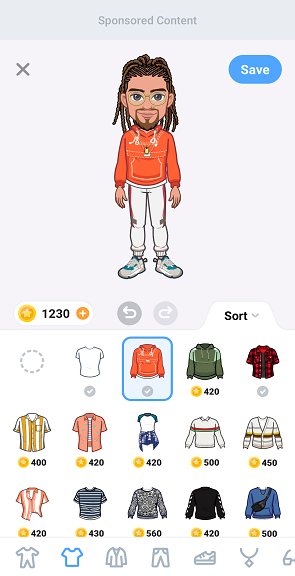 I clicked on mission choose a top and here I have varieties of tops, pants, shoes, accessories or a complete set of top, pants, shoes. I choose one of the set and I am quite happy with it. You can create your own set of clothes and accessories and try them on before purchasing and if you are happy pay the coins and get them. You can also get coins by watching ads if you are connected to the internet.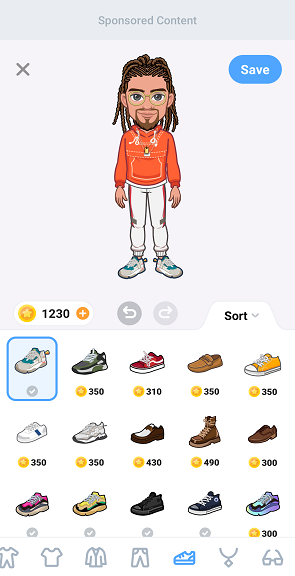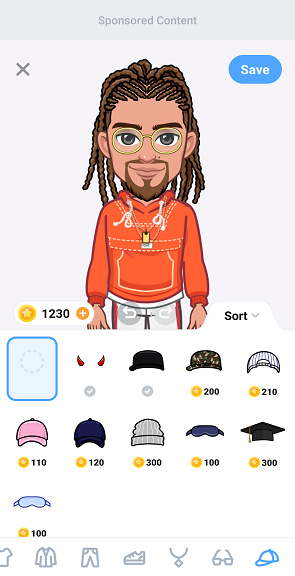 There are even hats and accessories available so there is really a lot of choices
.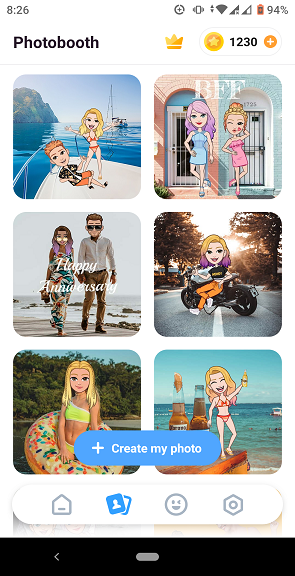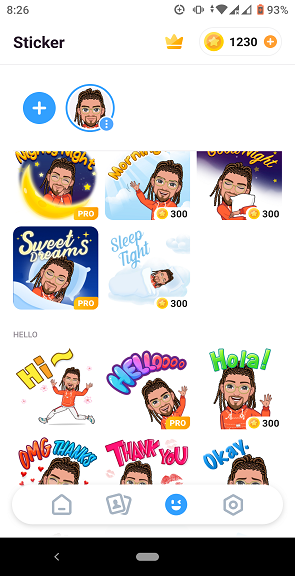 There is option of photobooth where you can place your avatar with pre set templates. I did not find this feature so interesting. If we were able to create photo with making our own picture then it would have been more interesting. There are even stickers available wow
. This is my favorite part of the app where you can create your very own stickers with your avatar. However as you can see some sticker require pro version.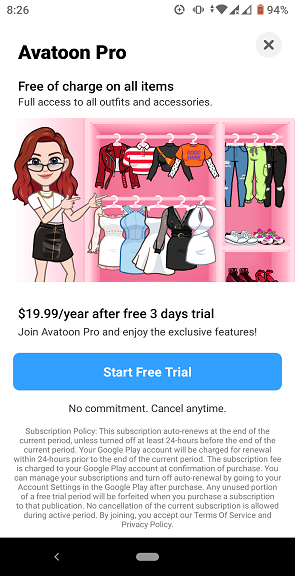 The pro version requires $19.99/year after 3 days of trial quite expensive and you can create your avatar very well even without pro version so its good even without pro version.
CONCLUSION
Avatoon is a great app to create your own avatar and then share with the friends. There are a lot of options available for creating your own avatar and you can even add stickers to your avatar which is really cool. Here is an avatar with sticker I created through the app: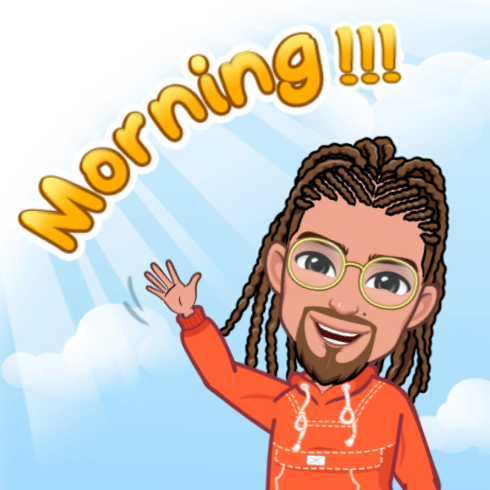 Pros & Cons
Pros
Small sized app.
Many varieties available for avatar.
Can create multiple avatars and availability of daily mission for getting coins.

Cons
Requires internet connection for some features like getting clothes, accessories etc.
Photobooth could have been better if there was option to create or add own photo.

If you are a person that uses emoji and avatar a lot and want to create your own personal avatar then Avatoon is the perfect app for you. I really love the availability of sticker option for the app through which you can create your own sticker. The only downside is that some stickers require pro version and pro version is quite expensive and also you need internet connection for some features.
My Rating: 4.5/5
Additonal Information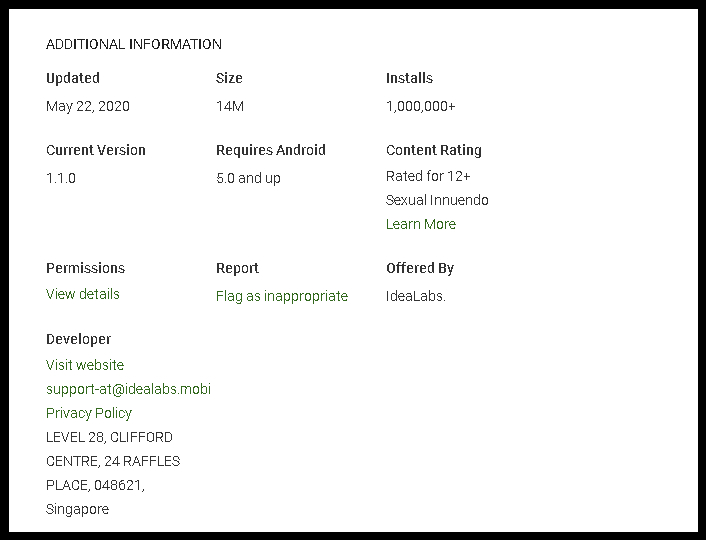 Or
Avatoon.apk
(12.07 MB, Downloads: 7)
Rate