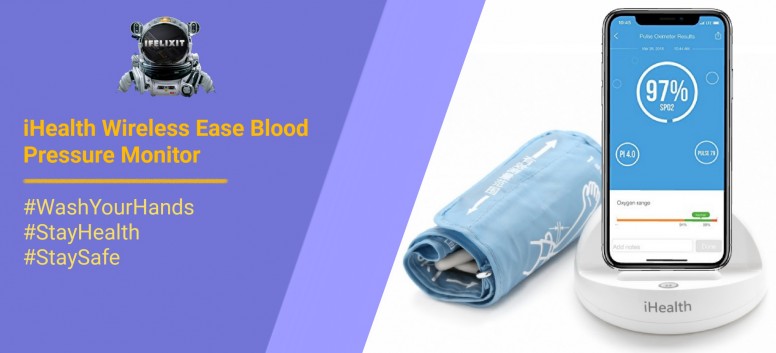 Hei Mi fans,
Wassup everyone? Hope to find everyone to #StayAtHome #SavesLives during this challenging time of isolation. Today, I am gonna review the iHealth Ease Blood Pressure Monitor to #StayHealthy #BeStrong and #StaySafe in light of the contagious Covid-19 as a preemptive measure.
With the on-going Covid-19 pandemic, it has unprecedentedly impacted us on the way we live and work. On top of that, it can affect our mental and health state with the on-going isolation. In this respect, a regular health check-up can identify any early signs of health issues. Early detection means your chances for effective treatment is higher. Many factors, such as your age, health, family history and lifestyle choices, impact on how often you need check-ups. Today, I am going to review the iHealth Ease Wireless Blood Pressure Monitor to keep track of our wellbeing. It our social duty to maintain our good health through early detection and maintaining basic cleanliness and social distancing at all times.
About iHealth Ease (BP3L)
Home monitoring is a great way to help detect and monitor high blood pressure. Regular readings taken over a period of time can track the history of your results and indicate any changes, fluctuations or elevations in your blood pressure. The iHealth Wireless Blood Pressure Wrist Monitor provides a convenient way to test, track and share your results. It is designed for adults and should not be used on infants, young children, pregnant or pre-eclamptic patients, in addition to people with serious arrhythmia. The iHealth Ease Wireless Blood Pressure Monitor has obtained CE medical certification (Europe) as well as FDA approval (USA) and also has obtained ESH Certification (European Society of Hypertension). The monitor lasts a minimum of 10,000 measurements, or 3 years of usage. It comes with a rechargeable battery built-in and the monitor can take up to 500 measurements on a full charge. What's included in the packing is the Blood Pressure Dock, Home Blood Pressure Cuff, Owner's Manual and a Charging cable.
Using iHealth Ease (BP3L)
First Time Setup
● Connect the cuff to your iHealth Ease by inserting the cuff tubing connector into the air port on the left side of the monitor. Make sure that the connector is completely inserted to avoid air leakage during blood pressure measurements.
● Charge battery before first use. Connect the dock to a USB port using the charging cable provided until the green indicator light stabilizes.
● Launch the app and follow the on-screen instructions to sign up for an iHealth account.
● After your account has been created, you can access synced data from your smartphone or tablet, or view it from any computer by logging in at
www.ihealthlabs.com
.
Connect to Android via Bluetooth
1.Launch the iHealth MyVitals app from your Android device to initiate connection
2.Enable Bluetooth on your Android device: Slide downward from the top of the Android phone screen, and tap on the Bluetooth icon.
3.Place your Android device on the dock.
4.Wait 3~6 seconds until the monitor connects with your Android device and the dock light turns green.
5.Tap "Start" in the blood pressure section of the MyVitals app to start measurement.
6.Results will be displayed on your Android device.
Measurement Procedure
Blood pressure can be affected by the position of the cuff and your physiologic condition. It is very important that the cuff should be placed at the same level as your heart.
Sitting Comfortably During Measurement
a. Sit with your feet flat on the floor without crossing your legs. Stay still during measurement. Do not move your arm, body, or the monitor.
b. Place your hand palm-side up in front of you on a flat surface such as a desk or a table
c. The center of the cuff should be at your heart level.
Lying Down During Measurement
a. Lie on your back.
b. Place your left arm straight along your side with your hand palm-side up.
c. The cuff should be level with your heart.
Note: Blood pressure can be affected by the position of the cuff and your physiologic condition, so it is important that you always measure your blood pressure in the same position.
My Verdict
In this period of isolation, together we're facing challenges unlike ever before. Hence, take a deep breath and manage our stress level. Be strong and stay positive, as we can do it together to get over this period of pandemic. With iHealth Ease Wireless Blood Pressure Monitor it's the easiest, most affordable blood pressure monitor to keep track of our blood pressure. Its clinically-tested accuracy and trustworthy, US & European Society of Hypertension (ESH) 2010 approved blood pressure monitor for easy, accurate blood pressure readings. And with the convenience of the iHealth MyVitals App, it can store and chart the past readings to give you a clear overview of your blood pressure trends at a glance and share results right from your touchscreen. I feel it's one of those essential gadgets for every home.
Rate