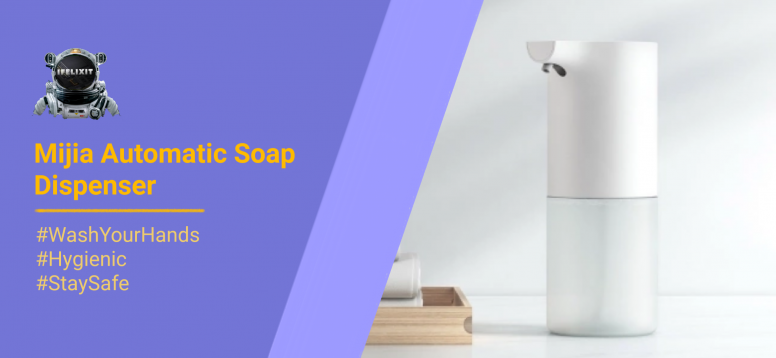 Hei Mi fans,
Wassup everyone? Hope to find everyone to #StayAtHome #SavesLives during this challenging time of isolation. Today, I am gonna review the Mijia Automatic Handwashing Soap Dispenser to foster a good #Hygiene to #WashYourHands and stay #Hygienic to #StaySafe in light of the contagious Covid-19 as a preventative measure.
Mijia Automatic Soap Dispenser, 0.25s Infrared Auto Induction Foaming hand sanitizer with a sensing distance of 60 - 90mm to promote no contact for more sanitary, effective antibacterial with gas and liquid bubble ratio to 12:1, fine and dense foam can better penetrate the skin epidermis, directly to the pore to achieve deep cleansing and effectively inhibit bacteria and microbe.
Features:
No contact, more sanitary, effective antibacterial, gas and liquid bubble ratio to 12:1

0.25 seconds to get a full-bodied foam and experience a new way to wash your hands.

Micron-sized and dense foam can better cover skin epidermis, direct to fine pore, achieve deep cleansing

Effective inhibition of daily bacteria, inhibition rate up to 99.9 percent, micron-grade foam, penetrate into pores, deep cleansing

Compact body, natural plant essence, moist and comfortable, hand sanitizer close to skin pH value, gentle and skin-friendly, not tight, foam without residue

Special lime scent, fresh and pleasant.

Miniature high efficiency motor, low power consumption and quieter.

Can effectively inhibit e. coli, staphylococcus aureus, candida albicans and other common life bacteria, effectively care for the health of the family

The micro-high efficiency motor and its rubber damping structure not only have high bubble efficiency, but also will not be disturbed by noise when used, intelligent induction design, low power consumption

250ml large-capacity design, available for 400 times, compact, minimalist, understated design style automatically sensing bubbles without press

Sensing distance: 60 - 90mm, waterproof grade: IPX4, rated voltage: 6V

Power supply: 4 x AA battery with 9 months long battery life



On the automatic pump unit, you can see the symbols of locks indicating the position of "open/close" of the case. There are also some characteristics written there regarding the voltage 6V, and the power consumption 1.5W, shown below:-
Unlock and unscrew the battery lid and remove cap from the detergent bottle, shown below:-
Put on the 4 x AA battery with the proper polarity printed on the pump unit as follows:-
It is also screwed into a container with soap:
After you put in the batteries, close and screw back the battery lid, as follows:-
To switch on the Mijia Automatic Soap Dispenser, it's a simple touch on the touch button, white light glow for On and yellow light glow for Off as follows:-
While it's in the off state, it will not react when your hand approaches the spout of the device. A video clip for the operation of the hand soap dispensing.
Diagram of the breakdown section of Mijia Automatic Soap Dispenser.
Thoughts
As the isolation extended, it's our social duty and responsibility to comply with the curfew and restrictions in our respective region. I was fortunate and very happy with the Mijia Automatic Soap Dispenser and putting it to good use during this challenging period. With the infrared detector, you just need your palm just below the sprout. Amazing right? According to WHO, Wash your hands regularly for 20 seconds, with soap and water or alcohol-based hand rub, Cover your nose and mouth with a disposable tissue or flexed elbow when you cough or sneeze. Avoid close contact (1 meter or 3 feet) with people who are unwell and Stay home and self-isolate from others in the household if you feel unwell.