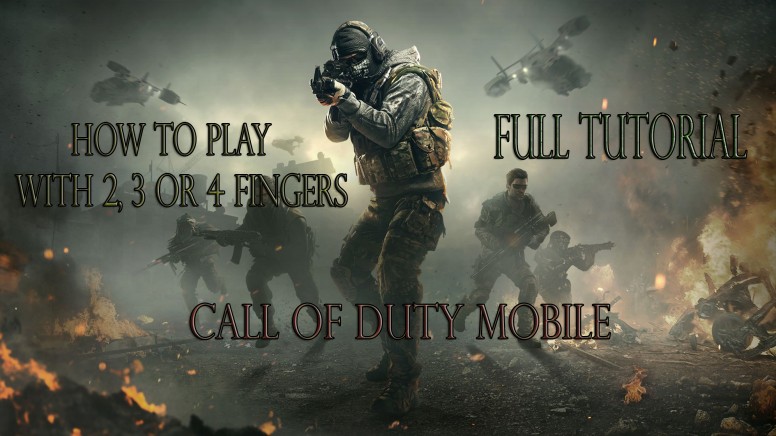 Hello Mi fans,
In this thread I will explain possibilities to play Call of Duty Mobile with 2, 3 or 4 fingers and the best way to set up your HUD (heads up display).
For setting up your controls you should go to game settings - controls - custom layout. You can move, scale and set up the opacity of each button. When we look up on the game controls the most important actions in particular order are:
Aiming down sights (ADS) - 4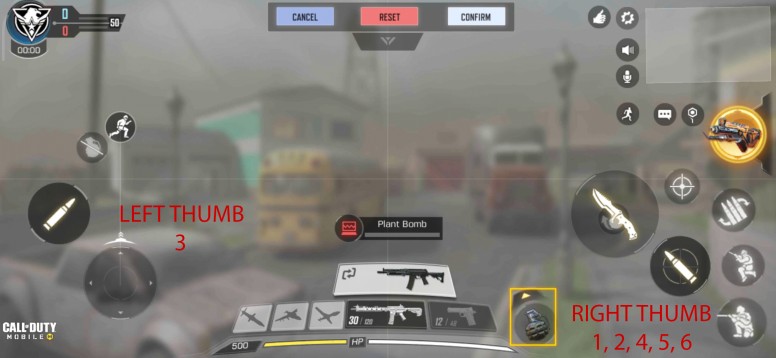 For beginners the most simple setup, because with the bottom right shooting button you can do 3 of the top 4 most important actions at once (shooting, aiming, ADS). You can aim around by dragging the button as you are shooting and when you press the shooting button for the first time it will start ADS-ing (zooming the target) automatically. Important thing in this setup is to put all your weapons on ADS and not on HIP fire. With the left thumb you are going to use moving button and there you have the first 4 most important actions with just 2 fingers. For everything else you are going to use your right thumb. When playing with sniper you are going to press the scope in button first and then with the right finger you are going to aim at the targets and with the left thumb you are going to use the shooting button.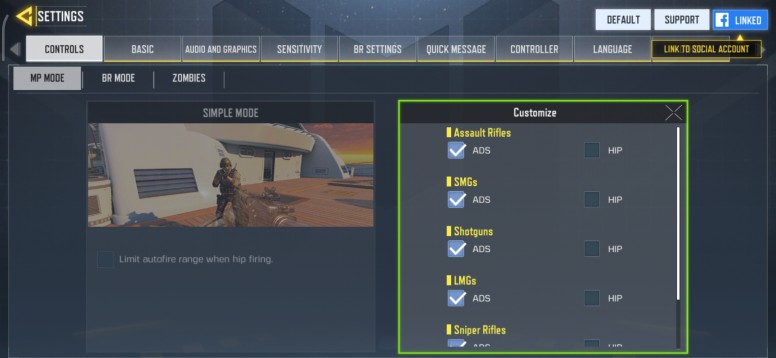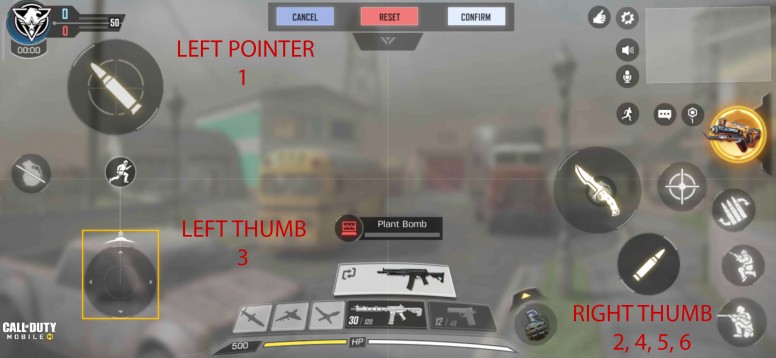 Disadvantage of playing with 2 fingers is that you can't HIP fire very well, because you are going to use bottom right shooting button all the time and you are going to ADS automatically because all your weapons are set to ADS. Sometimes you want to HIP fire because ADS is slower and the target is maybe right in front of you. Now you can switch all your weapons to HIP fire (except for snipers*). WIth the left thumb you are going to move and with the left pointer finger you are going to shoot. That leaves your right thumb access to aiming, aiming down sights, jumping, sliding and the rest. If you want to HIP fire you just shoot immediately with left pointer finger and aim with right thumb. If you want to ADS you first scope in with right thumb and shoot with left pointer finger while aiming (dragging the screen) with now free right thumb.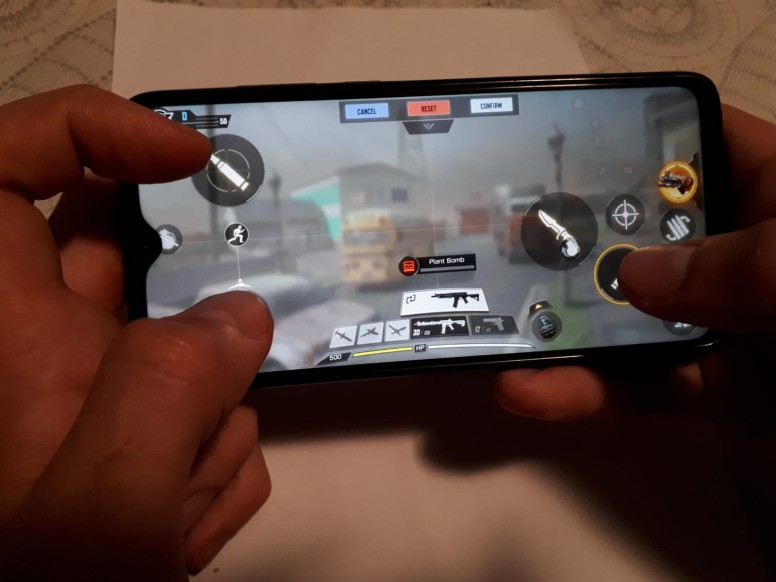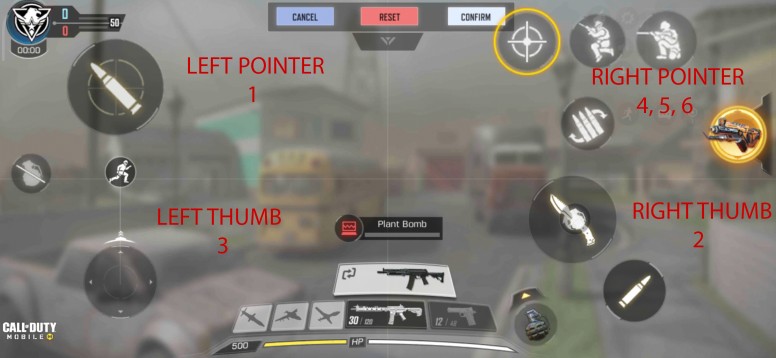 Now the only disadvantage of playing with 3 fingers is that you can't aim and slide/jump at the same time, because you have to release right thumb at the moment (and you stop aiming) to press crouch/jump button. Solution to this is to set ADS, jump and crouch button on the upper right corner so that it is in the best position for you to press it with right pointer finger. Now you have the freedom to do all the 5 most important actions at the same time with 4 fingers. So, with left thumb you move and with left pointer you shoot. With right thumb you aim and with right pointer you ADS, jump and slide.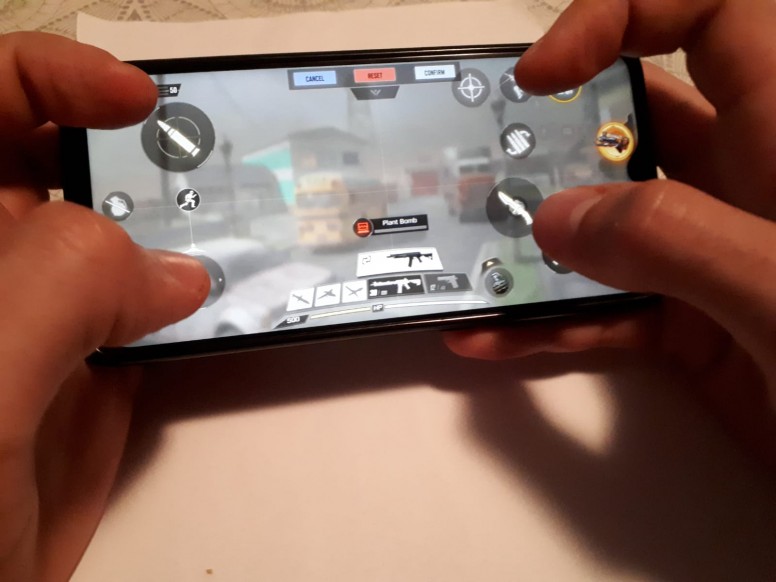 Now as I said to leave ADS option on snipers instead of HIP fire. Best strategy is to switch shooting buttons that were originally placed on the HUD. So the shooting button with upper part leaning to the left goes to the left upper side and the button with upper part leaning to the right goes on the bottom right side (just like on the picture with 3 and 4 fingers setup). Now when you press with your left pointer finger the shooting button on the upper left side you are going automatically to the ADS with your sniper, now you have your right thumb to aim the targets as you want and when you want to shoot you just release the left pointer finger.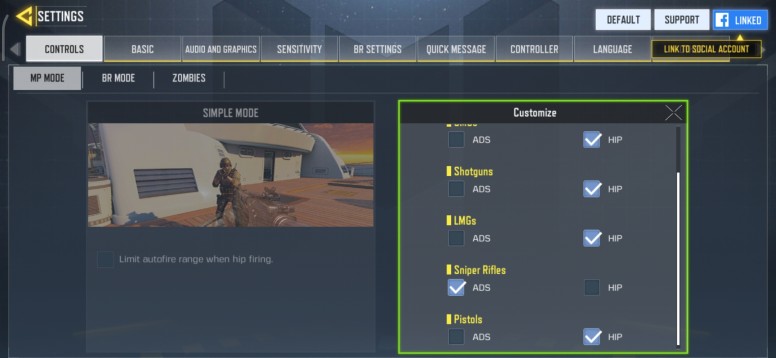 For all these setups you need the time to adjust to use them properly. This takes some time and practice but in the end it pays off. Position of each button depends on your hands/fingers size so I encourage you to use the setup that fits you the most.
Rate