Xiaomi today unveiled its latest release of Android-based OS: MIUI 12, delivering on the top-notch experience MIUI users have come to expect. The much-awaited MIUI 12 launches with a slew of bottom-up optimizations and ushers in a five-star OS experience to impress new and existing users globally.
As privacy protection is at the core of the development of MIUI, MIUI 12 introduces a host of enhanced privacy features that continuously reinforce this focus. With a brand-new UI design and innovative system animations, MIUI users are bound to enjoy a "lifelike" system experience as a highlight amongst several new features.
Check out our launch recap here!
Reinforced privacy protection makes the user informed and empowered
MIUI 12 grants the user stronger control over permissions which takes privacy protection to the next level. When individual apps ask for permissions, a wider range of options (such as "While using the app" and "Notify") is offered. Building on Android's rigorous permission control over location, MIUI 12 takes things a step further to manage apps that request sensitive permissions.

In addition to location, permissions to access camera, microphone, contacts, call history, calendar and storage are only allowed under "While using the app" mode. MIUI 12 also protects the user's privacy when sharing photos: location information and metadata can be removed before the items are sent.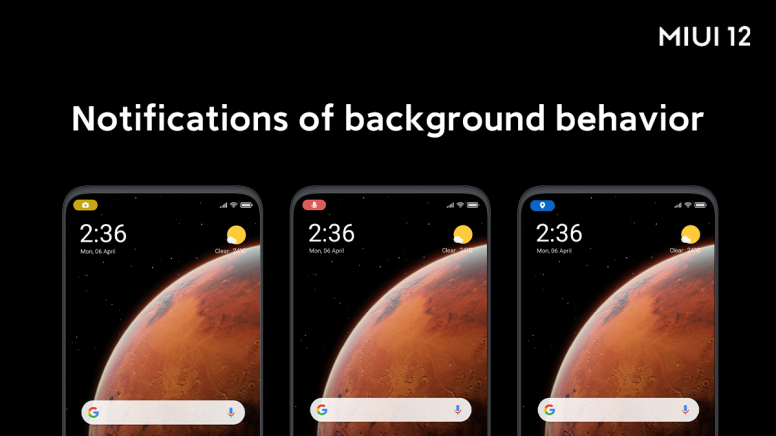 Design and animations inspired by nature
MIUI 12 brings the OS experience to life with a bottom-up revamped UI design and nuanced system animations. System-wide, core scene animations are fully refreshed with system-level technical innovations. With Mi Render Engine, MIUI 12 creates an ultra-smooth UI experience. Powered by Mi Physics Engine, the elegant motion of icons simulates a 3D curve that resembles real-life motion trajectory. From the elegant opening and closing of apps to the smooth switching between apps, every detail mirrors a refreshing design methodology inspired by nature. With nuanced system animations, MIUI 12 introduces a lifelike OS experience where every detail becomes tangibly real.


Adopting realistic visualizations across the system allows us to make each screen more informative and comprehensible. Data is perceived more intuitively when it's presented in graphics. Visualizations save time and make the interaction with the mobile device more intuitive and efficient. Visualized elements also acknowledge the user's presence by reflecting motion in animations, which makes every glance at the screen unique and personal.


The newly introduced "Super Wallpaper" takes cosmic aesthetics to a new level with stunning reconstructions of iconic planetary landforms based on NASA's official imagery. Super wallpapers combine Always-on display, Home screen, and Lock screen into an exciting space mission, revealing new parts of distant planets as the user makes their way through the system. With Super Wallpaper, MIUI 12 becomes a window into the transient splendor of the universe.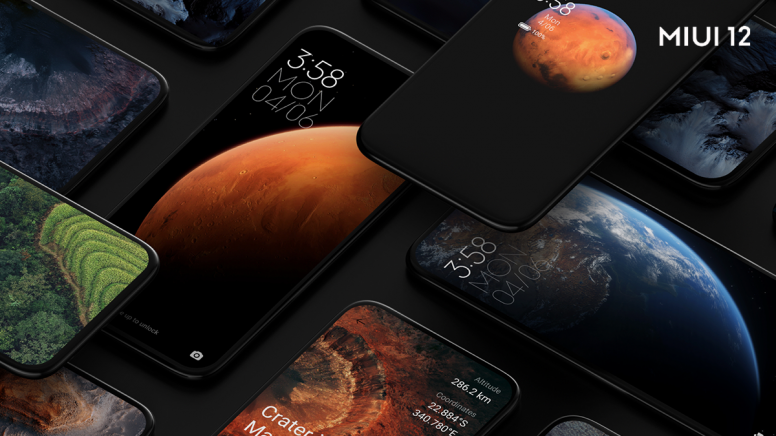 New features and improvements
Multitasking

MIUI 12 introduces state-of-the-art multitasking solutions in the form of global floating windows. When the user navigates the system using full screen gestures, floating windows can facilitate multitasking and save the trouble of constantly switching between apps. Floating windows can be easily moved, closed, and resized by simple gestures applied to the action bar. For example, when a text message comes while a video is playing, the user can reply in the floating window without pausing playback. Floating windows make multitasking on mobile devices seamless, convenient and disturbance-free.


Casting
MIUI 12 enhanced the previously introduced screen casting functionality, turning it into a must-have tool for any presenter. Now, the user can start casting documents, apps, videos, and games with a single tap. Multitasking is also supported here: the windows that are being cast can be minimized at any time. The option to cast items with the screen off decreases power consumption and hiding private items doesn't allow floating notifications and incoming calls to appear on external monitors.


Ultra Battery Saver
MIUI 12 supports an Ultra battery saver mode. With this feature on, the most power-consuming features will be restricted to extend the phone's standby time and reduce power consumption when the phone's battery is running low. Calls, messages, and network connectivity won't be affected and will remain fully usable.


Dark Mode
MIUI 12 comes with a beautiful new look with enhanced Dark Mode. With a darker color palette for system backgrounds, system apps, and third-party apps alike, Dark Mode provides an outstanding viewing experience in low-light environments. When Dark Mode is on, the user can also choose to adjust contrast automatically to match the ambient light when screen brightness is reduced. Dark Mode also lowers power consumption and helps to ease eye strain.


App Drawer
Xiaomi's Poco Launcher has proven to be well-received by global users. Its signature feature – the App drawer – now comes to MIUI 12. If the user turns it on, all apps will go there, which will make the Home screen cleaner and neater. The user can also group apps automatically according to the user's preferences to find the needed app in just a few swipes.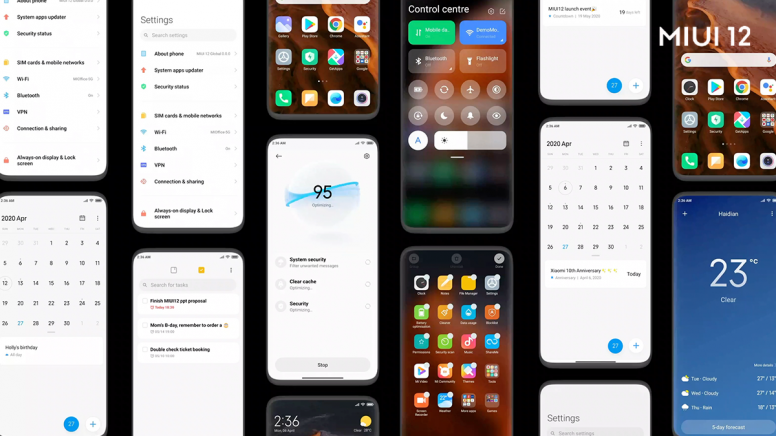 Rollout plans
First rollout: starting from June, 2020
Mi 9/ Mi 9T/ Mi 9T Pro/ Redmi K20/ Redmi K20 Pro


The rest will be rolled out model by model
Redmi Note 7/ Redmi Note 7 Pro/ Redmi Note 8 Pro/ Redmi Note 9/POCOPHONE F1/ POCO F1/ Mi 10 Pro/ Mi 10/ POCO F2 Pro/ POCO X2/ Mi 10 Lite/ Mi Note 10/ Mi 8/ Mi 8 Pro/ Mi MIX 3/ Mi MIX 2S/ Mi 9 SE/ Mi 9 Lite/Redmi Note 7S /Mi Note 3/ Mi MIX 2/ Mi MAX 3/ Mi 8 Lite/ Redmi Y2/ Redmi S2/ Redmi Note 5/ Redmi Note 5 Pro / Redmi 6A/ Redmi 6/ Redmi 6 Pro/ Redmi Note 6 Pro/ Redmi Y3/ Redmi 7/ Redmi 7A/ Redmi Note 8/ Redmi Note 8T/ Redmi 8/ Redmi 8A/ Redmi 8A Dual/ Redmi Note 9s/ Redmi Note 9 Pro/ Redmi Note 9 Pro Max/ Mi Note 10 Lite
-The rollout schedule is subject to change. Refer to MIUI website and Mi Community for details
Head towards en.miui.com to learn more about all the new features and changes in MIUI 12.
Recommended threads:
Rate