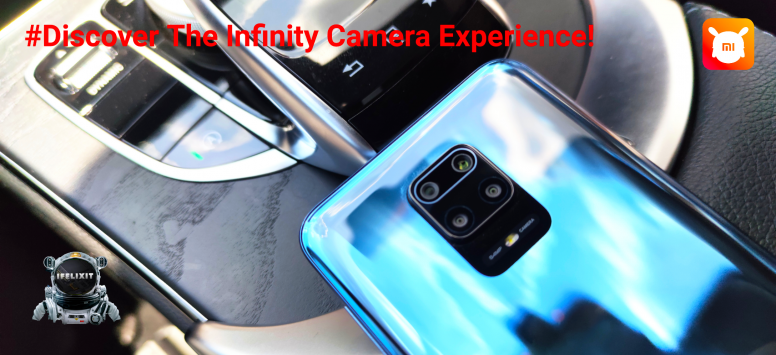 Hei Mi fans,
The Redmi Note Pro series has continued its legacy, bringing you a 64MP camera for the sequel on Redmi Note 9 Pro. How does it capture such stunning and amazing images? Let's check out what's going on behind the scenes!
The 64MP image sensor features the highest resolution available. With a 0.8μm-sized pixel with pixel-merging Tetracell, the camera can offer an image resolution of 9248×6936, capturing about 34% more optical information than 48MP. It is nearly twice the resolution of the future 8K, 7.7 times that of 4K Ultra HD and will offer 25 times clearer images than that of 1080P Full HD without the need for a telephoto lens, since the 64MP mode is capable to capture images and crop the image later which will offer output that is near-perfect to optical zoom.
The 64MP ISOCELL Bright GW1 is a high-resolution ultrawide camera with an aperture of f/1.89 with a 0.8μm pixel size on a 1/1.72" image sensors, PDAF and comes with 6 pieces of lens, with a field of view of 79° essentially wide to yield a wider detailed photo, which is clear in the following photo.
You will be amazed by the tremendous amount of detail captured, as you can see in the next cutout from the previous photo. Very impressive indeed!
The Redmi Note 9 Pro is equipped with an ultra wide angle lens of 8MP with a pixel size of 1.12μm and a 119° wide field of view lens. The wide angle lens is the best choice to capture a larger angle of view so you can see the whole scene in your image.
A wide angle lens is the automatic choice when it comes to shooting photos of landscapes and architecture and when you want to shoot unique perspectives of almost anything under the sun! This is demonstrated in the next image, where we can see that the wide angle camera still provides a good dynamic range, producing pleasingly colorful pictures.
The camera module on the back of the Redmi Note 9 Pro includes an improved 5MP, f/2.4 auto-focus (2-10cm range) macro lens with a 1.12μm pixel size in the 1/5" sensor. A macro lens is designed for taking close-up pictures, to create a series of artistic pieces that can show subjects in their true size. Let's see some macro shots to demonstrate how good the Redmi Note 9 Pro camera can perform close up!
The final component of the Quad camera is the 2MP depth sensor lens with a 1.75μm pixel size. Those of us who love bokeh and portrait photos, especially to post in our social media, need an image with depth. This camera provides a greater level of depth perception, allowing the camera to understand objects in physical space. This gives greater focus on the subject you are taking the photo of, as you can see in these samples with and without the bokeh effect.
This can only be done with the Portrait mode. And along with the AI Camera software you can go back to amplify or lessen the bokeh to your preference once the image has been taken! In addition to an amazing camera experience you always need advanced imaging software, hence, the Redmi Note 9 Pro comes with the Mi Camera app, supporting AI scene detection, AI ultra-wide portrait mode, Steady handheld night photography, 960fps slow motion video mode, and the 16MP selfie shooter supports AI Portrait selfies, AI scene detection, Panorama selfie and Palm shutter.
Meanwhile, for those you selfie lovers, the 16MP selfie camera on the Redmi Note 9 Pro has a focal length of f/2.48 using a 1.0μm sensor with built-in AI technology capabilities, for stunningly detailed portrait selfies. Not only that, it supports scene detection, face unlock. AI beauty, portrait mode, 108 degree panoramic selfie and gesture control. You can see the selfies come out with sharp detail and the ideal amount of background focus, creating a realistic-looking shot, as on the following selfie.
Do you know how HDR helps? In some cases, we find we need to focus on a specific area to get the correct exposure collectively for a great picture. That's when high dynamic range is required. In layman terms, this captures an underexposed, normal and over-exposed image of the same exact spot and then combines them together into one image, to get everything properly exposed. Meanwhile, coupled with DCG dynamic ISO technology, which intelligently adjusts ISO sensitivity based on ambient light intensity you will get amazing shots. Here is an extreme shot of an unbalanced exposure shot to demonstrate this.
Since the inception of the camera, one of the most challenging situations has been shooting photos in low light. It has always been the combination of ISO and Shutter speed which defines how successful this can be. The Redmi Note 9 Pro combines technologies such as TetraCell, the 4 in 1 pixel binning merged to work as one to increase light sensitivity, and DCG dynamic ISO which handles higher ISO levels and produces less digital noise.
Samsung ISOCELL Bright GW1 is an ultra-high 64Mp resolution 1/1.72" image sensor designed to take brighter photographs with Tetracell technology and sharp vivid colors with real-time HDR.
With all these technologies combined, Night mode captures a crispy nighttime atmosphere while providing enough light to show the subjects and surrounding background. Here are a few unedited examples of Night mode images in low lighting situations.
As for video, the Redmi Note 9 Pro can record up to 4K resolution with the option of 30fp, for Full HD 1080p at 30/60fps and for 720p@30fps on the primary camera, which captures a superb level of detail, especially in good light. It is also equipped with a gyro-EIS for video stabilization. For the selfie shooter, it can shoot video at 1080p@30fps & 720p@30fps.
1080p @60fps
4K UHD
So are you amazed with the 64MP Quad Camera?
Regards,
Feds64
Mi Explorer X
Trending threads: