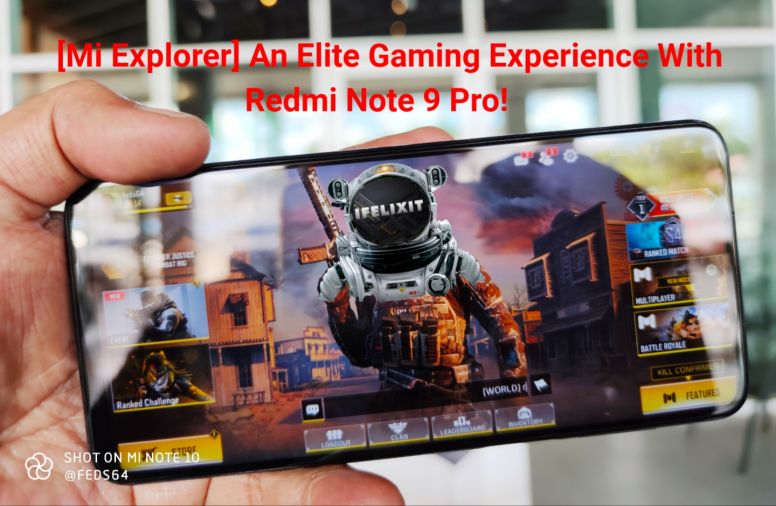 A new era of mobile gaming has come to reign and game centric phones are exploding onto the market. Xiaomi has become a contender with the newly released Redmi Note 9 Pro.
Overview
This is a phone built to win many gamers' hearts, a mobile gaming phone at an affordable price. Powered by the latest Snapdragon 720G octa-core chipset with clock speed of up to 2.3GHz combined with the Adreno 618 GPU is no coincidence for those benchmark scores hence enabling ultimate gaming experience and that deliver epic gaming performance. An advanced dual copper sheet system has been added to improve heat dissipation during the demanding high graphic intensive games. Without any compromise, it features a bigger 6.67 inch IPS Full HD+ LCD screen with a resolution of 2400 x 1080 pixels and a 20:9 aspect ratio with contrast ratio 1500:1 and NTSC of 84%, with minimal bezels, a dot display and offers a 60Hz refresh rate.
Design
The Redmi Note 9 Pro implements the 'glass sandwich' design elegantly, with Gorilla Glass 5 on the front and back panel for ultimate protection. The camera module is vertically positioned on the backbone of the phone combined with 3D-curved diamond-cut glass edges, enhancing your gaming grip supremely comfortable when playing, letting you focus all your skills on your gaming challenge.
The side fingerprint makes your unlocking extremely fast, and there is no need to worry about leaving fingerprints on the screen and back shell to affect the appearance of the phone. All for your perfect unlocking experience with a natural hold and instant unlocking. The side-mounted fingerprint sensor and the power button are combined into one ergonomically designed. Just pick up the phone and you can unlock it conveniently.
You'll find the speaker grilles on the bottom side of the phone. Their positioning helps to funnel sound to your ears while playing games, as natural hand placement will cup the speakers, boosting sound. Other features include a 3.5mm headphone jack, an IR blaster and NFC.
Performance
The Redmi Note 9 Pro never compromises, especially when it comes to performance and taking mobile gaming to the next level. Each and every component has been optimized for a lag-free, responsive experience. For those Snapdragon lovers, Redmi unveiled the Snapdragon 720G CPU. This octa-core beast, clocked up to 2.3GHz, incorporates the Adreno 618 GPU with 6GB LPDDR4x RAM combined with the Qualcomm® 5th generation AI engine, 8nm process technology and the UFS 2.1 storage provides ultra-fast data-access. This will definitely boost the mobile gaming experience through eye-popping image quality, the smoothest moves in any online world, and the fastest, most reliable network connection. This made possible with Qualcomm® Snapdragon Elite Gaming technology that tunes your entire smartphone for the greatest gaming experience possible. If storage is still a concern, it comes with a 2 SIM-card + 1 MicroSD card tray to cater for microSD for expansion in memory.
In addition to that, the display is TÜV Rheinland certified, protecting your eyes against blue light and reducing fatigue to your eyes over a long period of gaming.
The Redmi Note 9 Pro also packs ultrafast data & wireless connectivity in its inventory, including Qualcomm® FastConnect™ 6200 Mobile Connectivity Subsystem is a highly integrated 2x2 mobile connectivity SoC that is Wi-Fi 6 ready. Key Wi-Fi 6 features such as 8x8 sounding can increase capacity for up to 2x improvement over 4x4 sounding devices. Coupled with Qualcomm® Snapdragon™ X15 LTE modem, Dual SIM Dual VoLTE (DSDV), LTE Dual SIM Dual Standby (DSDS), next-generation calling services like VoLTE with SRVCC to 3G and 2G, HD and Ultra HD Voice (EVS), CSFB to 3G and 2G. As for Wi-Fi it comes with 802.11a/b/g/n, 802.11ax-ready, 802.11ac Wave 2, with Wi-Fi spectral bands of 2.4 GHz, 5 GHz, channel utilisation of 20/40/80 MHz and MIMO configuration of 2x2 (2-stream). Supports Bluetooth Audio, Qualcomm® aptX™ Adaptive Audio and Qualcomm TrueWireless™ Technology which allows the phone to smoothly run complex network scenes.
Testing the phone on AnTuTu, it achieved 278402 points. This is a pretty high score, compared to rival devices. Moreover, the GPU score of the Xiaomi Redmi Note 9 Pro reached over 70543 points, promising a great graphics performance.
For comparison, Snapdragon 720G has scored 278402 points on AnTuTu V8.3.4 offering superior performance compared to its rivals. To further reinforced Redmi Note 9 Pro performance, I ran a few benchmarks to clear my doubts revving-up details on the games and what not, to check on the playable frame rates follies.
In GFXBench's T-Rex, Manhattan, Manhattan 3.1 OpenGL tests it recorded 58fps, 35fps and 26fps respectively. These frame rate values minute as it is, makes a difference as compared to its 730G sibling and contender Helio G90T. Redmi Note 9 Pro is respectfully ahead of those in its segment.
Subsequently to test graphics capabilities deeper, i use the 3DMark application which focuses on graphics processing capabilities of the CPU and GPU. Redmi Note 9 Pro seems to be dominant in graphics processing in the Sling Shot, Sling Shot Extreme Unlimited and API Overhead score where it perform victoriously In the traditional OpenGL API which has direct control over GPU acceleration for maximized performance and predictability is 392,833 points and 446,141 for Vulkan API (Vulkan is the new generation, open standard API for high-efficiency access to graphics and compute on modern GPUs) as this affect on the performance of your gameplay.
Heating Dissipation Technology
Apart from just performance, Redmi Note 9 Pro employs a dual-layer graphite and copper foil to optimize and achieve a reliably smooth, lag-free, high-performance gaming experience. As you all know, running graphics-intense, action games can generate an enormous amount of heat, making games run slowly and your phone uncomfortable to hold. Intense thermal throttling can bring even the fastest CPU to its knees and lead to freeze-frame wipeout. With the new liquid cooling system unveiled, it helps to reduce the temperature of the phone by 4 to 6 degrees to run smoothly even when the action gets frenetic.
Display
The ultimate gaming phone deserves a decent display. The Redmi Note 9 Pro comes with a 6.67-inch Full HD+ IPS LCD touchscreen display with a resolution of 2400 x 1080 pixels and an aspect ratio of 20:9. With a screen to body ratio of 84.62% it has a refresh rate of 60Hz providing a smooth gaming experience. However, the features don't end there as a system for optimizing the quality of games runs at the hardware level with Snapdragon 720G. The Redmi Note 9 Pro also supports Vulkan 1.1 Graphics Driver which gives developers more control over the game's shading, depth, and detail, adding to the enhanced realism you crave as you race down the track. With this flexibility, developers can fine tune color and graphic elements, tweaking them so the road looks like you stepped onto a real race track. And whether it's city streets or desert dunes, even the surrounding scenery looks like a plausible, alternative reality. Meanwhile, Elite Gaming also supports HDR rendering and display, or what we refer to as True HDR. This comprehensive HDR highlights brightness and darken shadows in every scene, displaying the game in over a billion shades of color. Developers can bridge the gap between imagination and reality through physical-based rendering, transporting you to the cityscape you're speeding through.
Software
Game Booster 2.0, is an enhancement that results in CPU and GPU smart allocation, and more system resources for games. It's easy to get optimum gaming performance on Redmi Note 9 Pro, activating the Game Turbo 2.0. with just a single tap, you can free up all background RAM and dedicate it to games, optimize game-data processing performance, and record or take a snapshot of your game.
Battery and charging
The Redmi Note 9 Pro is built to cope with the power-intensive demands of gaming, coming with a high capacity 5020mAh Li-Po battery that gives you more freedom to play. Charging time can be critical when you're on a long mission, so the Redmi Note 9 Pro supports both Qualcomm Quick Charge 4.0+ fast charging. This delivers 30W for fast charging and back at maximum power again within 50 minutes from zero Of course, as a top-spec device it supports the USB-C charger, allowing standard USB PD 3.0 fast chargers to boost your charging into the fast lane!
Fortnite
PUBG Global
Asphalt 9 Legend
Call Of Duty
Gameplay Samples
Whether your go-to is Fortnite, PUBG, Asphalt 9 Legend or other top titles, the Redmi Note 9 Pro will deliver you fast and smooth action in your favourite games. Through intelligent networking, rapid touchscreen and vivid visuals the whole-device enhancements will ensure your smartphone always keeps up with you.
Would You Want A Piece Of Success In Professional Gaming With the Redmi Note 9 Pro?
Regards,
Feds64
Mi Explorer X
Rate