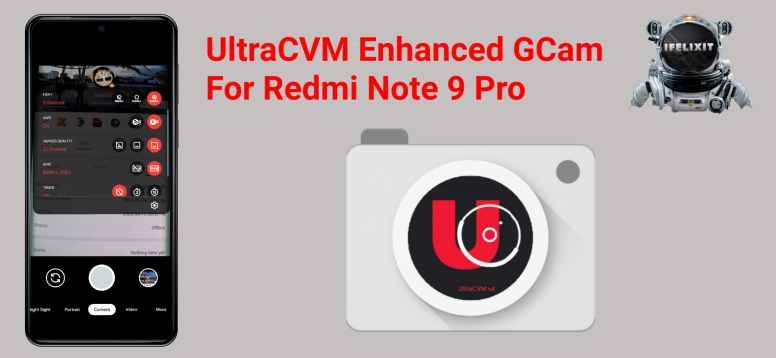 Hei Redmi Note 9 Pro users,
Wassup? Hope everyone is good. Today, I am bringing good tidings. What is it? The newly launched Redmi Note 9 Pro is equipped with a high resolution 64-megapixel Samsung GW1 sensor, which is paired with an 8-megapixel ultrawide lens, a 5-megapixel macro lens and a 2-megapixel depth sensor. For selfie and video calling, it comes with a 16MP camera in front, powered by Snapdragon 720G SoC and backed with a large 5,020mAh battery. Now, we are blessed with the GCam. Big thanks to @Urnyx05, @Arnova8G2, UltraM8 for the extended remix and those involved in helping with the build up of UltraCvm - Gcam based mod for their efforts. Let's get it sorted out!
Installing UltraCam for Redmi Note 9 Pro
UltraCVM Overview
UltraCvm - Gcam mod based on versions by @Urnyx05 or @Arnova8G2. UltraCVM is an ongoing project of building a gcam that would fulfill the need of an extreme imaging tool aimed towards exceptional quality for most up-to-date sensors used in flagship devices. Based on respective and known devs, keeping and extending their features.
UltraCVM v4 Features:
Based on Arnova's 5betaFinal.7.3.020 builds - all Arnova goodies included
UltraCVM v4 ULIB:
Returned to natural look (thx r0m10 for cooperation on this)

Got rid of compression

Got rid of downsampling

Bilateral filter retweaked

Sabre slightly retweaked

Exposure slightly retweaked



UltraCVM v4 Camera:
Tuned for best possible picture quality (tested on Imx586)

Redo & fixed Libpatcher

Added spatial denoise

Added option to use OEM noise model from rom libs

Added shutter control

Added exposure compensation

Added AWB per AUX (thx Arnova for helping with that)

Ported Xiaomi API2 camera & AI keys

Added experimental Qualcomm HDR bracketing mode

Added awesome Tone & Gamma graph UI (thx Overwhelmer for helping with them)

Added video bitrate options (thx Urnyx for helping with this)

Added all my v3 NoiseModels with auto detection per sensor (thx Overwhelmer for helping)

S5KGW1 noisemodeller (credit goes to Wave_Generator)

Added new model for selfie cam

Fully reskinned settings & UI (thx The_Dise for helping with this)

And finally - added new awesome custom Logo/icon thx to me



UltraCVM v4 Known bugs:
Slow motion and front videos are still buggy

Video, Slow motion and Time lapse is not working for Redmi Note 9 Pro



IMPORTANT!
If you're coming from any gcam with the package name of snapcam - make sure to install UltraCVM from scratch.
Installing GCam for Redmi Note 9 Pro
Next, once downloaded, go-to your File manager, click the downloaded UltraCVM_v4.apk OR click & install right from the floating message from the screen pull-down notification.
Enable "Allow from this source" options followed by clicking "Install" to accept the installation of Camera. You can click "Cancel" during the installation if you think UltraCVM_v4 is not for you. After the Mi Security check, click "Open" and Walla!, it's launching flawlessly. Now you can start shooting at will. Next, allow all required permission for UltraCVM_v4 to function.
Some of the modes and features.
Some shots of GCam
The on-screen slider in action for Super Res Zoom.
That's a quickie shot of the Super Res Zoom.
Using Night Sight - In the darkness shot
Using Flashlight
Sample of Stock vs UltraCVM_v4
Thoughts
Well, I am again amazed with the stunning pictures with UltraCVM_v4. It's a must have tool, especially for Redmi Note 9 Pro considering it is equipped with the state of art lens and camera setup. With Google Camera you could enjoy the features of the latest Pixel 4. It just gives every camera shooter a sense of gratification and renewed perspective in Mobile Photography with GCam. From my experiment UltraCVM_v4 failed to work for Video, Slow Motion and Time Lapse. Meanwhile, as for Redmi Note 9 Pro, hopefully the modders will pick up on it. Conclusively, with the premium camera setup Redmi Note 9 Pro it will give you an epic photography experience. That's all! Enjoy!
Regards,
FEDS64
Mi Explorer X
"Solving with simplicity"
Trending threads:
Rate