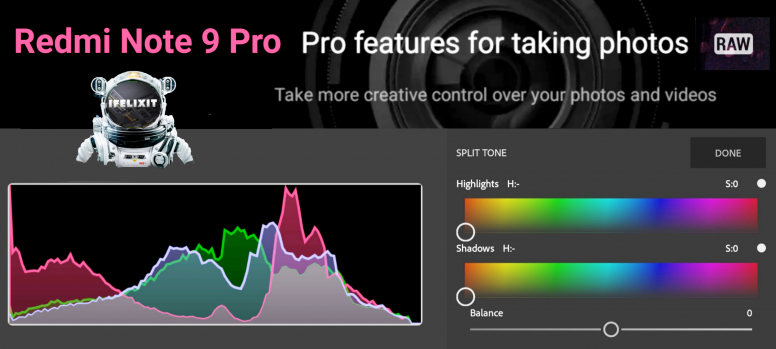 Hei Mi fans,
Wassup, Mi fans? Hope to find everyone healthy and positive in this isolation period, together we are stronger. What do we have here today? I am going to share the all much sorted for, so-called Camera2 API to give camera app developers better access to more advanced controls of the camera, like manual EV (Exposure Value), ISO, shutter speed, manual focus, RAW capture, but ultimately most users are keen in RAW capture. Let me iterate the Redmi Note 9 Pro now feature, all what the mobile photographers are requesting, in addition to that more features are included, Exposure verification, Focus Peaking, Metering Modes, Separate focusing, Exposure metering, White Balance, AE/AF Lock and upto multiple lenses available to use. And Redmi is listening and has answered that, and reloaded in this premium mid-range, Redmi Note 9 Pro. Let's focus on our topic for today, RAW capture!
Redmi Note 9 Pro - Pro Camera/Video features
Just to recap if you get the chance to check out my Review,
Redmi Note 9 Pro : Grand Offering As The Legacy Continues!
Redmi Note 9 Pro, sports a flagship level camera that's capable to capture a high resolution image suitable for a massive poster up to 3.26m high with it's 64MP GW1 sensor, humongous right? To be honest, there is more to it, with a new upgraded camera module, you can shoot pictures with a wider angle, with the 119° ultra wide-angle lens. Portrait mode is there with a Cinematic option layout to shoot like a director. Of course Macro is there to help you take minute details. Next, we have the Pro Videos mode, coupled with all that is necessary, which give us the freedom to create our imagination into recorded videos, settings like, Smooth Video Zoom, AE/AF Lock, White Balance, ISO, Exposure Verification, Focus Peaking, Log, Histogram and Exposure adjustment to assist you to get the best video recording experience. In addition, Night mode for taking low light pictures, 4K movie frame and Kaleidoscope, and for selfie maniacs, Redmi has a feature that you might want to try, the Slo-mo selfie, excellent if you all by yourself. Wow, that's a lot of features to digest, let's get on with our topic, that is, RAW capture!
What is RAW format?
This image format captures all image data recorded by the sensor when you take a photo and it saves the uncompressed data which gives you more options in post-editing. In this article, we will be discussing the DNG file extension which is an open source RAW format developed by Adobe known as DNG (Digital Negative) to overcome any obstacle of proprietary format, since each camera manufacturer offers a raw format for its own applications that are created specifically to interpret their cameras' raw image data. Meanwhile, shooting in a format like JPEG image information is compressed and lost. In RAW, no information is compressed in order to produce higher quality images, and make corrections and compensation for the irregularities that would be unrecoverable if shot in the JPEG format. To understand your back camera module and selfie you can use Camera2Test app to scrutinize the hardware, as follows:-
For those who want to go deeper, you can read the API documentation.
Live To Create Experience!
If you want to create stunning photos by easily controlling your camera, like level of quality, controlling levels of brightness, since JPEG records 256 levels of brightness, and RAW records between 4,096 to 16,384 levels, moreover JPEG captures in 8bit, and RAW is either 12bit or 14bit, this will make it easier to correct posterization in your images when you shoot in RAW. Posterization is the banding that you often see in bright skies, which really doesn't look good in prints. To correct Dramatically Over/Under Exposed Images to recover more blown highlights and clipped shadows, hence with RAW you have additional information in the file, so it's much easier to correct the image without a drastic reduction in quality. Then, you could do adjustments on White balance, and colour which is essential to an awesome image, and shooting RAW lets you make the adjustments easier and faster, with better results.
Using Mi Gallery, Adobe Lightroom or Snapseed
To locate your RAW snapshot, just launch Gallery, once you start to shoot RAW it will be stored in the RAW folder for easy access. Be forewarned, since RAW files are uncompressed information by comparison it's 2-3 times larger than JPEG files. In Redmi Note 9 Pro, all your RAW shots will automatically be made available in JPEG as well, I would say they have optimized to offer stunning quality photos, which you can always optimize your own from the RAW format in the RAW folder, whereas normally a RAW has to be processed, unlike JPEG. To further work on your post production or post editing, you need an application to be able to process your RAW images, like Gallery native image editor or for more functions editor, Adobe Lightroom or Snapseed will suffice your needs. Like access to sharpening and noise algorithms that are way more powerful than those found in your camera. Plus, these sharpening and noise algorithms are always improving, so in the future, you can always further work on your asset to take advantage of these improvements. To achieve a proper colour balance and choosing the right colour space for the situation for your print output. With a finer gradation of tones and colours you'll get better prints from RAW files. At the same time it's safe to edit your RAW, as it never be accidentally overwritten, as the output will be a different image format other than RAW format itself. Let's sort out these RAW images that I took for samplings.
RAW images will usually look no better than the JPG, in fact, as it's not processed, it will often look a bit worse, the colors will be muted, and it might be less sharp, that's because they are unprocessed. With a RAW file you have more options for post-editing or post-production, more control over the final image.
Redmi Note 9 Pro - Pro Mode - Macro/RAW
Just as expected, the result is very pleasing. In the case of the Redmi Note 9 Pro, it processed a copy in the Photo folder as opposed to do, it yourself. Why RAW? Taking a macro shot in RAW format, the result is amazingly vivid.
Pre-processed by Redmi Note 9 Pro
Using Snapseed - RAW Develop
Using Lightroom
With a RAW file, there's a massive amount of image information available, meaning you can recover skies that are too bright by reducing their brightness, and increase the shadows so they are brighter.
Redmi Note 9 Pro - Pro Mode - Macro RAW
My subject was the minute roots in the background. Incredible right?
You can access Macro in the Photo or Pro Mode. Next we explore, to capture in RAW format.
By shooting RAW you take control, and are able to manage these problems to create the best results possible. When you use manual focusing, it's advisable to use focus peaking to place a red highlight on the in-focus area, for you easy reference when shooting quickly.
You can enable the histogram, a graphical representation of the tonal values of your image. Histogram is exposure-dependent, but is also affected by tone curve and other settings. You can slide the curve to adjust the amount of time there is when using Adobe Lightroom.
Here are some samples after the day outing during the lockdown period.
If you are too lazy, you can alternatively use raw2dng to convert to JPG.
Once you've done this a few times on your RAW images that you thought were almost useless, you'll wonder why you ever shot in JPEG or JPG. Awesome right? That's all to it. A stunning quick tour about RAW format to produce a Pro quality pictures. Stay tuned for more features as the challenge continues!
Mi Explorer X
FEDS64
"Solving with simplicity"
Trending threads:
Rate