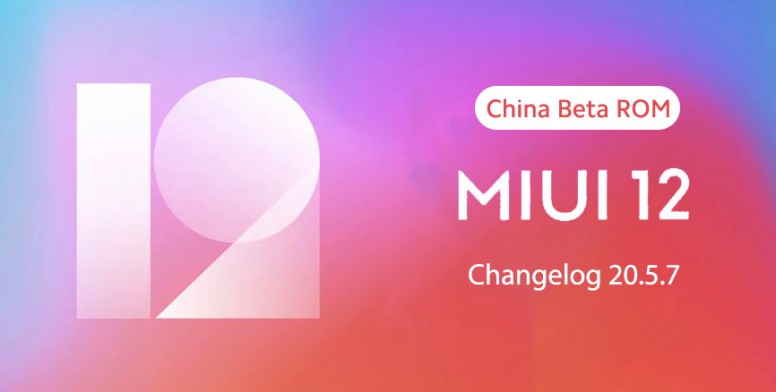 Hello Mi Fans
Hope you all are fine. After long period of time again we have started to post changelog of MIUI China Beta Rom so as to keep you updated about MIUI. Not only this, we will try to bring lots of stuffs about MIUI so stay tuned to Global Mi community. Here comes today's changelog! Let's get started.

Note:

Due to stability issue update is delayed for these devices: Redmi K20 Pro, Mi 9 Pro 5G, Mi CC9 Pro, Redmi K30, Redmi K20, Redmi K30 5G, Redmi Note 8 Pro, Redmi Note 7 Pro.
Since Redmi Note 8, Mi CC9e adapts to Android 10 upgrade, Update is suspended.
From June 20th 2020: MIUI China Beta Rom development will be stopped for these devices- Mi 6, Redmi Note 5, Mi 6X, Mi Note 3, Mi Mix 2.


MIUI 12 China Beta Rom 20.5.7 Full Changelog:
Updated Android security patch to April 2020. Increased system security.

1. New: All-new physically based animation engine with advanced architecture will refresh your device's look.
2. New: Dynamic window technology takes switching screen orientation to a new level.

1. Brand new visual design works for all types of content and languages.
2. Magazine-level layouts bring important things into the spotlight and make content structure clear.

1. New: Super wallpapers break physical boundaries and keep inspiring you with every touch.

1. New: Reset your device ID and contro how its used based on virtual ID technology.
2. New: Grant permission that will be used only while you are using an app.
3. New: Restrict access to telephony to 3rd party apps.
4. New: Return blank messages to the apps that require personal information.
5. New: Receive notifications whenever apps record audio, use camera or access your location.
6. New: Use secure sharing to control what additional data is sent along with shared items.
7. New: Get comprehensive stats on how apps use permission in app behaviour history.
Optimization: Apps aren't allowed to launch other apps in the background now.

1. New: Pull down a notification sent by a messenger app to turn it into a floating window.
2. New: Floating window keeps apps running in the background even when you pause to do other things.
3. New: You can minimize a floating window using a full screen gesture.
4. New: You can open an app in a floating window directly from recents.
Optimization: Press and hold an app preview in recents to choose between split screen and floating windows.

1. New: Swipe down from upper right corner of your screen to open control center.

New: Mi ditto combines dictation and speech output, making mobile devices more convenient for people who have difficulties using conventionally designed smartphones.

1. New: Dark mode support is also provided for 3rd party apps now.2. New: Contrast is lowered automatically in low light conditions to protect your eyes.
3. New: Font weight is adjusted to dark mode as well, reducing blur and glare.
4. New: Wallpaper can be displayed in darker palette when your device switches to dark mode.

1. New: You can use custom images with always-on display now.
2. New: More than 2000 new Always-on display themes available on MIUI Theme store.

1. New: Animated home screen icons are neat and satisfying.
2. New: We've added a new animation for uninstalling apps.
3. New: Gravitational animations make returning to home screen lock seamless and natural.

1. New: Security introduces new comprehensive privacy protection mechanisms.
2. New: Lite mode simplifies your device and brings essential features up front.
3. New: New full screen gestures for switching between apps are available.

1. New: You can create folders with notes now.
2. New: New dynamic backgrounds look gorgeous.

1. New: New animations feel natural and refreshing.
2. New: Introducing Video ToolBox.
Xiaomi Cloud: Shared family storage plan is available now.
Calender:
1. New layout tailored for landscape orentation is available now.
2. We added lots of fresh aniations that will accompany your actions.
File manager: Use the floating shortcut to filter and sort items, as well as switch view.
Weather: New animations brings the weather from outside directly to your screen.
Xiaomi Health: All-new mi health gives you more options and makes your health stats more accurate.

What's New This Week

About Mi Community
Mi Community is our official community forum, the ultimate playground for our Mi Fans to hang out together. It's where all your questions or doubts about our Xiaomi products will get answered and where you can get the latest news and happenings about Xiaomi. More importantly, it is the perfect place to interact with other hardcore Mi Fans like you!




Get Mi Community On Google Playstore

Download
Always Believe That Something Wonderful Is About To Happen