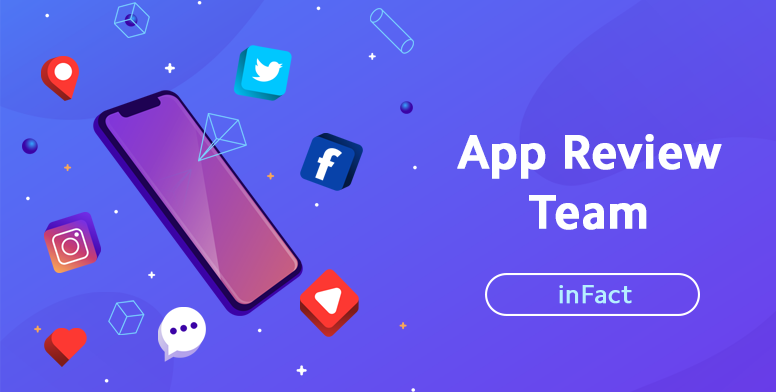 Hello Mi Fans,

Hope you all have been doing good. Stay home. Stay safe. During these days of lock down it is very necessary to stay updated with the latest happenings around the world. But how about getting some funny, motivating and interesting facts too along with the important pieces of news? Today I am here with such a cool yet simple and small app for you all. Who doesn't love to learn new things? Well, I am ever curious when it comes to learning. And, with smartphones in our hand, gaining knowledge or learning things have never been this easier. You can take your learning everywhere and there are loads of resources to teach you what you need to know. inFact is one such app. Be it Discoveries in the vastness of space, various Movie fact, Automobile information or Unbelievable people & customs around the world, inFact can give you all.


inFact is a very simple and cute app, which gives you limitless abundance of random or specific facts at your fingertip. They can be in form of infographic, video or articles. When you open the app, after the usual initial page, it will welcome you with a beautiful quote from some renowned personalities. Each time you open the app or change the category of facts you are reading, you will receive one new quote. Then comes the initial tips part. You need to swipe up for the next card of facts. Keep swiping to get more and more facts! Swipe left to read more about that particular fact you are going through. Liked any article? Double tap on it to save it on your Liked list. You can give a single Tap on any part of the article to directly jump into navigation bar.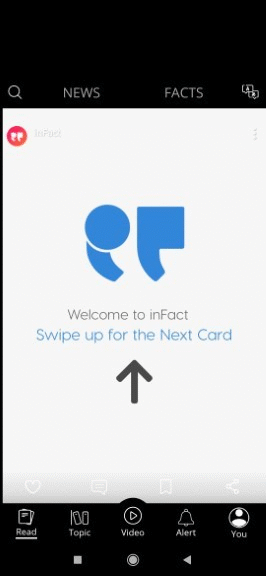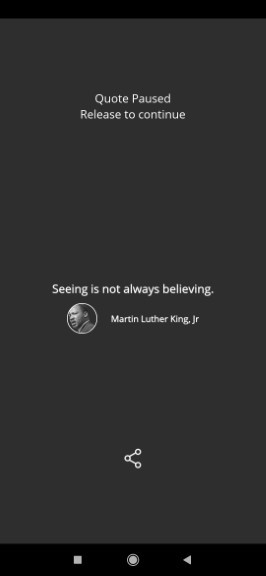 Let's explore:
Once you are familiar with the simple initial tips, you are all set to experience the beautiful learning world of this app. Just swipe for the next card and one after another amzing facts will pop up in front of your eyes. There are two distinct sector where inFact provides you different cards. These are News & Facts. News tab is all about various national and international happenings where as Facts tab consists of some really interesting stuffs that you might not know. For news, simply click on the link to get the detailed information and for facts, swiping right will serve the same purpose. All cards are compact and stuffed with sufficient information. To be mentioned here is, you can either see both news & facts or pick any one of them as per your need. Swipe left from the home screen to select it and also select your preferred language from there. I always think, the liberty to change content language is one of the most important and helpful feature of any app.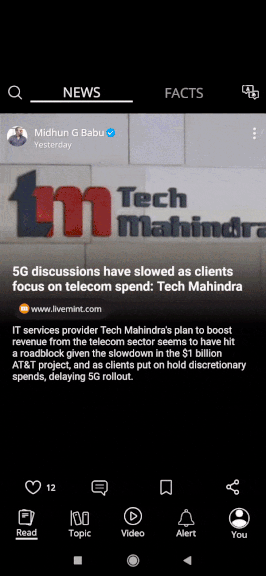 Categories & Videos:
There are various categories or Topics from which you can chose anything of your liking. It can be Animal, Beverages, Books, Countries, love and Relationship or Film, food etc. Each of the categories are enriched with loads of resources. For instance, Space related articles attracts me most. So shall we have some fun in this category? You can add any of these categories to have contents from them on priority basis. Apart from surfing through various categories, you can also follow whatever is being trend among users around the globe. You can change the Trending schedule as Daily, Weekly or Monthly. By default, it comes as Daily. The video tab deals with various informative and new videos to view within the app.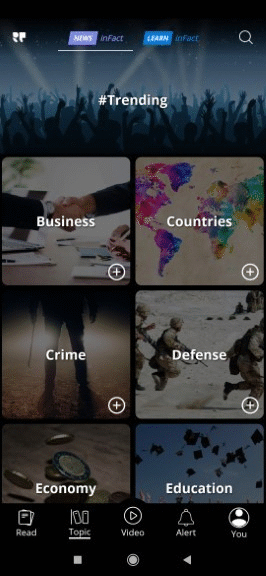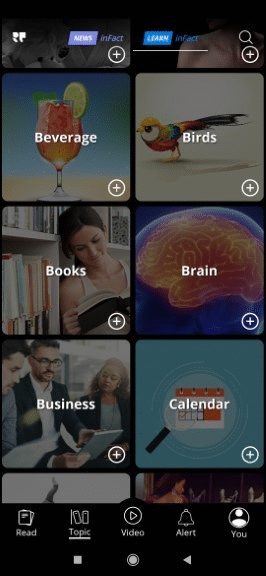 Search & Add Facts:
Do you know any rare or interesting fact? It's time to add them in vast collection of the app and share with the world. But for that you need to log in with your facebook account or your google account. Apart from that if you right swipe, you can access your own profile, along with liked and bookmarked articles by you. Search function is quite similar to other apps. You can search for any particular topic or news within the app. I must say the search results are quite comprehensive and satisfactory.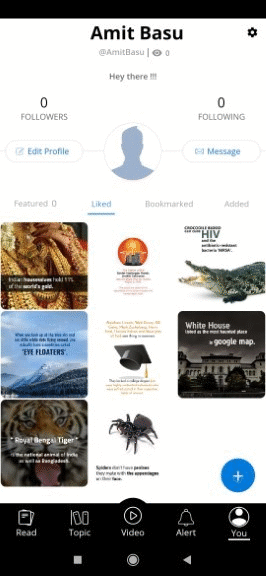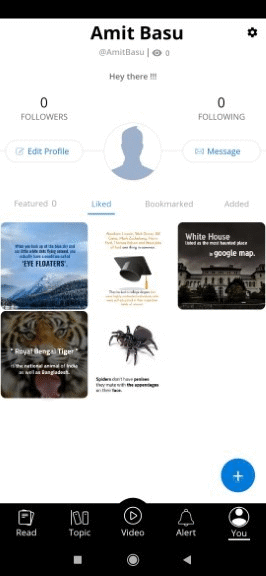 Settings:
Under the settings, the most important option is - "Child Friendly". If you enable it, all the adult contents will be shielded and kept out of reach of your child. Apart from that you can opt for Daily notification, even control the number of notifications you wanna receive per day - 1,3, or 5. inFact app sends you notification in different times of the day. You can go for Anytime, or specifically Day or Night. If you find any content, inappropriate or with wrong information or copyright of something being violated, you can report such content by clicking on the right top corner of the article. Found anything useful and interesting and wanna share with others, this app lets you to do that. You can share via Facebook, Twitter, Instagram or even save them in your gallery.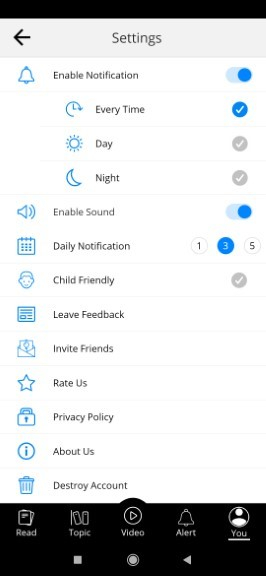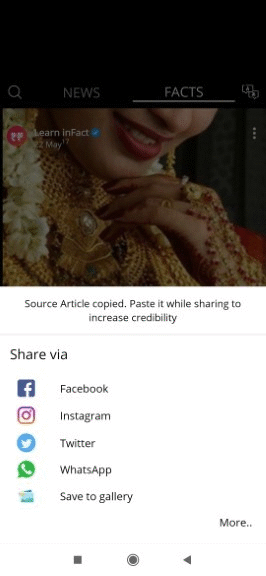 Pros
free and very light weight app.
Various facts and data from different genres are beautifully presented in form of info graphic, video and article. You can save them for future reading too.
You can find some rare and never-known-before facts.
You can add facts on your own, if anything interesting is known to you.
Share anything found interesting, with family or friends in social platforms.

Cons
Sometimes you may find grammatical mistakes or spelling errors.
More number of facts should be added.



Knowledge is power. And with smartphone becoming our daily companion, one just needs some time and interest to gain that. inFact with only 7 Mb size, makes your job much more smoother. It makes your learning experience exciting and not at all boring. You can especially enjoy finding bizarre and strange factoids. There are various of genres available to make you resourceful. Sometimes you don't want to read a full article and just wanna know the interesting tidbits of it. In that case, this app is for you. The app UI is neat and clean with a beautiful dark theme. If they could make it a light them along with it, that would have been better for many people. Download the app and become smarter with each swipe!

I will give it 4.5 out of 5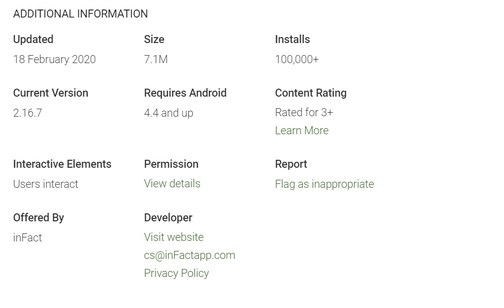 Download
inFact
from Google Play Store

Or,
Download the APK
inFact.apk
(6.86 MB, Downloads: 1)
Rate