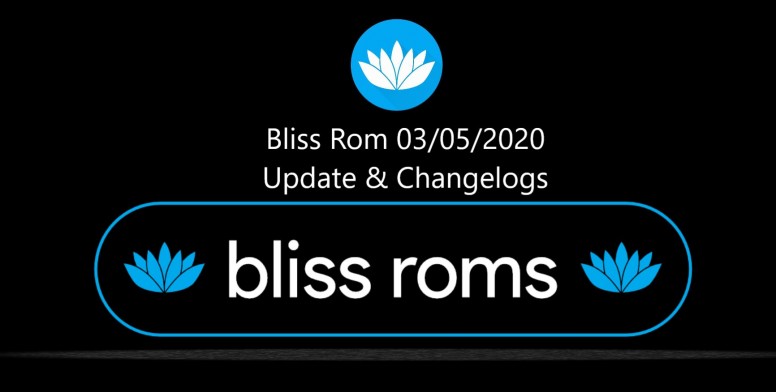 Hi, Mi Fans, Bliss Rom is based on AOSP and comes with a wide selection of customization options for around Android devices as well as unique options developed by Them. Today I will share the changelogs of Bliss Rom May updates.

About Bliss Rom :
Our focus is to bring the Open Source community a quality OS that can run on all your devices as a daily driver, syncing your apps + settings + customizations across all platforms you run Bliss on.
Bliss ROMs comes with a wide selection of customization options from around the Android community as well as unique options developed by our team. With so many options available, you'll find it hard not to enjoy the Blissful experience.

03/05/2020 Changelogs:

* R style notif header
* Charging sound
* qs primary color fix (maybe)
* launcher long click to styles n wall
* ambient pulse layout feature for edge light , its to choose between faded or solid
* screen recording, added video bitrate and improved audio
* improved screen recorder layout
* Remove prebuilt themes in styles and wallpaper, thus fixing themes crash
* Switched to launcher3 (now bliss launcher) with a lot of updates
* added primary color to wifi/bt panels
* Fix statusbar padding for notch devices
* Fix custom rounded corner cutouts for some devices
* System wide dark theme improvements :
- fix header drop down list in qs header
- fix notification guts to follow system theme (when u long press app notification)
- improve settings themeing
- improve many other parts system wide
* Remove lte qs tile
* Remove advanced location tile, was active even in battery saver mode thus removed
* Added charcoal primary
* Added lead black primary
* Added OnePlus dark primary
* Added solarised dark primary
* Added flame primary
* Added system icons toggle for vpn, data saver, roaming
* Make bliss black proper black (notifications background)
* Update gapps to latest
* fixed oversized battery icon
* date allignment for type clock , Omni Weather not yet
* Owner info allignment with type clock
* Fix Less boring heads up
* Fix heads up blacklist
* Fix heads up stoplist
* Fix lockscreen max notifications not working
* Add PowerShare qs tile
* Add oneplus camera required commits
* build customdoze for all
* Fix hide back arrow in gesture nav not working all the time
* Fix vibration for back gesture haptic
* Fix vibration for long swipe gesture
* add option to remove smart charging if not working
* add isApplicationOnUicc api
* airplane mode toggle fixes
* Fix qs battery style for hidden


Bliss Rom Discussion Group : Here


More devices will be added as soon as threads are being published at Mi Community Bangladesh.


Did you like the new update? Tell us more in the comment section about it!



Special thanks to our Admin

mnnahid

vai & all S/Moderator for continuous support and inspiration.







Coronavirus (COVID-19) Advisory:
Stay at home
Maintain social distancing
Avoid touching eyes, nose and mouth