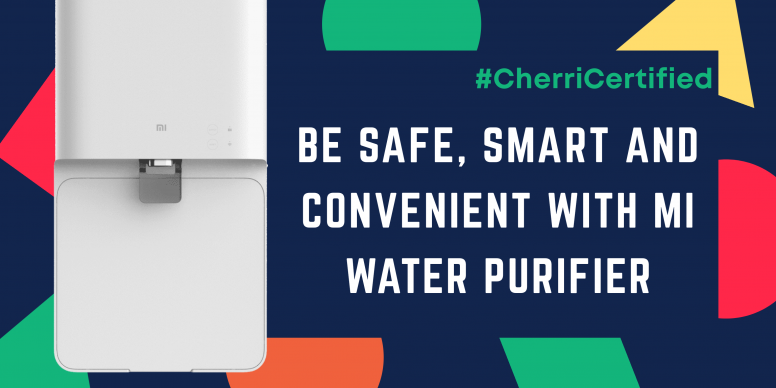 I hope everyone is staying home and taking care of themselves in the wake of COVID-19 Pandemic. This is a really hard time for us all and health is our primary concern. Regardless of whether you are staying at home or you are working, consuming healthy food, and drinking purified water makes a huge difference. In this article, I am reviewing the Mi Smart Water Purifier in-depth. So, this is my initial series #CherriCertifed, where I am primarily targeting in reviewing Mi Products.
Xiaomi is perhaps the best organization that carries a wide range of gadgets to the world, and Mi Smart Water Purifier is one of the amazing products from Xiaomi's tech universe. Right now, the MI Smart Water Purifier is probably the best product of its kind from the company which was tossed in India last year. It was initially made available in the month of September and I purchased it myself and started using it in November 2019. In these six months, I have tested it extensively and this Water Purifier has undergone Cherri's Review Treatment.
Now, most of you might have a doubt... Why buy Mi Smart Water Purifier when you can buy from the industry heads like Pure It, Eureka Forbes, and Aquaguard! Well, in this review you will know!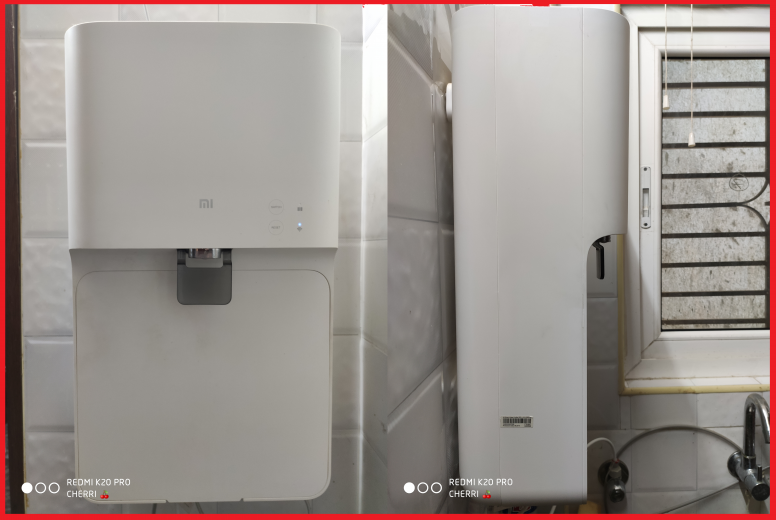 MI Smart Water Purifier originates with an outstanding minimalistic design that looks remarkable in white color and very slender, it can be fitted in trifling places very easily as a wall mount. This purifier is an FDA approved material with a safety certain and environment-friendly design. The storage tank is made with material approved by the Food & Drug Administration (USA) which is ideal and safer water for storage.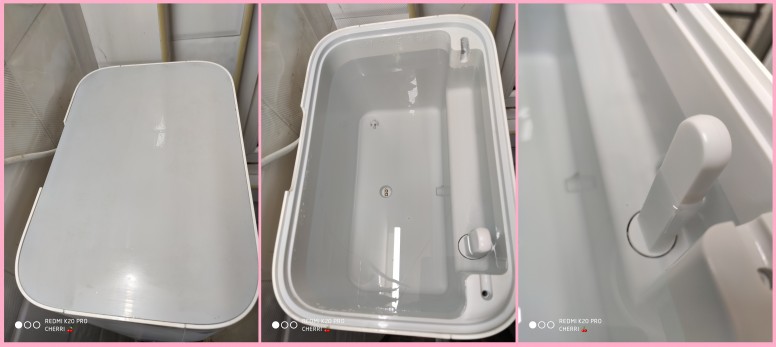 Talking about the capacity of the tank, we have 7 liters of capacity and if we see the sensor on the right side (auto water level detector) which will make sure to notify the purifier after every 2 liters of water being used from the purifier and will get filled again so you have enough water for your household and it will ensure the health of your family with safe drinking water.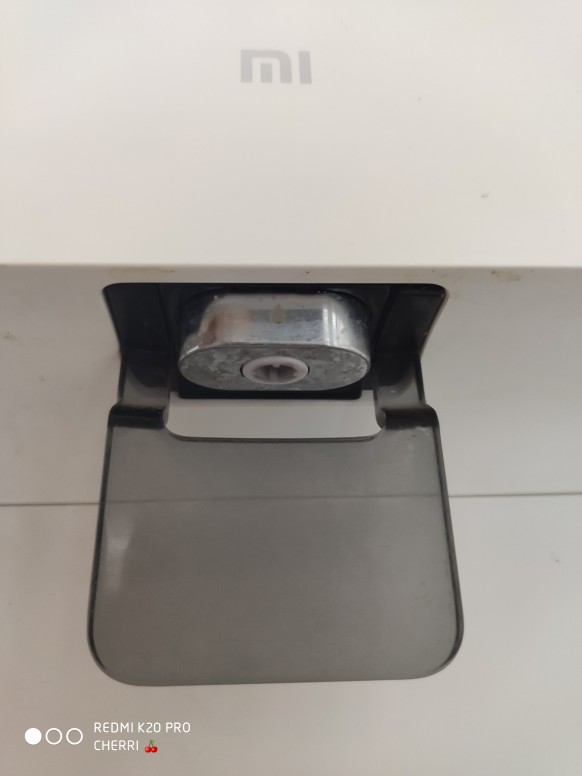 The design here includes a trust-worthy and an aesthetic tap that has good pressure optimization as well. In general, as most of us hate filling bottles of water but a 1-liter bottle filled within 30 seconds. And, that's enough for anyone in my family to fill all the bottles with water at home.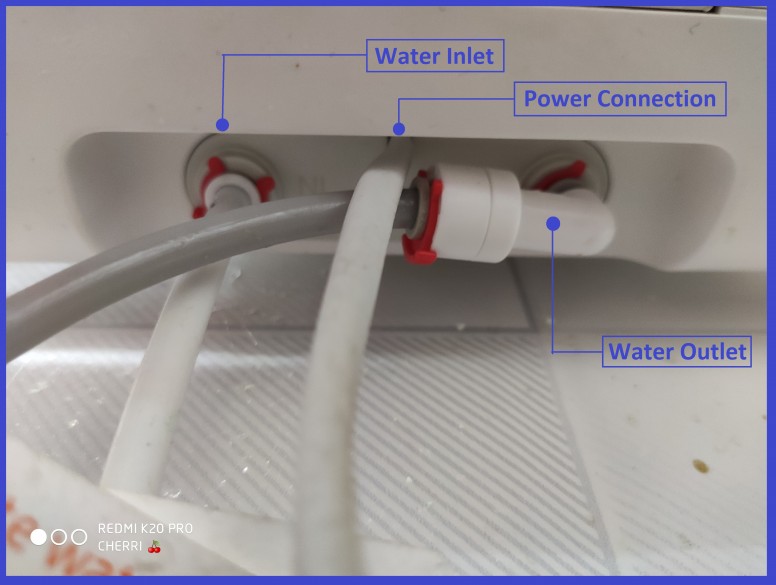 At the bottom, one can clearly see that the purifier has a water inlet that needs to be connected to a water supply tap and water outlet connection which needs to be put outside or a washbasin and power cable connection.

Advanced Penta Purification Process with No compromise of 5-stage purification lets see how this purifier will purify my home bore water which is at the TDS level of 190. The water passes through 5 stages of purification to provide us pure quality drinking water with no germs and bacteria. With the RO purification accuracy of 0.0001 microns, it effectively gets rid of chemicals, residual chlorine, visible particulates, bacteria, and other compounds that could harm your health.
Stage 1 & 2
PPC Filter
(Polypropylene Cotton + Activated Carbon)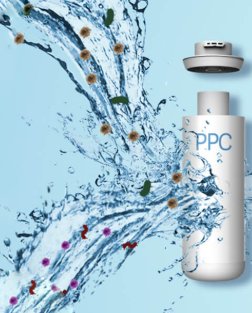 In stage 1 & 2 PPC will effectively intercept all large and visible particles out there, and deeply absorb the residual chlorine, color, odor, organic matter, and other harmful substances in the water.

Stage 3
RO Filter
(Reverse Osmosis Filter)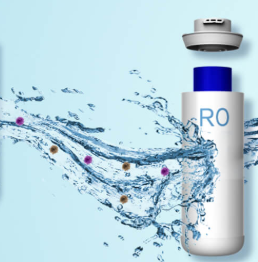 Revolutionary RO Filtration
The RO membrane which is available in the filter will effectively filter out heavy metals, bacteria, viruses, scales, organic matter, and other impurities with precision up to 0.0001 microns. With a highly efficient TDS reduction capacity by up to 90%.

Stage 4
PAC Filter
(Post Activated Carbon Filter)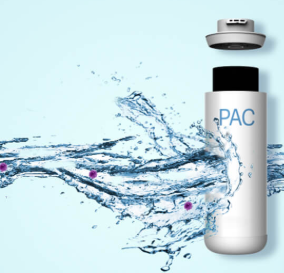 Now here comes PAC Filter which will Effectively absorb odor and organic substances from the water and furthermore improves the taste.
Stage 5
In-Tank UV Sterilization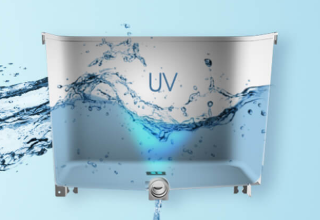 The technology which this water purifier packs inside is never seen in any other product of this kind. Once the water gets filter, the UV light takes its presence within the filter and treats the water in a way that is pure and free of any bacteria and microorganisms as a final stage of the purification it does sterilization, which Kills bacteria with 99.99% efficiency which can cause water-borne diseases. It sterilizes the water for every 4 hours of a full 25 minutes.
For every 1 Liter of water purification, this purifier will wastage 2 Liters of water which is less compared to other water purifiers out there in the market where they do wastage of 3+ Liters of water. Really thanks to Xiaomi that they care about water wastage. The filter has up to 1 year of a lifetime as the lifetime really depends on our daily how much water usage we have, you guys can see now my filters are at 55% left. Where I bought this purifier in November 2019 and now it is already 6 months crossed.
What really matters is the hardness of the water. The World Health Organisation clearly states that the hardness of water is more harmful than the TDS levels. Unfortunately, the Mi Water Purifier has no way to measure hardness levels. However, it does work on reducing it. This is the problem with the tap water in our house. I know this because the more hardness in water will cause skin problems and hair fall issues etc.
Now my water TDS level is 51 where it is quite good, but even at starting days the TDS level was 20 and 15, so why the difference in TDS level after a few months? We use bore water in my home so we should regularly clean our water tank cleanly where we get small carbon particles through bore water. Even the current TDS level of our bore water is high as compared to beginning days we got 130 TDS level for bore water.

This is one of the great features to have with this product, also we can check the device statistics. The stats feature the quantity of water that is getting purified daily, weekly, monthly, and yearly as well! All the aforementioned can be monitored by connecting through the Mi Home app by using Wireless Network connectivity. Regardless of where you are, once connected, you can monitor the smart water purifier with this app. Also, you can check the lifetime of the filters without being worried about anything. Even changing the filters are easy to change and hardly it takes less than a minute to do so!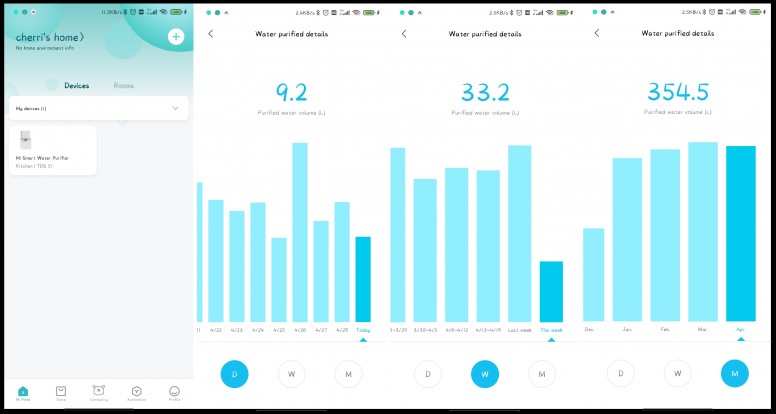 We can check the TDS level of our purified water through the app itself, let me explain to you about TDS. Total Dissolved Solids (TDS) The Hardness of the Drinking water is created by naturally occurring substances like calcium (Ca) and magnesium (Mg). TotalDissolved Solids (TDS) are the total amount of the mobile charged ions in a given volume of water which include minerals, salts, cations, anions, and metals. The Dissolved salts come from both natural and inorganic sources like leaves, plankton, trash from industries, pesticides, fertilizers, and more. Water will also pick up metals like lead and copper when it travels through the pipeline's and dissolved salts also come from artificial sources such as rocks, atmospheric gasses, nitrogen iron, and minerals also.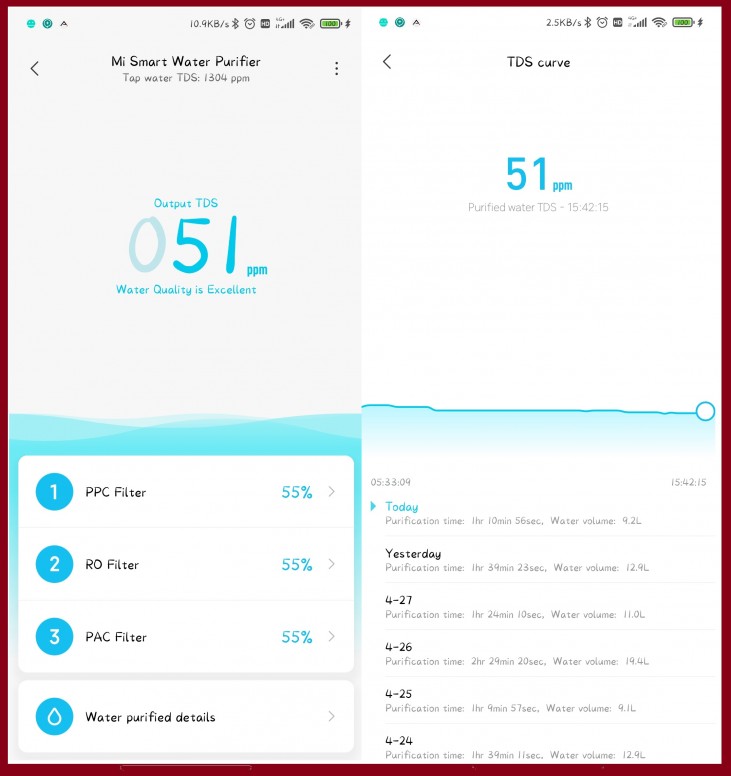 According to the World Health Organization, the TDS level less than 300 mg/liter is considered excellent, between 300 and 600 mg/liter is good, 600-900 is fair, 900 -- 1200 is poor and the TDS level of more than 1200 mg/liter is unacceptable. In India, If the TDS level is above 500mg/liter, the water is considered as disagreeable. But, due to the lack of water resources, people are drinking water that has greater TDS Levels.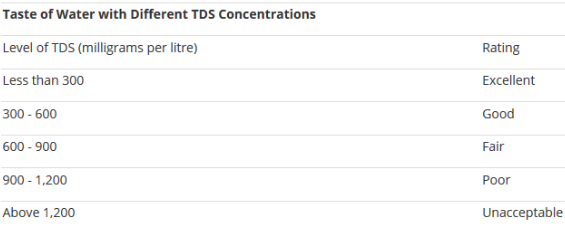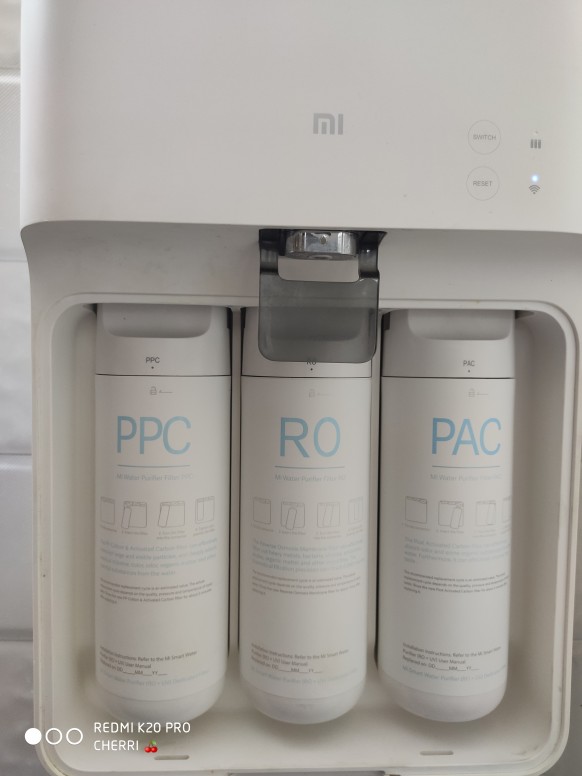 With the Mi Smart Water Purifier (RO+UV), you don't have to depend on the customer service team to check and replace your filters. Maintenance is simplified with the smart design that allows you to replace the filter all by yourself in under 30 seconds where we can simply order the filters through the app itself directly. Now I will show you how to change the filter.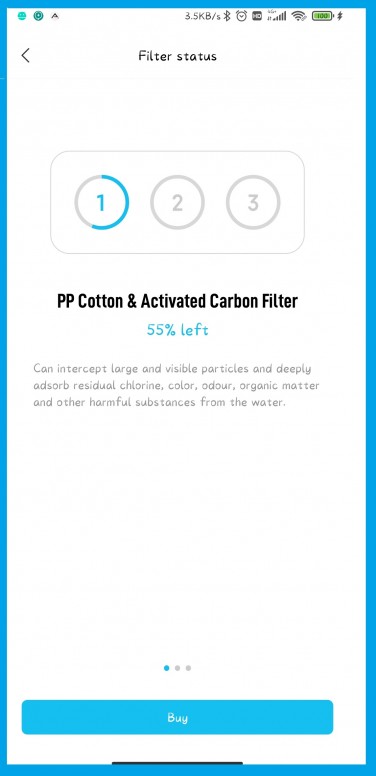 Now if we look at the front side of the purifier we can see 2 touch buttons are there one with wifi logo (reset button) and another one with 3 small lines (Switch button).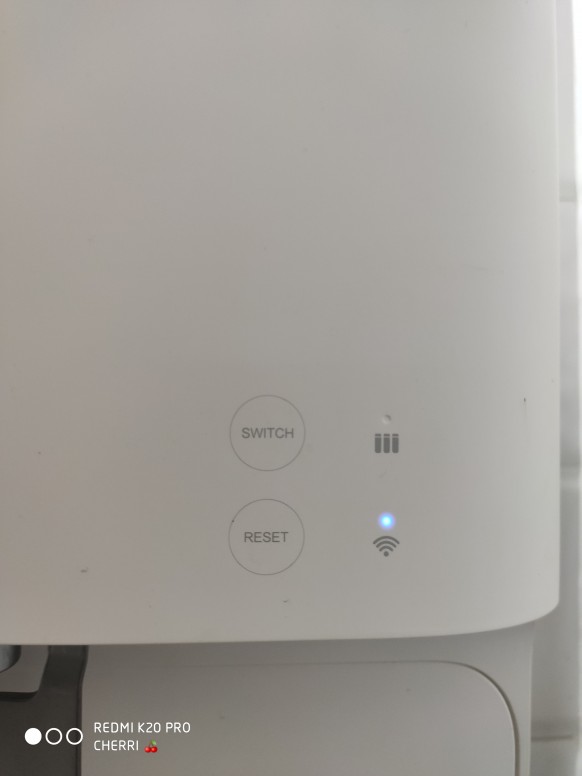 Switch Button: This button is mainly to check whether the filters are fitted perfectly are not and during the time of changing the filters we need to use this switch button to check the particular filter which we replaced got fitted are not, so we don't need to worry about wrong fittings of the filter.
WIFI Button: This button is to just reset the device during the time of changing the filters so the filter will go back to its own work of filtration process.

First, unplug the water purifier and close the water supply
Now open the water dispenser tap and drain out the water from the tank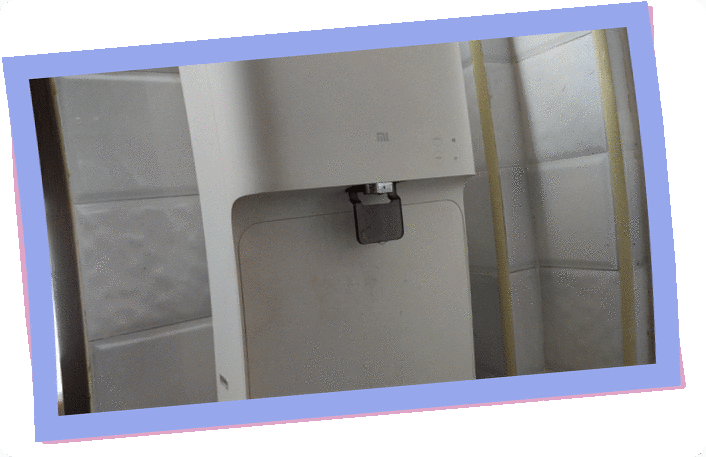 Remove the front cover

Lift the filter that needs to be replaced & turn it counterclockwise to remove it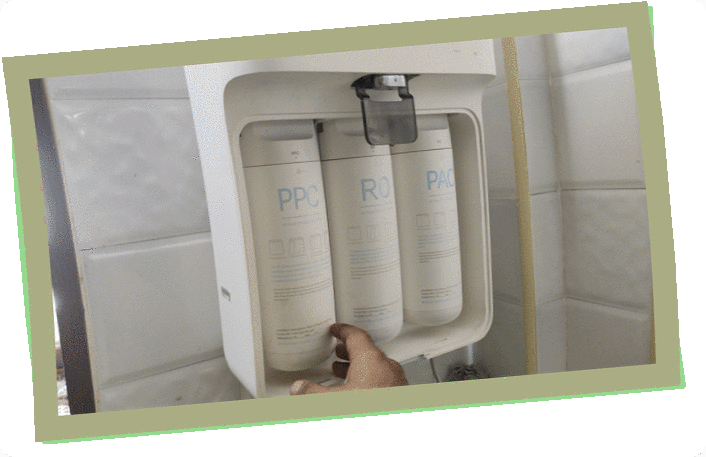 Align the filter with the connector on the water purifier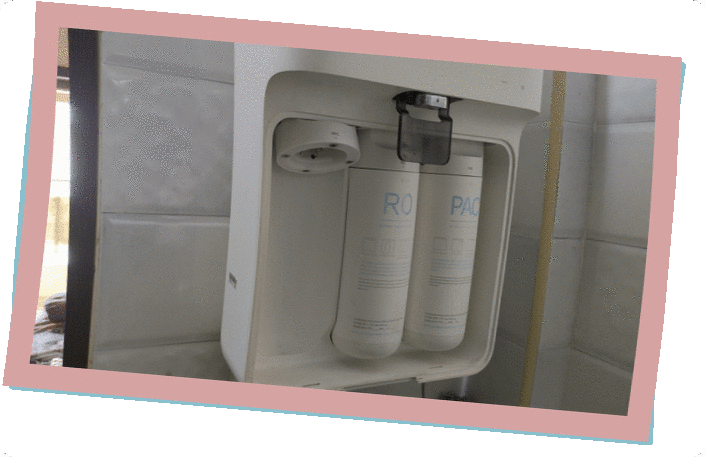 Turn on the water purifier and the water supply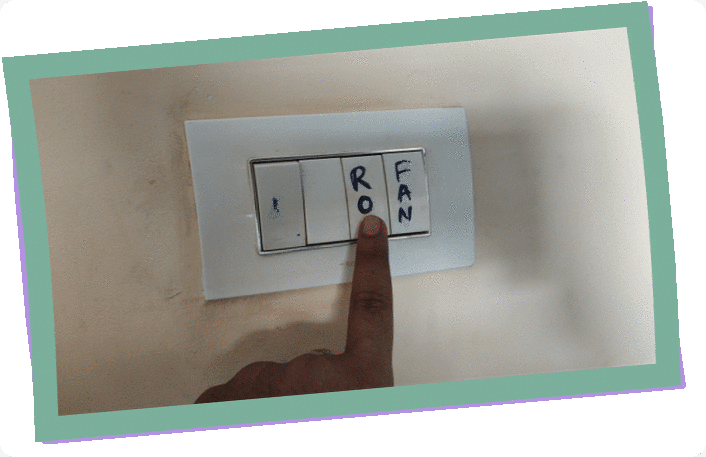 Now press the switch button to select the filter that is replaced then

the indicator light of the corresponding filter will blink orange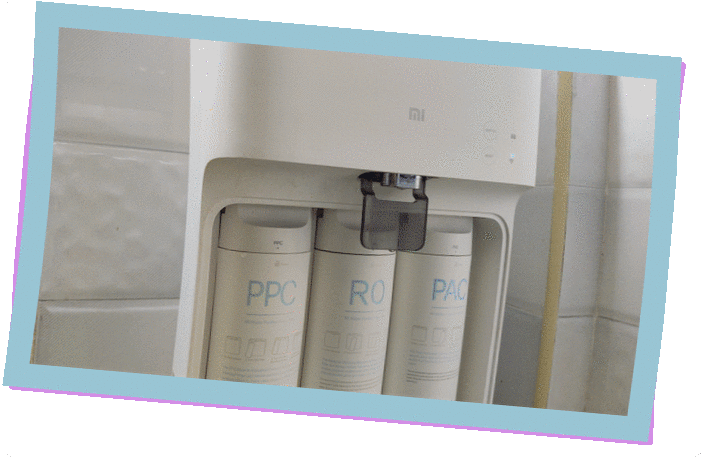 Press and hold the reset button for 3 seconds until you hear 3 beeps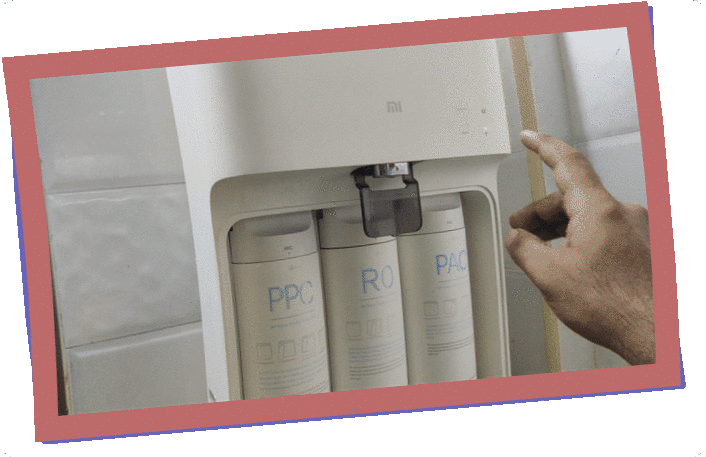 The Mi Purifier is available for Rs 12,999. But, at all the features which are available in MI Water Purifier, the price is absolutely spot on. In fact, it is really good to pay more just for the easy replacement of filters. So let's look into the pros and cons of MI Smart Water Purifier now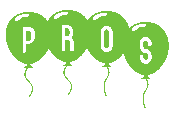 Affordable price
Excellent design
Easy to clean
DIY (Do It Yourself) Filter Replacement in less than 30 seconds
In-Tank UV Sterilization
Auto Water Level Detector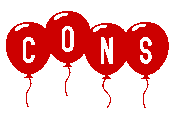 No storage tank for wastewater
It is Difficult to check filters lifetime for normal people who don't have wifi in their home to connect the filter through MI Home app, as always the purifier will notify through the app regarding filters lifetime.
No way to measure hardness levels

Now, while all of these are present, the Mi Smart Water Purifier still manages to impress thanks to the DIY nature of water filters and the connected nature of the appliance. The Mi Water Purifier is a genuinely impressive product and possibly one of the best ones Xiaomi has launched to date.
With Mi smart water purifier my family is now safer, smarter, and more convenient. Thank you, Xiaomi for an excellent product for people like us.
See you guys in my next review until then take care bye

Thank you for this great opportunity to start my new series
Special thanks to admin Elaine, Smods Muz_paray & feds64 for the great support.
Rate