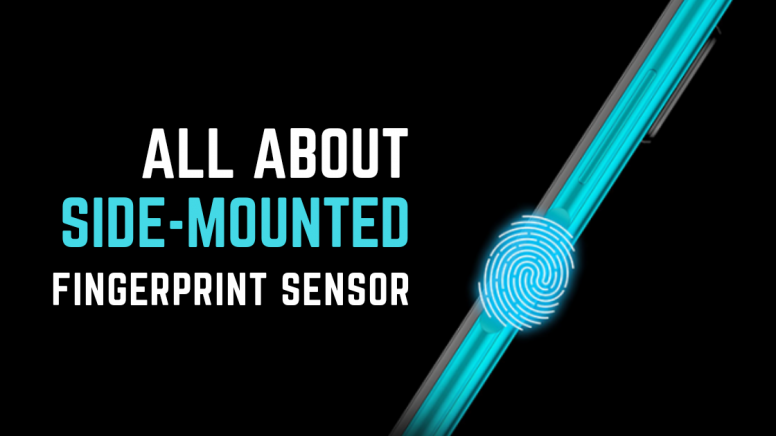 Greetings Mi Fans..!
How are you doing..?
Stay Safe, Stay Home..!
Today I'm back with another interesting topic for you guys. As you people already know that Xiaomi brings it's latest Redmi Note series i.e "Redmi Note 9S" which is upgraded in many aspects over the Redmi Note 8. Be it in Design, Camera, etc. it got a fresh look. But, wait do you know Redmi Note 9S is the first device in the Redmi Note series from Xiaomi which carries the "Side Mounted Fingerprint Sensor". Don't you want to know more about this new fingerprint sensor..? If yes then dig in deep,
Back in 2015, Some OEM's used this feature for the first time. But, This feature didn't get the much name like rear and front fingerprint sensor.
Side-mounted fingerprint sensors most probably placed on the right-hand side of the mobile. Though it's not a popular placement to place there, But, it's best to place on the right side of the mobile. These sensors are the "Capacitive Sensors" so these are easily accessible and more secure. As the name itself says it uses a core component Capacitor.
These fingerprint scanners use arrays of tiny capacitor circuits to collect data about a fingerprint. The capacitors connected to the conducting plates on the surface of the scanner allows them to track the details of a fingerprint. The charge stored in the capacitor changes slightly when a finger's ridge is placed over the conductive plates. While an air gap will leave the charge at the capacitor relatively unchanged. An op-amp integrator circuit is used to track these changes, which can then be recorded by an analog-to-digital converter.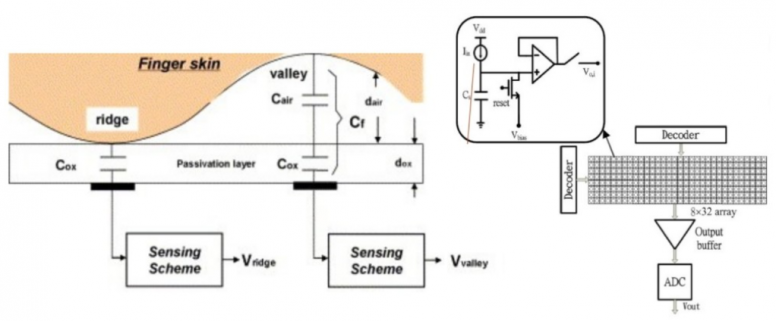 Once captured, this digital data can be analyzed to look for distinctive and unique fingerprint attributes, which can be saved for comparison at a later date. What is particularly smart about this design is that it is much tougher to fool than an optical scanner. The only real security risks come from either hardware or software hacking.
Balanced design:
As the fingerprint sensors placed on the side. No need to give extra space for the fingerprint though the scanner is embedded with the power button. So, the design & rear camera shines on the mobile.
Ease of Access:
Truth is: no matter how you hold your phone during operation, you'd have at least one finger on the side of your device. Also, irrespective of how you place your phone on a surface (face up or down), you can easily get to unlock your device before you even pick it up from the surface.
Speed:
Coming to the speed, these are as fast as rear-facing fingerprint sensors because it is only embedded with the power button but that doesn't mean that it decreases the unlock speed of the mobile.
Versatility:
Side-mounted fingerprint sensors, however, allow the natural flexibility of using almost any finger (left or right) without being subconsciously accustomed to any.
Side-mounted sensors are also under more space constraints than those on the backs of devices, so you have to be more specific about how you place your thumb or finger on it if you want it to scan correctly the first time. Spending more time setting up your fingerprints correctly can help with this, but it's more effort than you'd have to put into setting up a rear-mounted sensor. So, you should be careful while setting them up.
They're not symmetrical for one thing, meaning that they don't cater equally to right-handed and left-handed people. That might not be a problem for some, but if you've got smaller hands and you're using a larger device, reaching your fingers around the back of the device to a sensor on its side could be difficult.
How it will be a Trend in Upcoming days
Let's put the advantages & disadvantages side by side the advantages get more weight than disadvantages of the side-mounted fingerprint sensors. I really like this feature very much because it shortens the line between functionality and security. It doesn't seem to be scanning your finger on the Redmi Note 9S sensor, it will happen automatically while you're going to wake your device. When security becomes invisible, the inconvenience of using it almost completely disappears, people are willing to put up with more of it, and everyone becomes safer as a result.
So, Guys, Did you guys like this feature..!
Hit in Comment Section..!
Always believe that something wonderful is about to happen.