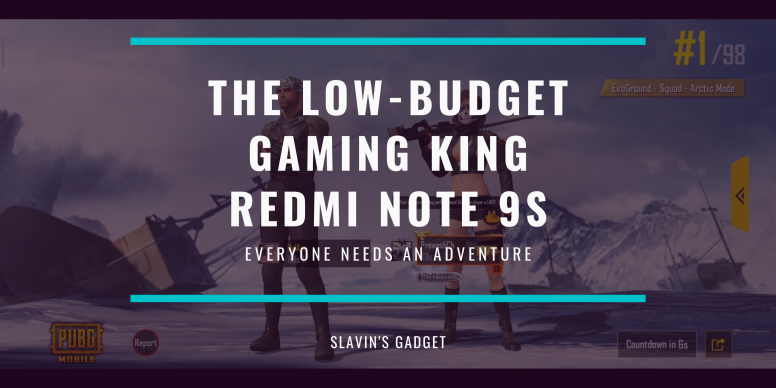 Hello fellow Mifans,

As promised, I'm back with more sharing on the Redmi Note 9S.

So nothing had change much over the past week, many if us are still on lockdown and there is nothing much for us to do staying at home others than working & GAMING!! #stayhome #staysafe

I have tested more gaming with the Redmi Note 9S such as PUBG, Ragnarok Mobile, Mobile Legend, Honkai Impact 3 and few others. Before I go into my experience sharing let me go through briefly what makes Redmi Note 9S a awesome low budget gaming phone.

Snapdragon 720G
Due to the rapid growth of mobile gaming market, Qualcomm have been developing more and more gaming-focus SoC such as the SD720G, SD730G and also SD765G 5G. All these SoC differenciate with the letter "G" at the end of the model number are mobile gaming-focus SoC.


The Qualcomm® Snapdragon™ 720G Mobile Platform enhances the mobile gaming experience.



This platform boasts extraordinary gaming experiences with select Qualcomm® Snapdragon Elite Gaming™ features, transporting you to new worlds in a matter of seconds.





With a home theater in your pocket, get lost in all your favorite shows and movies with HDR video playback and high-definition streaming.





Accelerated on-device AI powers intelligent performance so you can spend less time worrying about battery life and more time immersed in gaming victory.



So as what Qualcomm claimed, the SD720G is designed to enhances the mobile gaming experience.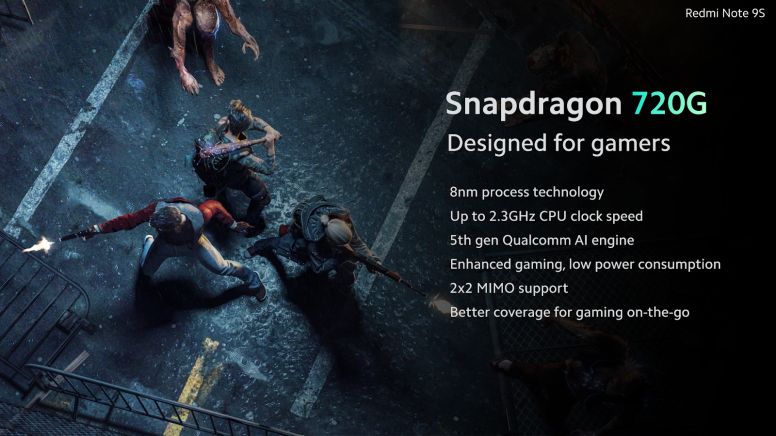 The SD 720G is a 8-core SoC with Kryo 465 architecture. Two of the cores are Kryo 465 Gold (Cortex-A76) clocked at 2.3GHz and another 6 cores, Kryo 465 Silver (Cortex-A55) are clocked at 1.8GHz.
The Redmi Note 9S also comes equipped with Adreno 618 GPU to further enhance the gaming experience. This is a mobile graphic card cater for the upper mid-range devices actually.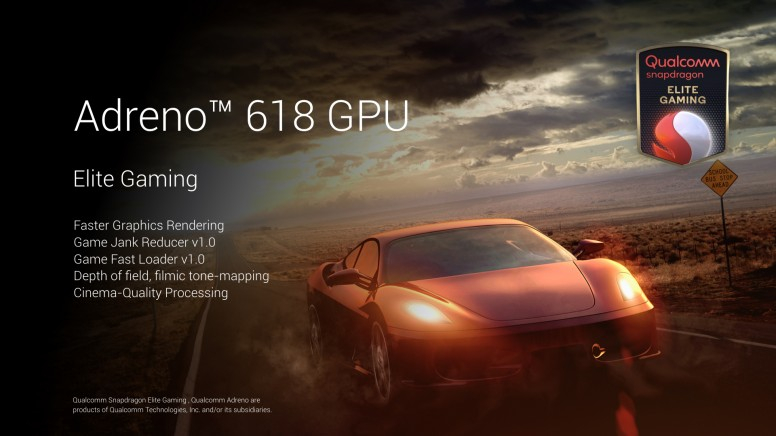 Comparing with the previous generation, the SD720G + Adreno 618 with Elite Gaming enables:
A whooping 115% increase in AI performance
40% increase in single-core CPU performance
16% increase in multi-core CPU performance
14% increase in GPU performance


A few notable features of this SD720G such as:
Smooth HDR Mobile Gaming
Select Snapdragon Elite Gaming features help you come out on top, every time. Whether fighting off enemies or defending your team's turf, smoother graphics, HDR gaming and Qualcomm® aptX™ Adaptive audio combine to create an unmatched gaming experience that immerses you deep in the action.
Brilliant HDR Entertainment
Experience HDR entertainment at its finest with both true 10-bit HDR mobile gaming and HDR video streaming. Graphics will come to life in over a billion shades of color for immersion beyond belief. Plus, the Qualcomm Spectra™ 350L achieves sharp video resolution with the ability to capture a staggering 192 megapixels.
Accelerated on-device AI
The 5th gen Qualcomm® AI Engine and dedicated Qualcomm® Hexagon™ Tensor Accelerator are designed to deliver enhanced gaming performance with lower power consumption—perfect for seamless game sessions with less lag or glitch.
The Hexagon Tensor Accelerator is not even presence in the SD730G.


Personal Experience
So far in my experience in gaming with the Redmi Note 9S has been very pleasent. Overall gaming is really smooth which kinda surprise me. I even tried screen recording while playing PUBG at max graphic settings and yet there is
no slight hint of lag
or delay.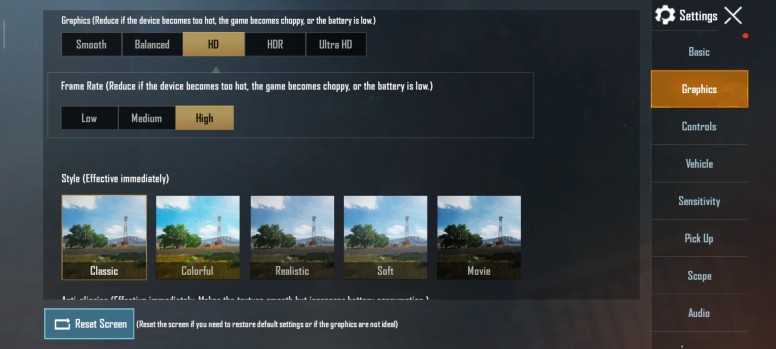 Another surprising aspect is the battery consumption. After an almost 2 hour long of PUBG session it had only consume around 3% of the battery. And this is with the max setting and occasionally screen recording as I mentioned. I have never seen this in any of the devices I had used so far. And the device doesn't feels hot or warm at all during the gaming session. I'm really surprised at this because I had tried gaming on a Blask Shark 3 Pro which is a pro gaming phone and after 1-2 hours of gaming the device actually went up to 40°C and it feels rather hot in my hand.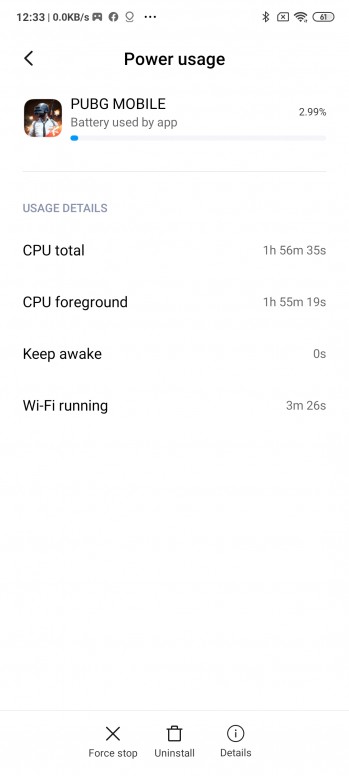 Here's another video of one of my recorded game with @PraweshCH
Rate