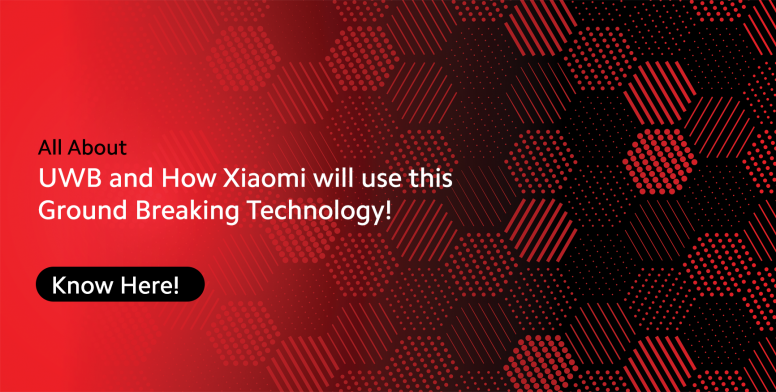 Hello Mi Fans,

Technology answers all the demands of today's constantly evolving fast-paced society in rapid-fire response, which means it is constantly evolving as well. In fact the entire tech world is ever changing and evolving. When it comes to technology, one thing you can count on is that nothing is going to stay the same. And today we will be talking about one such technology that can power cutting-edge devices - Ultra-wideband (UWB) - short-range wireless protocol. Here's everything you need to know about Ultra-wideband technology that is going to revolutionize our world.


UWB, which stands for ultra-wideband, is the new generation of connection technology with ultra-precise positioning. It is a fast, secure and low power radio protocol used to determine location with accuracy unmatched by any other wireless technology. The term UWB is used for a bandwidth (BW) that is larger or equal to 500 MHz or a fractional bandwidth (FBW) greater than 20% where FBW = BW/fc, where fc is the center frequency.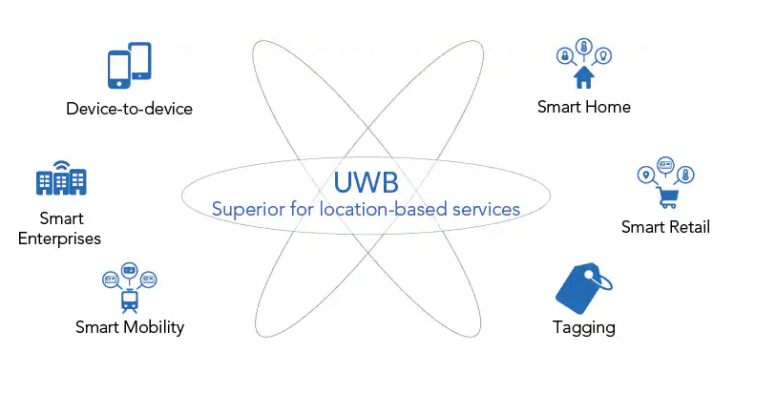 So in other words Ultra-Wide Band (UWB) Technology is an ultra-low power wireless technology that transmits a high amount of data over short distances. It can provide a data rate of up to 1Gbit/s within a 10-meter radius for wireless personal area communications. The UWB data rate is significantly higher than the Bluetooth and Wi-Fi technologies. UBW operates over a wide frequency spectrum from 3.1 to 10.6 GHz. To ensure that it does not interfere with other technologies that operate in this frequency band, it has a very low power spectral density.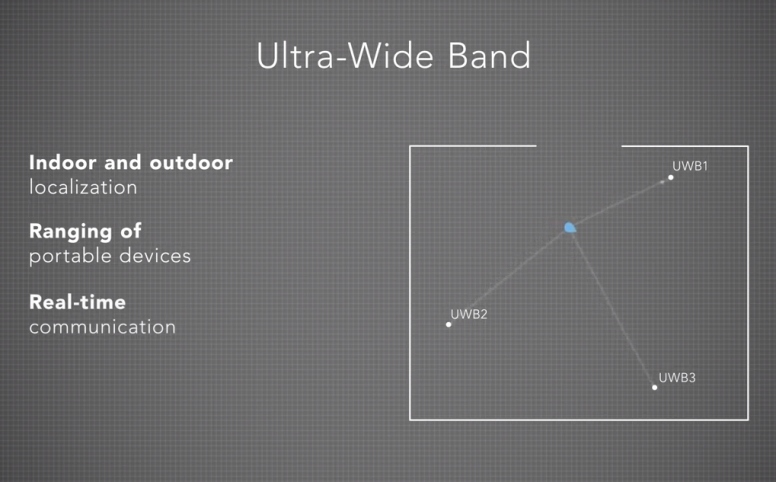 Like Bluetooth and Wi-Fi, ultra-wideband is a wireless communication protocol that uses radio waves. A UWB transmitter sends billions of radio pulses across the wide spectrum frequency and a UWB receiver then translates the pulses into data. UWB pulses can be used to sense distances between two transmitters. The shorter the duration of the impulse, the more precise the distance measurement will be. UWB achieves real-time accuracy because as it sends up to 1 billion pulses per second (about 1 per nanosecond).

UWB uses very low power and the high bandwidth (500MHz) is ideal for delivering a lot data from a transmitter to other devices. By sending pulses in patterns, UWB encodes information. It takes between 32 and 128 pulses to encode a single bit of data, but given how fast the bits arrive, that enables data rates of 7 to 27 megabits per second.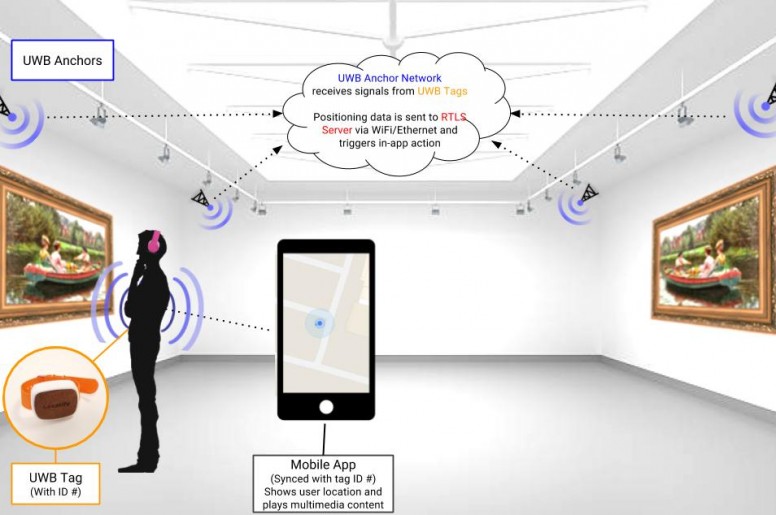 When a smartphone with UWB comes close to another UWB device, the two start ranging, or measuring, their exact distance. The ranging is accomplished through Time of Flight (ToF) the time it takes for a pulse to get from point A to point B. To increase UWB's range and reception reliability, a MIMO (multiple-input and multiple-output), distributed antenna system has been added to the standard that enables short-range networks. The antennas can be embedded into a smartphone or other devices such as a wristband or smart key.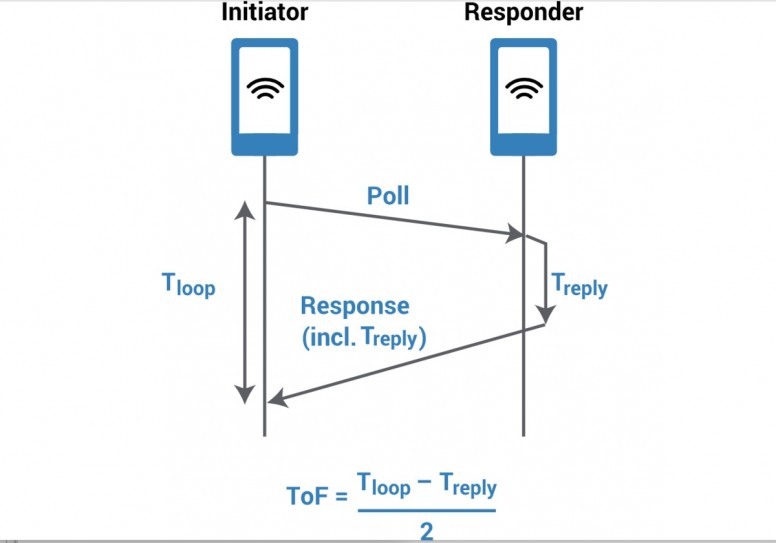 Depending on the type of use, such as asset tracking or device localization, one of the UWB devices calculates the precise location of another UWB-enabled object – such as those car keys or television remote control that fell between the couch cushions. (If the device is running an indoor navigation service, the UWB-enabled device must know its relative location to the fixed UWB "anchors" and calculate its position on an area map).

For example, UWB-enabled systems know if you're approaching a locked door and can determine if you're inside or outside the doorway. They can also decide whether the lock should be engaged when you reach a specific position. In a real-world scenario, UWB could open the garage as your car approaches and unlock the door to your house as you near the entryway.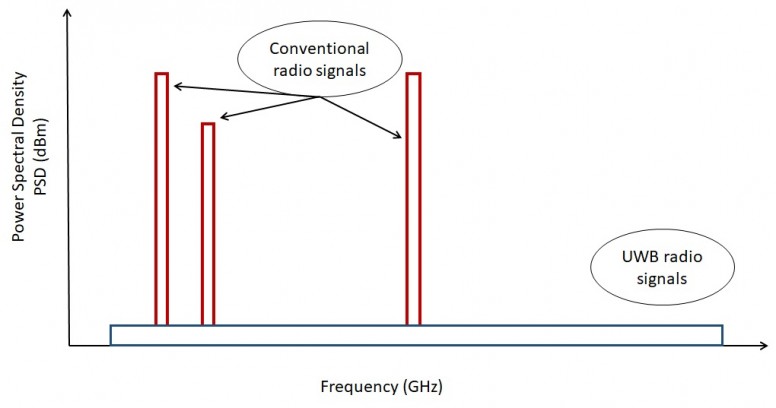 Xiaomi has made another step ahead towards the future by introducing the ground-breaking ultra-wideband (UWB) technology. With this technology, your smartphone will be able to perceive signals from your smart devices in its surroundings and control smart devices when simply pointed towards them. A smartphone supporting Xiaomi's UWB technology can locate smart devices with centimeter-grade precision. It senses spatial positioning just like the human eye and can pinpoint the location of any smart device with the angle measurement accuracy reaching ±3°, similar to an indoor GPS.


Xiaomi's UWB boasts a 500Mhz ultra-wide bandwidth to transmit information and improve positioning accuracy, a technology that is used in radars. In addition, Xiaomi UWB technology demonstrates excellent security performance thanks to its ultra-wideband and narrow pulse characteristics, making its signals extremely difficult to intercept in space. At the same time, it is equipped with Xiaomi Distance Algorithm for added accuracy. These features also allow for imaginative practical applications. In the future, Xiaomi UWB Technology will complement Bluetooth and Wi-Fi to meet the wireless connectivity needs of users under different scenarios.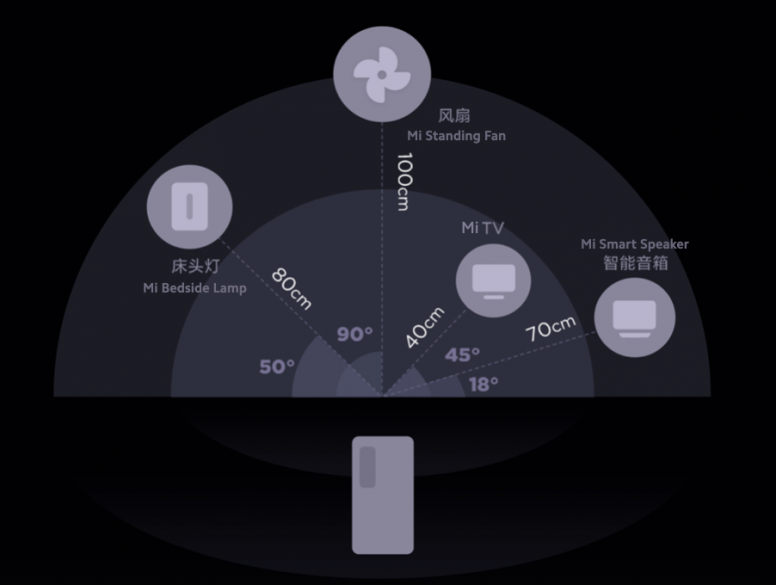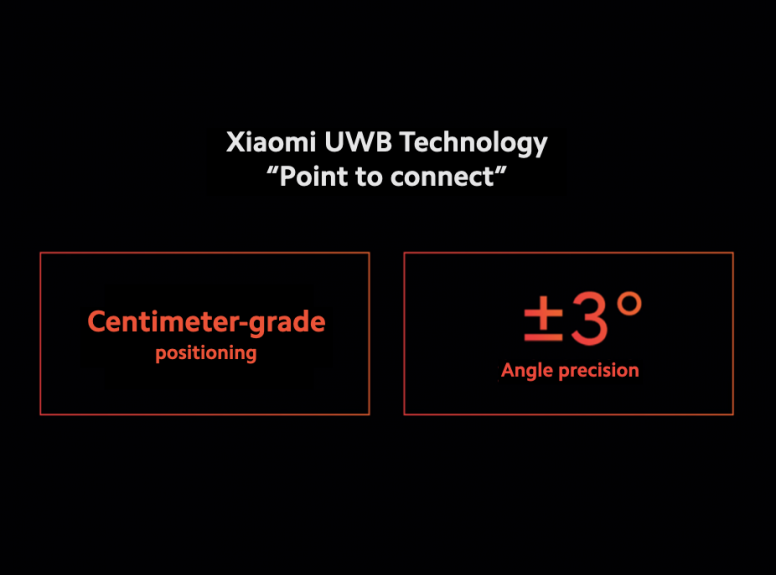 We have so far embedded our unique UWB technology into Xiaomi Mi 10 Series and certain smart home appliances, pioneering the revolutionary "Point to connect" interaction format. Once you point your smartphone towards any smart device, you can immediately control it, as they will connect automatically.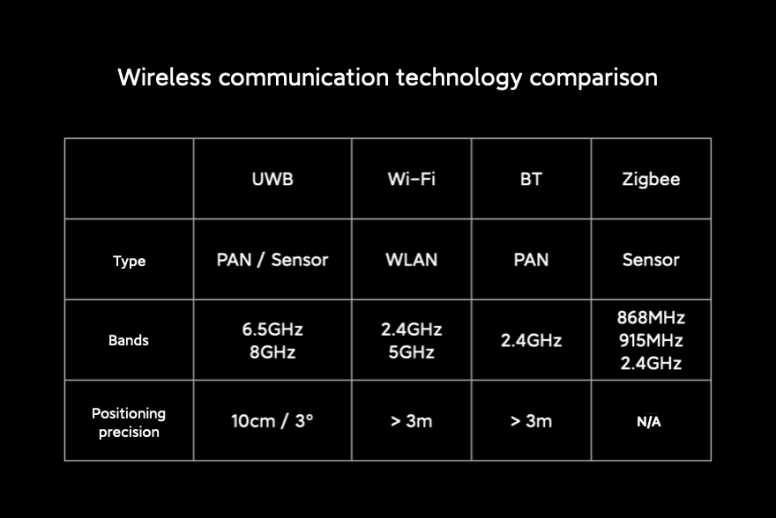 When your smartphone is pointed towards the fan, the control panel for it automatically pops up on your phone. One-tap control: Once you point your phone towards the smart device, the control panel pops up automatically. Whether you need to switch on the TV, turn on the light, play a song or read its lyrics, everything is just one tap away. One-tap casting: Point your phone towards the device to remote control it and seamlessly cast your screen onto smart devices including Mi TV, Xiaomi AI Touch Screen Speaker, Mi Notebook among others.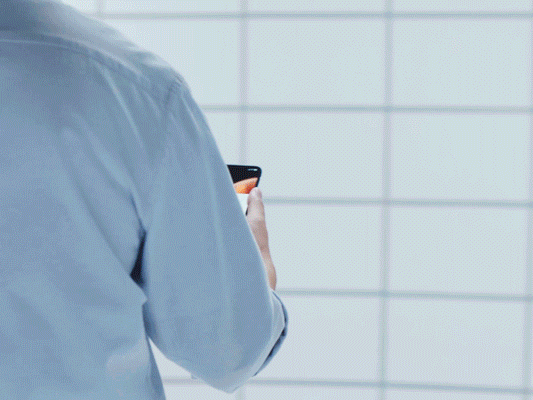 In the near future, we may even be able to get rid of the "tap" for completely hands-free interaction. For instance, when you get close to the car door, your phone in your pocket will sense that and automatically unlock your car. Your phone can also help you pay on the subway or a bus, all while not leaving your pocket. These scenarios could easily become the reality with wider popularization of Xiaomi's UWB technology.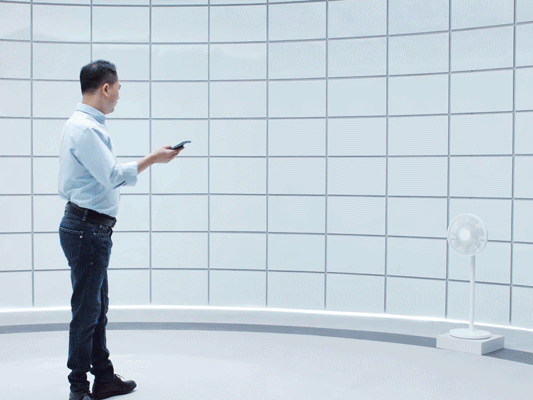 How is UWB different from Wi-Fi and Bluetooth?


Like Bluetooth and Wi-Fi, ultra-wideband (UWB) is a short-range, wireless communication protocol that operates through radio waves. But unlike its counterparts, it operates at very high frequencies — a broad spectrum of GHz frequencies — and can be used to capture highly accurate spatial and directional data. Bluetooth and Wi-Fi lack the accuracy, positioning capabilities and radio frequency security available with UWB. Most wireless connectivity technologies can technically provide ranging, but UWB's performance is far superior.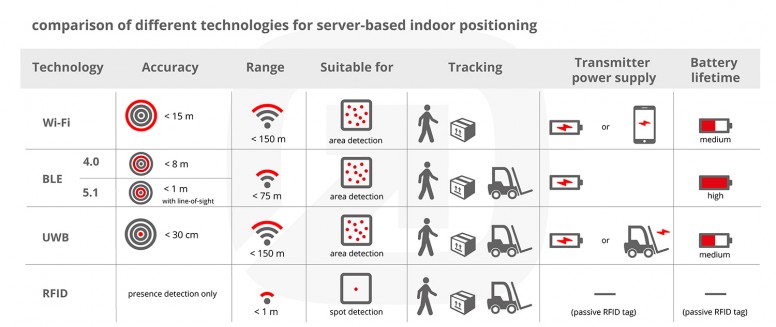 Wi-Fi requires much more power than UWB that is why all routers need to be plugged in to the power outlet at all times. Wi-Fi routers are also much more expensive than cheap UWB tags nowadays. While Wi-Fi has come a long way to allow greater accuracy in locating other devices and reducing the costs, UWB is more precise, uses less power and is much cheaper.


The Advantages of Ultra-Wideband Technology:


The very wide bandwidth of UWB signals enables superior indoor performance over traditional narrow-band systems. High data rates can be transmitted over a short distance using UWB. Think of UWB as a continuously scanning radar that can precisely lock onto an object, discover its location and communicate with it. With its fine precision, fast transmission and high reliability, UWB technology is poised to help companies locate people and objects moving in all sorts of environments and processes.





One advantage of this low power spectral density is that transmission using UWB are very secure. The wide bandwidth provides immunity against the channel effect in a dense environment and enables very fine time-space resolutions for highly accurate indoor positioning of the UWB nodes. The low spectral density, below environmental noise, ensures a low probability of signal detection and increases the security of communication. One thing's for certain: UWB is poised to change the way we live and work.




What Do You Think of UWB?




Are You Looking Forward to Xiaomi's UWB Technology?



Source: 1, 2, 3