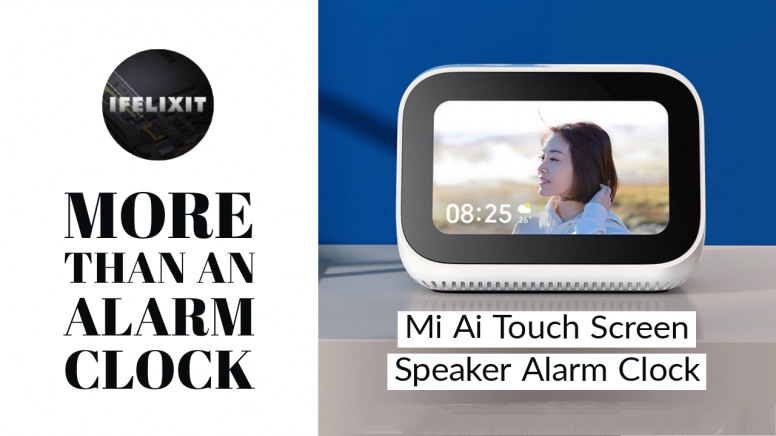 Hei Mi fans,
Wassup everyone? Hope to find everyone to #StayAtHome #SavesLives during this challenging time of isolation. Today, I am going to review the Mi Ai Touch Screen Speaker Alarm Clock. As I set out searching for a different kind of smart home solution, one that is reliable, eco-friendly and to improve our homes and simplify our daily lives, I bumped into Mi Ai Touch Screen Speaker Alarm Clock. I will share with you all about this intriguing alarm clock. Let's get started!
Let's spell out the features!
Main Features:-
The device has a 4-inch display that has space for a custom digital clock.

The display can also be used to select music and watch videos and various applications can be installed on the device.

It also comes with an alarm clock.

The smart speaker will come with a large number of video resources, as well as the Tencent music library.

The smart speaker can also be integrated with a variety of smart home gadgets, such as smart cameras, smart doorbells and several others.



More Than Just An Alarm Clock
Xiao AI Touch Screen Speaker Alarm Clock also known as well, is fitted with both the speaker and microphone as the name AI signifies. This speaker AI voice control function only recognizes Mandarin since it is currently available for China. Looks can be deceiving, it does more than you could conceive, with WiFi and Bluetooth connection protocol it give you the control over the Mi Smart or IoT devices, supporting like the Mi Robot Vacuum, Mi Robot 1C Mop Vacuum Cleaner, Mi Home Security Camera 360°1080P and so on via the touch screen or giving cue to Xiao AI. When connected with Mi Home Security Camera 360°1080P you could interact with the other person who is displayed on the screen, eg the babysitter, just a mini TV.
Moreover you can watch videos or listen to music provided by Tencent. There is more content which is in Mandarin being piped in. The screen circulates through the weather information of the day and the contents of the various channels in a non-screensaver state. At the same time, through the left and right sliding of the screen, we can realize the rapid switching of clock, alarm clock, smart home and news interface.
Alarm clocks can also be customized for different every day, feel free to set songs, singers, genres, scenes, favorite songs and wake up in the melodious music in the morning, in addition you can use your video too.
It can be a photo frame, to display your family album to remember those wonderful moments. Furthermore, you can answer or make calls by giving the cue to Xiao AI, fantastic isn't it?
Connect smart doorbell and camera for easier monitoring, when linked with the smart doorbell, a guest pressed the doorbell, and the speaker screen displays the scene outside the door in real time. You can choose the voice, changing to intercom mode and also support smart camera, view the camera monitor screen with a simple cue.
Alternatively, Mi Ai Touch Screen Speaker Alarm Clock posed as a Bluetooth Mesh Gateway, which can connect more Bluetooth devices in the home with other devices, has support for Mi Jiapin temperature and humidity sensor, humidifier, smart light bulb and smart door lock. Mi Ai Touch Screen Speaker Alarm Clock power interface uses the conventional Micro-USB interface and has no built-in battery and relied on AC power supply.
Customized and entertaining content for children, with featured picture books, cartoons, video encyclopedia and plentiful of picture encyclopedia content.
Participate in the Al training program, let Xiao AI know you better and at the same time you can brush up your Mandarin, as its only in Mandarin until the English is available.
It comes loaded with QQ music rich music library, while watching the lyrics incorporated with QQ Music, listen to a total of 17 million genuine music.
Verdict
I have been spending a lot of time trying out most of the capabilities and functions and I am pretty amazed. As I have mentioned, looks can be deceiving, right enough it is, it's so convenient to have it sit on your office table, complete with quick access to music, news, even though they are all in Mandarin with it's server in China. Putting it in photo mode to review all your photos. I can see who's coming at the door and intercom the person. Xiao Ai is the small love that I began to get attached, as the name actually means. Moreover, Xiao AI 3.0 was launched and incorporated a male voice for ladies users and you have the option to have a natural continuous dialogue or chat via your Mi Ai Touch Screen Speaker Alarm Clock, at least you won't get psychosocial pathetic. Thus far, the alarm clock brought varieties of innovative interactive experiences of just a smart alarm clock.