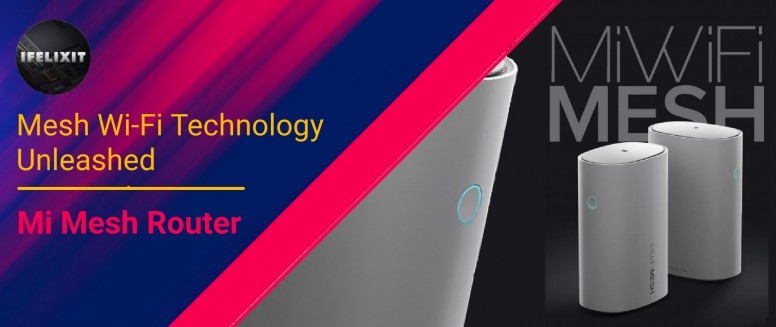 Hei Mi fans,
With #StayAtHome and social distancing now becoming a way of life, an increasing number of people are relying on the internet for work, education and entertainment. This has placed greater demand on our network infrastructure, reducing the bandwidth available for each user, and is leaving people frustrated at seemingly slow internet speeds. How to overcome it? Well today, I am gonna touch on what Mesh Technology and the device I am using which has been launched about a year ago as of writing. The device that I wanna review is the Mi Mesh Router. Before we go further, let's recap on Wireless Mesh Network.
About Mesh WiFi
What Is Mesh WiFi? Mesh WiFi or Whole Home WiFi systems consists of a main router that connects directly to your modem, and a series of satellite modules, or nodes, placed around your house for full WiFi coverage. They are all part of a single wireless network and share the same SSID and password, unlike traditional WiFi routers. Mesh Wi-Fi uses multiple devices around your home to create one seamless network. Each of these is called a 'node' and they all work together to extend your Wi-Fi signal to your whole home. Mesh Wi-Fi networks are very easy to set up, and are good for extending your Wi-Fi to your whole home or bigger offices. For more details:
Mesh WiFi Explained!
Main Features
Good signal, no "dead zones"

Supports the 802.11k/v protocol, automatically switches the network

2.4GHz and 5GHz dual frequency

Optimized for Mi Smart Home, Mi WiFi App

4 built-in signal amplifiers, can pass through walls

Qualcomm® DAKOTA 4-core ARM processor

Can connect up to 248 devices

Supports IPv6

Easily manage your child's online time and content

MU-MIMO takes care of every Internet-connected device

"Chimney" cooling structure, large metal heat sink



Ergonomic Design
Mi Mesh Router adopts a simple and clean design, cylindrical shape and sports a power button on the side along with the LED ring around it. It comes with built-in antennas suitable for being a deco item in your house or office. Designed with a chimney cooling architecture, an oversized metal heat sink for heat dissipation effectively reducing the chip temperature and improving system stability.
Powerful WiFi Solution
Mi Mesh Router was developed in collaboration with Qualcomm and runs on the Qualcomm DAKOTA 4-core CPU with single core frequency of up to 717MHz, a great addition to your smart home ecosystem. With 256MB memory onboard of each mesh router in the set can ensure a stable connection of up to 248 devices. With the set, you are not just getting a router but rather a whole Wi-Fi system consisting of two routers and four amplifiers. There are two independent signal amplifiers at 2.4GHz and 5GHz, respectively a Power Amplifier (PA) for a stronger signal transmission and a Low Noise Amplifier (LNA) for better signal reception sensitivity. The system is a total solution to premises at least 300 square meter and above or with an unusual layout, multiple stories high, which will encounter Wi-Fi dead zones regularly and penetrate through obstacles like thick walls. The router has a networking speed of up to 2,567Mbps to enable high-speed internet access throughout your home. In addition, it supports IPv6, the next generation Internet Protocol (IP) standard.
Ease Of Setup
Simple configuration, network port automatically detect insertion The network port automatic identification technology eliminates the need to distinguish between WAN and LAN ports. Any network port can be connected to the home network cable to access the Internet. After one network port is plugged into the external network cable. the other network ports are automatically switched to be the LAN port mode. Mi Mesh Router is a set of two routers that are not molecular, which has the same configuration and performance. Hence, any unit can be used as the primary router. Connect the Mesh router to the optical cat or the home network port and plug in the power. Next download and install Mi WiFi App. Lastly, turn on the phone Bluetooth to complete the settings according to the App boot.
Network Management
Additionally, there is an efficient parent control option that allows you to set networkable time and the list of URLs your children are allowed to access, which parents are sure to appreciate. Adding Mi Mesh Router into the smart home ecosystem makes it more functional for the other Mi Home smart devices. You can use the Mijia App to set up the router in just a few simple steps and it will instantly connect to all the other Wi-Fi enabled Mi devices in your home. The Mi Mesh Router also has its own dedicated app for easy control and management of your mesh networks as well as access to information such as network speed, connected devices, etc. With MU-MIMO onboard, you can set transmission limits for each individual account on the network, making sure that one channel won't occupy all the network space. Additionally, there is an efficient parent control option that allows you to set networkable time and the list of URLs your children are allowed to access. On top of that, when there is a strange device intruding the network, Mi WiFi App can actively send a notification reminder to inform you a new device is connected, in case of high risk device access you can prevent it from networking.
Thoughts
Embarkment from the traditional hardware is worthwhile after it outweighs the obstacles in one's premises or home for the effectiveness and convenience at a one time investment. No more "dead" WiFi zone and sluggish signal. With Mi Mesh Router it simply eliminates the bottleneck issues which was plaguing the traditional router which will distance and wifi extenders setup. Moreover, you have more control with Mi WiFi App to manage, to limit transmission, control over network time limit and control access on websites. In addition, it supports 802.11k/v protocol and as it "moves" between the different mesh routes, it will automatically switch to a network with a better signal. Expansion is made easy, especially when there is an extent to your house or office, it as simple as getting additional Mi Mesh Routers without compromising the signal strength. Lastly, the tight network security for keeping all the connected devices safe is important for me and the amazing notification you get there is an intruder in your network.
Rate