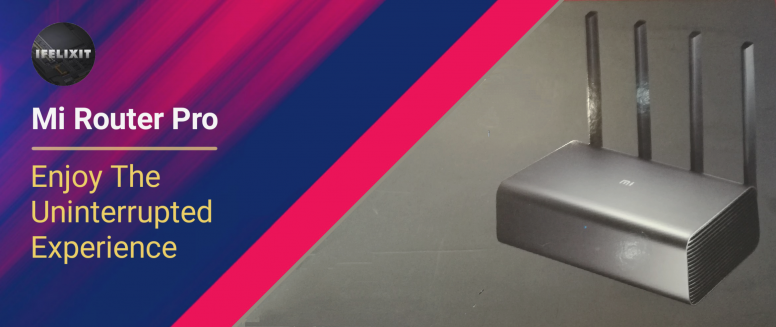 Hei Mi fans,
With #StayAtHome and social distancing now becoming a way of life, an increasing number of people are relying on the internet for work, education and entertainment. This has placed greater demand on our network infrastructure, reducing the bandwidth available for each user, and is leaving people frustrated at seemingly slow internet speeds. How to overcome it? Well today, I am gonna make a long overdue review of the Mi Router Pro AC2600 Antenna Full Metal Gigabit Router.
While you may not have control over these things from your home network, that doesn't mean you don't have options to improve your internet speed.
While internet service providers may not be able to instantly respond to these changes, there are a few tricks you can use to boost your home internet's speed. Wifi signal boost is of an essence. The access point (wireless router) in your home network is used to connect your devices to your internet service provider. Most access points provide a wireless signal with limited channels, which can suffer interference from nearby signals, like your neighbour's. That's where Mi Router Pro comes into play with all the features to back you up and going.
Let's check out the features:-
Main Features:
IPQ8064 dual-core 1.4GHz main processor, dual-core 733MHz network coprocessor

The latest 802.11a / b / g / n / ac WiFi standard: more reliable streaming for your home computers and mobile devices

Simultaneous dual band 2.4GHz and 5.0GHz networks, it can be up to 2600Mbps

Four external antennas for faster wireless performance at greater distances

Manage your network settings easily with the Xiaomi Mi Wi-Fi App

Its appearance is beautiful and elegant, and it becomes smaller and lighter

Supports external hard drives, and you can add it by yourself

256M SLC nand flash ROM



Ergonomic Design & Performance
The Mi Router Pro comes with a metal body aluminum alloy metal design, hence giving it an elegant look while offering ergonomic, durability and at the same time good for dissipation of heat. The Mi Router Pro Wi-Fi supports app management, remote management, managing children's time online and a lot more like parental control and wi-fi share, you can better manage the utilization of your Wi-Fi. You have full control over Wi-Fi settings with the Mi Wi-Fi app that is available for iOS and Android devices.
In addition to that the 4 x 4 antennas provide a super-wide coverage and stronger wi-fi signal. These antennas are omni-directional, thus giving a strong signal in all directions and can bypass or get around the wall or floors, without the need for Wi-Fi extenders. Stronger data transmission and broader coverage range with the 4X4 inbuilt MU-MIMO technology which allows multiple devices to connect simultaneously without affecting the speed. It comes included with 3 LAN ports and an Ethernet speed of 1000 Mbps ensuring an incomparable web experience. Gigabit network supports broadband access. It has protection against theft of Wi-Fi / firewall from dangerous websites / connecting friends to Wi-Fi from wechat / sharing media files. A multiple terminals provide the ability to simultaneously receive and send data, two-frequency transmission, with a maximum transfer speed that reaches 2533 Mbps. Moreover, you can hook up an external hard disk via the USB 3.0 port, to realize high speed wireless sharing of documents and media.
Ease Of Installation
You can install Mi Router Pro in English with Mi Wi-Fi app from the Play Store for both Android and iOS devices. Just like the Mi WiFi Router 3 that I have. Installation is the same, simple and fast. Basically, you need to power on Mi Router Pro, then connect your cable/DSL modem Internet cable to WAN port. Use your Mi phone to connect to Mi Router Pro Wi-Fi. Then use MiWiFi App to setup Wi-Fi network name & password as well as admin password. That's all. You can start to use Mi Router Pro now and access to the Internet.
My thoughts
There are further things you can try to improve your wifi signal. If your router supports 5GHz wifi signals, switching to this can provide a faster data rate, but over shorter distances. Repositioning your router for best coverage, usually by positioning it to the centre of the ecosystem. The most important feature that I require is network-attached storage (NAS) alike performance with USB hard drive on Mi Router Pro through USB 3.0 which it offers. Reading and writing from USB SSD through Gigabit Ethernet limited at 22MB/s, meanwhile you can achieve higher writing speed through wireless. Perfect for home and small office use to enjoy great wireless range and fast transfer rate.
Rate