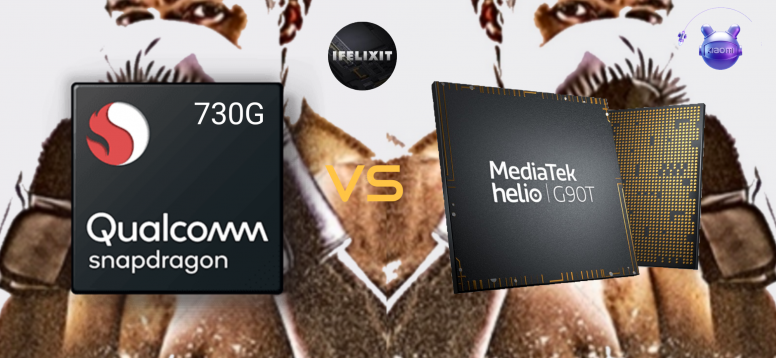 Hei Mi fans,
Gaming Chipsets Compared! It's a neck to neck fight. I don't want to be a spoiler! Let's start to warm up these devices and keep them lean, light and cool. Hope it will run like a horse. Excited? I am confident that you definitely want to hear my decision on this fight for Premium Gaming Centric Chipset Title. As a disclaimer these are based on my user experience and prevailing weather at around high 30°C in a fully air-conditioned room.
Let's checkout the specifications. As how the two devices are marketed the Mi Note 10 is positioned as a top-end phone, meanwhile Redmi Note 8 Pro is the underdog a flagship in it's own rights. Both offer the best in their niche, staging as the Pioneer In 64MP Quad Camera and World's First 108MP Penta Camera under their belt respectively.
On your right, Mi Note 10 comes powered with mid-range SoC, Qualcomm Snapdragon 730G, while on the left, Redmi Note 8 Pro is equipped with MediaTek Helio G90T, a flagship class chipset, both gaming-centric smartphone processors. Let's spell out the specifications of the contenders!
Qualcomm Snapdragon 730G
The Qualcomm Snapdragon 730G is a fast mid-range ARM-based SoC built around the 8 nm process technology. It integrates Qualcomm Kryo 470 CPU, Octa-core CPU clocked up to 2.2 GHz, a Qualcomm Adreno 618 GPU with
API support for OpenCL 2.0 FP, OpenGL ES 3.2, Vulkan 1.1, DX12. The chip includes Snapdragon X15 LTE Modem that offers remarkable LTE download and upload speeds in addition to breakthrough Wi-Fi performance which is the first among the platforms that comes Wi-Fi 6-ready. Packed with multi-core Qualcomm AI Engine fuels intuitive on-device features for camera, gaming, voice and security. Fitted with 2 x 16-bit LPDDR4/4x memory speed up to 1866 MHz. For exceptional gaming, enhancements such as Wi-Fi Latency Manager and jank reducer empower you to perform at your peak, while the enhanced Qualcomm® Adreno 618 GPU delivers up to 25% faster graphics rendering.
Qualcomm® Quick Charge™ 4+ technology
Max On-Device Display: Quad HD+
Max External Display: 4K Ultra HD
Display Pixels: 3360x1440
HDR: HDR10

Mediatek Helio G90T
The Mediatek Helio G90T is an upper mainstream ARM SoC that was introduced in 2019. It is manufactured in a 12 nm FinFET process and is combined with the latest Arm Cortex-A76 & Cortex-A55 CPUs in an octa-core combination. With a large L3 cache and speeds of up to 2.05GHz, it noticeably boosts speeds in demanding games and apps. Paired with the latest Arm Mali-G76 3EEMC4 GPU sporting speeds of up to 800MHz which is equipped for peak performance and smooth gameplay, whether it's Fortnite, PUBG or other top titles, and up to 10GB of LPDDR4x (2133MHz) memory, MediaTek's Helio G90 Series provides the performance, bandwidth and capacity for premium smartphone gaming. For even more gaming power, the MediaTek Helio G90 Series is paired with MediaTek's exclusive HyperEngine gaming technology that tunes your entire smartphone for the greatest gaming experience possible. Coupled with massive AI performance they deliver fast, fluid action with up to 1TMAC AI performance.
Up to 64MP AI-Camera and Multi-Camera Framework
World's First Dual 'Wake-up Word' Support
Fast 4G LTE modem with Dual 4G SIM
While this chip is a gaming powerhouse, it also brings the latest features to any smartphone.
By combining the latest CPU and GPU cores with ultra-fast memory and massive AI performance they deliver fast, fluid action.

Benchmark Round
So let's the fight begin! I put them both on a benchmark test which might or not reflect in a real life usage experience. But anyway, we see how it fares out.
As shown from the AnTuTu tests above, MediaTek Helio G90T reached a score of 278,260 points. That is simply amazing and it is very close to a flagship chipsets. It out performed Snapdragon 730G which just managed to score 263,616 points. However, this does not mean that Helio G90T will be better for gaming. Let's check that out!
Graphics Processing Round
Subsequently to test graphics capabilities, we use the 3DMark application which focuses on graphics processing capabilities of the CPU and GPU. How is the performance of these two gaming processors, here are the comparisons:
From my test results above, it seems that Helio G90T must recognize the advantages of graphics processing of Snapdragon 730G. There was a difference in score of 400+ points in the Sling Shot, while the Sling Shot Extreme Unlimited score was only slightly adrift.
Productivity Performance Round
To get an idea of ​​the productivity performance of the Snapdragon 730G and MediaTek Helio G90T processors in completing daily activities, we ran a test using the PCMark application. The following is a detailed description of the score from the PCMark 2.0 Work Performance test:
If you look at the comparison table above, the Helio G90T seems to outperform the Snapdragon 730G from all types of PCMark Work Performance tests. Starting from the ability to browse, edit video, processing speed and manipulating data. But what is very interesting is the Helio G90T Photo Editing test score looks far surpassing the score obtained by Snapdragon 730G.
CPU Performance Round
Testing continues on CPU performance using the Geekbench application by simulating daily tasks and real-world applications. This test is designed to measure cellular CPU performance quickly and accurately. Every Geekbench 5 test will measure the full potential of the CPU.
From this test, the Helio G90T again had to acknowledge the embrace of its opponent's processor performance. Snapdragon 730G's single-core score is 34 points ahead of Helio G90T. Meanwhile Snapdragon 730G's multi-core score is 97 points higher than the Helio G90T score.
Reality Kicks In Round
As I mentioned earlier, both the Snapdragon 730G and MediaTek Helio G90T are processors designed to provide a more exciting experience when playing games because it is equipped with exclusive features. In the case of Helio G90T the HyperEngine technology will optimize graphics performance to reduce lag and make the gaming experience smoother, meanwhile 730G stressed on enhancements such as Wi-Fi Latency Manager and jank reducer empower you to perform at your peak, while the enhanced Qualcomm Adreno 618 GPU delivers up to 25% faster graphics rendering compared to its predecessor and the Kryo 470 is engineered for this new architecture, to extend battery life while increasing compute capabilities. These are all acclaimed features by each chipset maker. But let's see how it fares from the user standpoint of view.
Testing on Mi Note 10
Testing in Redmi Note 8 Pro
Final Decision
From the tests I have done, playing games on the Helio G90T device really feels smooth. On PUBG Mobile using maximum settings the average fps at that time was in the range of 48 fps, temperature rises to 34 degrees and 26 percent power consumption for 1 hour of play. Meanwhile, Snapdragon 730G is a little more calm, temperature increase was not significant but the temperature fluctuation is frequent ranging from 33 to 34 degree. Consumption of power consumed by 19 percent when used to play for an hour, with maximum graphic settings. It's only appropriate Snapdragon 730G is more economical with a smaller chipset footprint but in real sense the battery drain is not too significant as Mi Note 10 comes with 20 percent more power as compared to Redmi Note 8 Pro. As for daily task experience Redmi Note 8 Pro has more fluidity and smoothness. And for composite battery usages as a daily driver Redmi Note 8 Pro has proven to be lasting compared to it's contender. As with heat factor, the Helio G90T is occasionally slightly heaty, while as for Snapdragon 730G that is not evident. In spite of the heating issue, Helio G90T's gaming experience is not interrupted and smartphone performance is still agile. As for the fight, I would say there is no clear winner but a fair fight, more like a neck to neck decision. Well, I am entitled to my opinion and for you fellas to judge on your own and experience.
Which Chipset Do You Prefer?
Rate