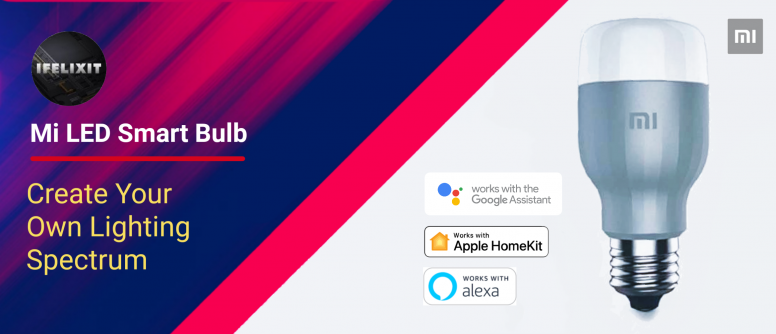 Hei Mi fans,
Wassup everyone? Hope to find everyone to #StayAtHome #SavesLives during this challenging time of isolation. Today, I am gonna review the Mi LED Smart Bulb. Light does more than simply help us see, it also helps us think. With the invention of a light bulb we are no longer caveated by the rise and fall of the sun to function at all hours of the day. Mi LED Smart Bulb has more to offer. Let's checkout the features!
Features
Stunning 16 million colors and adjust the brightness as well as color temperature from warm white (1700K) to daylight (6500K)



Easy installation No hub required, Can connect the bulb directly to your WiFi at home.

Complete control function which is you may control your lights from anywhere using your smartphone and Mi Home App

Control your lights hands-free with Apple Homekit, Amazon Alexa and Google Assistant using voice control

10W brightness with 800 lumens, 11 years long life



Ease Of Setup
First thing first, always enable location access on your phone for seamless pairing with the Smart LED Bulb. Simply add to connect to your Wi-Fi network with its built-in Wi-Fi module and beyond that you can easily control it from your smartphone at any time, from anywhere. And check whether your light is on or off remotely, and you can assign it to be switched by the time you are coming home, all from the ease of your smartphone Mi Home App.
Personalise Your Lighting
Tell your voice assistant how you like your lighting or adjust it using the app on your smartphone until you find the lighting that works for you. Customize the lighting condition to your taste and occasion. To make it easier for you, it comes with preset settings for different occasions. All you need is choose the perfect ambience for yourself. All at your fingertips, from adjustable brightness easily adjustable from 80 to 800 lumens to light up your room for any time of the day. Besides that, the color temperature is adjustable for extra personalization, with colour temperature settings anywhere between 1700 and 6500K for the ideal atmosphere and provides a full spectrum of color options and capabilities,
Unique Features
With the Sunset mode enabled, it will initiate a snug atmosphere just before you go to bed and glow progressively with the sunrise and eventually brightens your bedroom enough to wake you up.
Voice assistants are part of what makes smart devices so easy to use around the house, and a centralized smart speaker solves the problems posed by different family members using Siri on their iPhones, or not having iPhones at all. Mi LED Smart Bulb supports voice control, allowing you to step right into the age of smart lighting. There's no need to get out of bed to turn out the lights. Simply turn the light on or off, or adjust the brightness, colour or colour temperature by instructing Siri, Amazon Alexa or Google Assistant.
My Findings
Firstly, light creates more than just visual effects, it also has biological and psychological effects that can impact the health and wellbeing of humans. When light biologically impacts us, it can improve or disrupt our sleep, cognition and overall well-being. It can improve mood and stabilize our circadian rhythms, helping us get a better and deeper night sleep. Psychologically, light can decrease depression scores and even increase cognitive performance such as reaction time and activation. Next, that I would like to add is the ease of getting it functions, it's simply fast and swift. In the term of doubts, the cost of operation and ownership is insignificant considering it's low power consumption and long lifespan, respectively. Last, l felt that it improved my well-being, cognition and alertness.