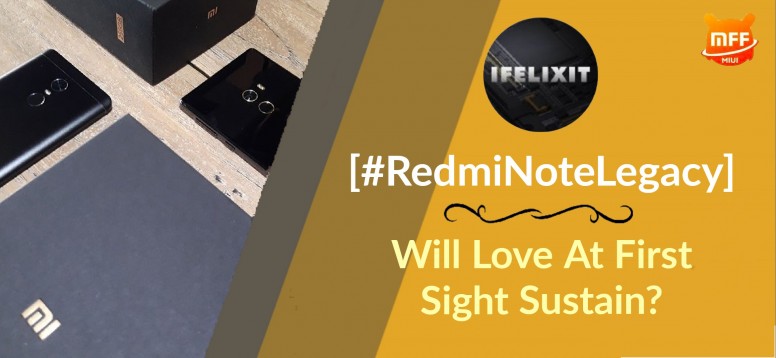 Hei Mi fans,
Wassup everyone in this difficult time of lockdown? Hope to find everyone to #StayAtHome #SavesLives. Let me entertain you all with my #RedmiNoteLegacy #PowerToWin Redmi Note story in conjunction with the #MFF2020 Mi Fan Festival 2020. As the title goes, will love at first sight last? I relate this to my love for the Redmi Note series ever since it first saw the light at the end of the tunnel so to speak. It's a love that developed into a passion, at least from my side, and how it evolved from a humble beginning into one of the most successful ventures setting new records with every release of the Redmi Note sequel. Latest being sold 100 million Redmi Note series phones, yet another milestone.
In March 2014, Xiaomi started making history with Redmi Note, it's first phablet based on the solid Redmi 1S. As the slogan goes, Go big. Wherever you are. It featured a 5.5" display, 13MP primary camera, 5MP selfie camera and highlighted the 8-Core to yield an Unlimited possibilities experience with the hope to get a warm reception and to repeat it's success. Like most Redmi Note's owners would agree it took amazing photos and great user experience.
Well, how did I get entangled with this love story? I first laid my eyes on Mi 3 which impressed me on two points, first it drawerless and lastly the battery backup was fantastic running MIUI V5. But I was craving for a bigger screen for more content display, as at the time being an avid iPhone user, I found it unsatisfactory to view the webpages from a small display aspect ratio and got the news that Xiaomi was launching Redmi Note 2. Hence, I was very excited. Redmi Note 2 was launched in Dec. 2014, I immediately placed an order with my associate in Mainland China and shipped to me.
My first Redmi Note 2 (2+16GB)
Shots by Redmi Note 2
Within 2 weeks, I received the package. Woow was the impression then, when I unboxed it, I knew I fell in love with it, themed as "Born to perform" and evidently equipped with MediaTek Helio X10 octa-core 64-bit processor which was found only in high-end flagship phones, as Lei Jun pointed out, "Don't dream with half a heart".
Lei Jun: Never Be The Same
He further addressed the audience, "Being young is not about age, it's about believing in your dreams and the power to change the world. To us, the Redmi series is exactly that, uncompromising flagship performance coupled with sleek and minimal design. In fact, Redmi Note 2 combines a powerful processor, a PDAF fast focusing camera, dual-channel RAM and several features worthy of flagship smartphones. We hope it inspires you to achieve more and to always believe that something wonderful is about to happen." It further enhanced my confidence and counterbility in a fairly new product line and new player in the market.
My Redmi Note 2 Prime
If one is not enough, after a few months the storage was catching up with me fast with tons of photos from daily activities shots, I secured another unit with 32GB. To add another very useful feature in Redmi Note 2 was the display is optimized especially for the young and active, when under strong sunlight the Sunlight Display intelligently adjusts contrasts for each pixel in real time to improve readability.
Shots by Redmi Note 2 Prime
Redmi Note 2/Prime both ran on MIUI 7, yours by design, highly customizable UI and has faster response time and less power consumption.
What's next? As time flies, I was getting more adventurous wanting to do more out of my Redmi Note 2 Prime, knowing Android gives you more control over your system and its applications. As an iPhone lover apparently, Jailbreaking is not my cup of tea, so to speak, as iOS is a secure walled garden, while Android is an open mess. The Redmi Note 2 was pre-installed with a China ROM meanwhile the Redmi Note 2 Prime was designed for the Global market it came with a Global ROM. In the past it's quite easy to flash China to Global ROM and vice versa. The MediaTek SoC was quite tolerant, considering most issues can be solved with SP flashing tool. Besides, being a user I started to get involved to assist other users with hard or soft brick issues.
In addition to that getting a native root was a piece of cake. My first task when I had the Redmi Note 2 was to install GMS to be able to have the Google Play Store in place to download all my favorite apps. And I moved on to rooting the device and installing custom recovery TWRP.
Rise to Power, makes this affair with the Redmi Note series more immerse, as I went on acquiring the Redmi Note 3 MediaTek variant direct from China. Experience many firsts with Redmi Note 3, not only was it first in the world to feature Snapdragon 650, it also boasts an ultra-fast fingerprint sensor. The Redmi Note 3 is the first device to come with a locked bootloader to keep your device safe from prowlers and against any security threats. As the bootloader development got vigorous, that prompted me to get involved in the scene by joining the then MIUI Forum as an intern and finally a Super Moderator to manage the Device Subforum. Most users were alarmed how cumbersome the unlocking process was, which I had mine unlocked within a week, and the first Moderator to unlock the bootloader.
In Feb. 2016, Redmi Note 3 Pro which most would call it, powered by Snapdragon 650, 64-bit hexa-core 1.8GHz, for the Global consumption, whereas India had Redmi Note 3 a part of the "Make in India" initiative manufacturer locally. For the record, Redmi Note 3 broke the record as the most shipped phone sold online, in a quarter. With this event, the traffic in the Redmi Note 3/Pro/SE Subforum influxed and swarmed with a peak of 8 moderators to help out which remain as the highest amongst the devices Subforum. I got my hands through a flash sale, to take a new challenge to unlock the beast. I went on doing my social duty to assist more users with my tutorials and replying timely to Q&As on various forums.
Redmi Note 3 and Redmi 3S teardown & testpoint taken by Redmi Note 5 AI
To be effective, I courageously need to explore more workabouts such as teardown my test units and locating testpoint to solve user's issues, as it has been my motto "Solving with simplicity" through hands-on and systematic steps to get it done. Apart from the techie part, I really had a blazing time using the device, let me enticed you all with some snapshots.
As the slogan of Redmi Note 3, Rise to power, I began to take charge of my contribution and getting acknowledged by the mess.
Reading the techno blogs written by many tech columnists, sharing my work and method of solution gives me a sense of gratification and pride.
DIY EDL Deep flash cable
As time goes, the love intensified, further reinforced with another sequel of Redmi Note series, the slogan "Power has a new look" powered with Qualcomm Snapdragon 625, Redmi Note 4X a China variant with 5.5" Full HD display which includes a better camera and polished design. The momentum of Redmi Note 4 yet broke a new record, Xiaomi had sold 5 millions units in a span of six months. Amazing right? So did I, with a new device to exploit and experiment. I was more poised into making tutorials on flashing, teardown and more.
Indeed, Power has a new look, as I was more inspired with solving and rendering solutions for the enthusiastic Mi fans around the world, so does my quest.
Redmi Note 4 13MP CMOS camera uses a noise-eliminating CMOS sensor with backside illumination (BSI) and larger pixels to give you stunning images even in low light.
It also comes with Phase Detection Autofocus (PDAF) for 0.1s ultra-fast focusing, which is especially useful for shooting moving objects.
Next, it's time to move on, being a truly Redmi Note series and truly Mi fan, I bought Redmi Note 5 AI from China to trim down the waiting time of getting the device. They labeled it as "The camera beast" features a 12MP+5MP dual camera with AI capabilities and 13MP selfie camera. Redmi Note 5 delivers high-quality images, even in low light conditions. Now powered by Snapdragon 636 Qualcomm's newest 14nm offering. This cutting-edge octa-core processor implements Kryo architecture which greatly improves overall performance and power efficiency. Coming with a new form factor for the 18:9 Full screen 5.99 inch FHD+ display and a full day powerhouse of 4000mAh (typ) high-capacity battery.
As for my contribution they became more vibrantly imminent. As I did more toolkits for Redmi and Mi phones.
Redmi Note 6 Pro is Xiaomi's first smartphone with AI-powered quad-camera, as the theme "Four cameras, all-new AI portraits". It's optimized with MIUI for use with the Qualcomm Snapdragon 636 octa-core processor for strong, perfect performance with a high capacity battery for uninterrupted performance, coupled with 4000mAh high-density battery stays charged longer so you won't need to keep charging. The following snapshots will amazed you. The display grew bigger than the predecessor, 6.26 inch with color contrast ratio of 1500:1. Making a statement amongst the Redmi phones, it emphasized on a 12MP + 5MP Dual selfie camera and 20MP + 2MP AI Portrait Selfie for the primary shooters featuring 27 different AI-based algorithms. And a 4000mAh battery to keep you powered-up for up to two days.
12MP + 5MP Dual Selfie Camera
20MP + 2MP AI Portrait Selfie Camera
2.5D glass, rounded display
When Redmi Note 7 was launched, I told myself I got to put the 48MP Camera beast, the new flagship-level experience to trial. A step up in most department from the predecessor with 48MP+5MP AI dual rear camera, Qualcomm Snapdragon 660, 6.3" FHD+ with a Dot Drop display clad by Corning ️Gorilla Glass 5 for superior protection, meanwhile gradient glass on the back finish portraying a stylish design. As for the battery backup fitted with a 4000mAh battery, which supports Qualcomm Quick Charge 4 via the Type-C port for long lasting power. Let's checkout the random shots.
Zoom in as far as you like and crop out little details to make a picture of their own. Scenescape photos keep their sharpness even when magnified. Crop a single face from a big group photo and see a clear smile. Redmi Note 7 grants endless possibilities with its flagship-level 48MP camera.
Zoomed in from the previous shot, clarity and details is evident
The more pixels, the clearer the picture. The Redmi Note 7 uses an all-new 48MP sensor, that's four times the pixels of a typical 12MP phone camera. In 48MP mode, a single pixel measures just 0.8μm, resulting in resolution nothing short of astounding.
The love journey earned more mileage with the coming of Redmi Note 8 Pro, the Pioneer of 64MP Quad Camera. And Begonia and how I referred it to, which is the codename. It really impressed me in many areas and had surpassed my expectations. It had leaped frog the predecessor in almost all the departments. For more details, checkout my review:
Camera King Unleashed - Redmi Note 8 Pro Review
Redmi Note 8 Pro comes fitted with MediaTek flagship chipset, Helio G90T, a gaming centric processor to give a greater performance and fluidity in all your daily tasks and paired with MediaTek's HyperEngine technology that can boost your mobile gaming experience. In addition to that, heat dissipation kept at a comfortable level with LiquidCool technology.
It has a 4500mAh high-capacity battery and supports 18W fast charge. Considering it's built based on a 12nm FFC process, it has an awesome battery backup.
Clad with Corning Gorilla Glass 5 front and rear, reinforced with the 4-sided 3D curved back, simply gives it a premium feel and looks. As for the display, it get a bigger 6.53" FHD+
with a Dot Drop screen, completely ideal for gaming and watching your favorite movies. And with all capabilities in place it makes me more ambitious to do more with installing GCam mod and rooting. Checkout:
Capture details with 2cm close-up macro lens
Being known as the Pioneer of 64GB Quad Camera, it has proven, it's strongest selling point, with Super close autofocus capabilities, capable to deliver high-resolution photos for up to 3.26m tall poster printing. Clarity and detail is imminent, almost twice the number of pixels of 8K resolution where every detail matters translated into amazing photos. Without a doubt Redmi Note 8 Pro and Redmi Note 8 Global set it's benchmark in Gaming experience and elevating the level in mobile photography. The sales for both devices exceeded 10 million units in just 3 months, yet setting another milestone.
Zoomed and cropped front the previous photo
Night shot
With this I conclude and wrap my story and honestly I had the best time and an optimal user experience using all the Redmi Note series ever since it's conception. It has been a great journey for Redmi Note series and equally an achievement and gratification for me as well.
In conjunction with the 10th Anniversary, Mi Fans Festival 2020 and the arrival of Redmi Note 9S, I will be there to get a hands-on experience with the #PowerToWin ultimately, I am writing this article #RedmiNoteLegacy to celebrate the success of our path. Thus far the relationship has matured with a mutual bonding and reliance. And as with Falling in love at first sight, you either believe in or don't, which is so fairytale-esque and believe me it can actually happen in reality as with my Redmi Note series journey.
Covid-19 Quick Tip: How do you keep your cell phone clean and properly sanitized? Use a 70% isopropyl alcohol wipe or Clorox Disinfecting Wipes, and gently wipe the exterior surfaces of your phone.
Congratulations to Xiaomi on their 10th Anniversary!
SOLVING WITH SIMPLICITY
ALWAYS BELIEVE
THAT SOMETHING WONDERFUL
IS ABOUT TO HAPPEN
Signing off! Keep safe!
feds64
Rate