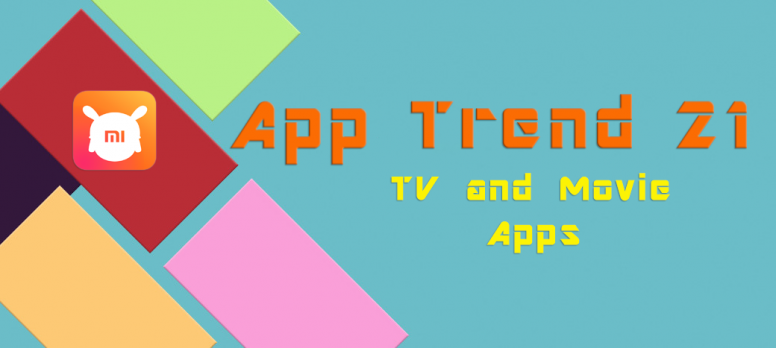 I hope you all are doing great. It's time for our "App Trend" collection. We (Resources Team) always try to share best available resources to our users and keep them updated. Our Twentyfirst App Trend collection is all about "Best, Free & Popular TV & Movie Apps" which consist of best, popular, free, new and trending tv & movie apps from playstore. And, if you also want your thread's in our collection then be sure to go through the guide mentioned in the end of this thread and post some awesome app's or games. We always believe in "Sharing is caring". Enjoy these apps. Have a great day ahead!
App Trend #21: Best, Free & Popular "TV & Movie Apps"
1. Netflix - Award-winning series, movies, documentaries, and stand-up specials !
Looking for the most talked about TV shows and movies from the around the world? They're all on Netflix.
We've got award-winning series, movies, documentaries, and stand-up specials.
And with the mobile app, you get Netflix while you travel, commute, or just take a break.
2. YouTube - See what the world is watching !
Get the official YouTube app for Android phones and tablets. See what the world is watching -- from the hottest music videos to what's trending in gaming, entertainment, news, and more. Subscribe to channels you love, share with friends, and watch on any device.
3. Hotstar - Video streaming app for the best of live sports, TV shows and movies !
Enjoy unlimited access to 100,000 hours of TV shows and movies from India and across the world, Star India TV shows, every major sporting event like the upcoming VIVO IPL 2020 and T20 World Cup and exclusive Hotstar Specials shows.
4. Amazon Prime Video - Watch movies and TV shows, including Amazon Originals !
Watch movies and TV shows recommended for you, including Amazon Originals like The Marvelous Mrs. Maisel, Tom Clancy's Jack Ryan, and the kids series Tumble Leaf.
5. Eros Now - Watch online movies, Music & Originals !
Watch your favourite Indian movies online, music videos, free trailers, original shows, web series & more on-the-go only on the Eros Now movie streaming app. Enjoy the best of Bollywood movies, Telugu movies, Marathi movies, Kannada movies, Malayalam movies & more anytime, anywhere.
6. IMDb Movies & TV Shows: Trailers, Reviews, Tickets !
IMDb is the world's most popular and authoritative source for movie, TV, and celebrity information. Watch trailers, get showtimes, and buy tickets for upcoming films. Rate and review shows you've seen and track what you want to watch using your Watchlist.
7. Vudu - Rent, Buy or Watch Movies with No Fee !
Movies, anywhere. Want to buy, stream, rent or watch them for free? Get the free Vudu app and instantly watch movies and TV shows wherever and whenever you want, on your phone or on the device of your choice.
8. Plex - Stream Movies, Shows, Music, and other Media !
Watch your favorite stars in some of their greatest roles for FREE! Plex gives you access to thousands of movies and shows—including documentaries, Bollywood musicals and more. No special equipment, subscription or special tech skills needed (popcorn and snacks highly recommended).
9. Pluto TV - It's Free TV !
The leading free streaming TV and movie service is available for Android. Watch 100+ live TV channels and 1000's of movies and TV shows on-demand, all streaming free. Pluto TV is 100% free and legal: no credit cards, contracts, or bills. Watch free TV on your small screen with the Android app.
10. SnagFilms - Watch Free Movies !
Watch FREE FULL-LENGTH Movies and TV Shows streamed to your Android mobile phone, tablet, or Android TV!
11. Tubi - Free Movies & TV Shows !
Watch thousands of hit movies and TV series for free. Tubi is 100% legal unlimited streaming, with no credit cards and no subscription required. Choose what you want to watch, when you want to watch it, with fewer ads than regular TV. Tubi is the largest free streaming service featuring award-winning movies and TV series.
12. iflix - Movies, TV Series & News !
A forever-free version of iflix that's YOURS, and yours for life. Preview and play all you want - there's hundreds of movies to discover (or start with our hand-picked recommendation from Movie of the Day!), tons of popular TV shows and enough local content to last a lifetime.
13. Hoopla Digital - Digital eBooks, audiobooks, movies, music, comics & TV shows !
Instantly borrow free digital eBooks, audiobooks, movies, music, comics, and TV shows courtesy of your public library. hoopla is the leading all-in-one digital library app, with over 800,000 titles—from best-selling novels and blockbuster movies to niche, hard-to find content, hoopla has something for everyone.
14. Old Movies - Oldies but Goldies !
Free full movies from the classical Hollywood cinema era (from the 1910s to the 1960s).
Enjoy critically acclaimed classic movies such as: The Gold Rush, Meet John Doe, Rebecca, Stagecoach, A Farewell to Arms or Bells of St. Mary's, among others.
15. Popcornflix™- Movies.TV.Free !
Popcornflix™ is GREAT MOVIES FREE, the premium app for watching FREE feature length films on your Android phone and tablet!
Download this FREE app to watch over 700 films instantly without any subscription or fees.
Related Threads
Have you used any of these apps? Share your views in the comments.
And, if we missed out any of the best, free & popular Tv & Movie apps, tell us about them also in the comments!
Rate