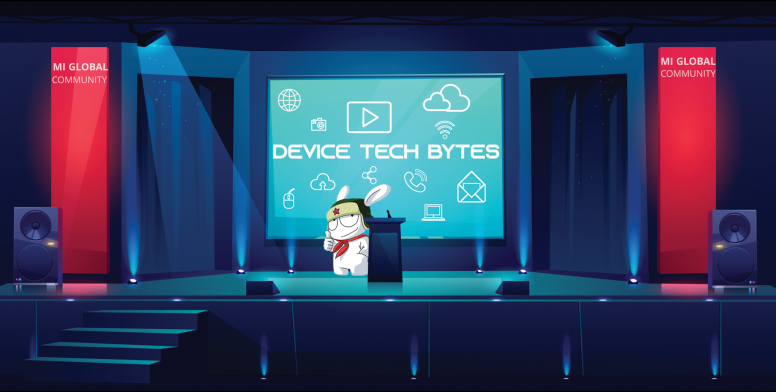 Greeting Everyone!




Welcome to Device Tech Bytes! We have decided to start a new series for you guys since a lot of users need to learn and know about a lot from the tech side. So basically Device Tech Bytes is a platform to let users learn more about new tech and devices from the tech world. You will see more new tech threads about devices prepared by us in the future. So boys and girls, please do not skip the tech series, alright? We promise to bring you more interesting facts about devices.

Today our topic is All about 960FPS super slow motion, so we are going to start from the beginning like what is slow motion actually and when it was invented and in-depth info about slow motion, etc. So why delay let's dig in deep to know something interesting.
Slow-motion is an effect in film-making whereby time appears to be slowed down. It was invented by the Austrian priest August Musger in the early 20th century. Typically this style is achieved when each film frame is captured at a rate much faster than it will be played back. When replayed at normal speed, time appears to be moving more slowly. Slow-motion can also be achieved by playing normally recorded footage at a slower speed. This technique is more often applied to video subjected to instant replay than to film. A third technique that is becoming common using current computer software post-processing (with programs like Twixtor) is to fabricate digitally interpolated frames to smoothly transition between the frames that were actually shot. Motion can be slowed further by combining techniques, interpolating between over cranked frames.

There are two ways in which slow motion can be achieved in modern cinematography. Both involve a camera and a projector. A projector refers to a classical film projector in a movie theater, but the same basic rules apply to a television screen and any other device that displays consecutive images at a constant frame rate.

i) Overcranking:-
For the purposes of making the above illustration readable, a projection speed of 10 frames per second has been selected, in fact, the film is usually projected at 24 frames/s making the equivalent slow over cranking rare, but available on professional equipment.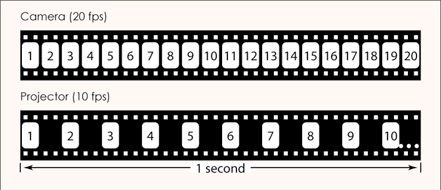 ii) Time stretching:-
The second type of slow motion is achieved during post-production. This is known as time-stretching or digital slow motion. This type of slow motion is achieved by inserting new frames in-between frames that have actually been photographed. The effect is similar to over cranking as the actual motion occurs over a longer time. Time stretching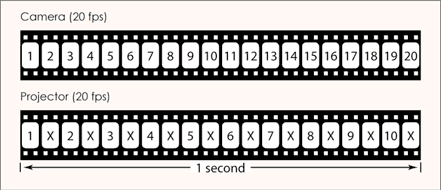 Frames marked with an X must be fabricated

Since the necessary frames were never photographed, new frames must be fabricated. Sometimes the new frames are simply repeats of the preceding frames but more often they are created by interpolating between frames. (Often this interpolation is, effectively, a short dissolve between still frames). Many complicated algorithms exist that can track motion between frames and generate intermediate frames within that scene. It is similar to half-speed and is not true slow-motion, but merely longer display of each frame.



In action films

Slow-motion is used widely in action films for dramatic effect, as well as the famous bullet-dodging effect, popularized by The Matrix. Formally, this effect is referred to as speed ramping and is a process whereby the capture frame rate of the camera changes over time. For example, if in the course of 10 seconds of capture, the capture frame rate is adjusted from 60 frames per second to 24 frames per second, when played back at the standard film rate of 24 frames per second, a unique time-manipulation effect is achieved. For example, someone pushing a door open and walking out into the street would appear to start off in slow motion, but in a few seconds later within the same shot, the person would appear to walk in "realtime" (everyday speed).




Why slow-motion video recording mode will go dark




Remember that in order to capture slow-motion footage the camera must take hundreds of thousands of frames every second. While this effectively reveals things invisible to the human eye, it also requires a lot of data. Even the best ultra-high-speed cameras have their limits. So in order to create and record that much data, these cameras have to sacrifice picture quality. It's one of the circumstances in life where quantity really does trump quality. But the only way to create images that quickly is to make sacrifices on the picture resolution.

So while a typical iPhone has an 8-megapixel camera (a 3-megapixel camera can take photos with better resolutions that your desktop computer monitor), even the best slow-motion cameras in the world have to decrease resolution as they increase speed. Together, low light and low resolution are the two biggest drawbacks to super high-speed cameras, forcing researchers to conduct a balancing act as they seek to slow down the world around them.



Sony is squeezing as much hype as it possibly can out of its impressive stacked sensor technology. Not only did they use this tech to create the 20fps Sony a9, but they also created a smartphone that can shoot 960fps super slow motion. And now they're showing it off… in 2017. The Sony Xperia XZ smartphone blew people's minds when it was released in late February. Most smartphones max out at 240fps slow motion if you're lucky, the XZ can shoot a blazing fast 960fps while keeping the resolution at a respectable 720p.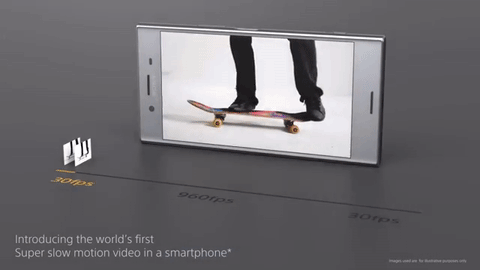 But since PR videos are never 100% convincing, Sony invited a group of journalists to an event in Lisbon, where award-winning filmmaker Chris Cairns helped them create what Sony is calling "the world's first super slow motion film shot on a smartphone.

How Super slow motion works
By putting DRAM (1 Gb) on the sensor (it's actually sandwiched between the top, CMOS layer and the bottom, circuitry one), Sony made it possible to capture data much faster than before. The DRAM acts as a buffer, storing data until it can be fed to the phone's signal processing chip. Super smooth slow-mo is the main benefit, but fast data capture also prevents the image distortion that can happen when conventional sensors capture fast-moving objects. This "rolling shutter" effect, exemplified in the image of a moving train below, happens because CMOS sensors typically capture the top of a frame faster than they capture the bottom of the frame. When an object moves faster than the readout difference, it will turn out skewed in the final picture. In the video, this issue can lead to the "jello effect" that can be seen on many clips shot with smartphones. Sony's new sensor mitigates these issues, thanks to its onboard memory.
Super slow motion captures 960 frames per second so it needs sufficient light to show clear video compared with normal video at 30fps and low motion video at 240fps. If you record a super slow-motion video in dark areas noise may occur. It means Super Slow-motion use very fast shutter speed. In comparison with normal video, Super slow motion use short exposure time and high sensitivity in the same illumination.
Streaks on Super slow motion video are caused by the flicker of a light source. As Super slow motion use very fast shutter speed, a flash of light that is invisible to the human being is recorded on the camera. And it appears the shape of the line in the characteristics of the camera(CMOS) sensor. When using Super slow motion under a flashlight source, the line appears differently according to the shooting direction of the camera. For example, when you placed the phone vertically, the flashing line appears vertically.
In the case bandwidth of line, it is influenced by the flicker frequency of the light source. Usual light source flashes at 120Hz and there is a variable light source with different frequencies. In this case bandwidth of streaks is shown differently.
Comparison between slow-motion and Super slow

i) Slow Motion (240fps):
Users can capture all sections of a video at 240 fps and plays only the section with the most movements in slow motion and the rest of the sections at normal speed (30 fps). However, Users can choose to play any section in slow motion after shooting.

ii) Super Slow-Mo (960fps):
Users can capture normal videos at 30 fps and only desired sections at 960 fps for 0.2 seconds and play the sections of the video captured for the 0.2 seconds over approximately 6 seconds, revealing details that couldn't be seen before.
Sources:
Wikipedia, Sony, archersarchery.
I hope now we have learned something interesting here today
so let's end this here and will meet you guys in my new topic again
Credits
Thanks to the admins and moderators for this great opportunity
hope I will come up with good content again in my next topic
Rate