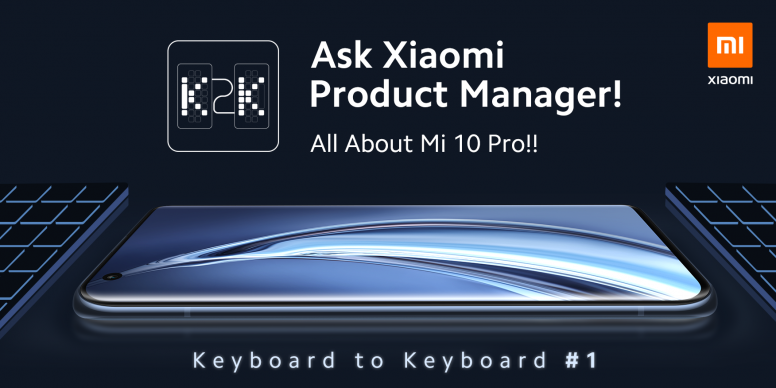 Announced on 9th April.
Thank you so much for your participation on K2K#1. We've got so many valuable and constructive advices and ideas. Now it's time to announce the final winners.


YC has selected the most valuable one from all the replies. Congrats @
mini21
for offering us great idea on this.
And another lucky draw winner would be #1971 @
Martinz70
ZIP Password: ktwokforyou


Pls send us your address (including postal code), phone number, email address to us via PM within one week, otherwise your gift will not be claimed.
Thanks again. Stay tuned for next round of K2K.

Hi Mi Fans,
Our K2K events start from now on! And it's time for K2K #1!
What is K2K?
K2K is 'Keyboard to Keyboard' online talks.
We will invite a number of top talents to our community, talking about various topics, not only about smartphones, but also including any other fields you are interested in.
In each event, you can post relevant questions and suggestions to guests, starting direct conversations with them!
Who is the top talent of K2K #1?
We are delighted to introduce our first honored guest of K2K, The Product Manager of Mi 10 & Mi 10 Pro-YC!!!
YC is a Beijing native, his interests fall upon the relationship between design, nature, and technology.
As a PM at Xiaomi, YC is uncompromisingly dedicated to bringing innovative design and simple using experience to every user. Not just a Mi phone designer, he is also a devotee of Mi phone. The models he has used are: Mi 6, 8, 9, 10, MIX 2S, etc.
How To Participate:
If you have questions or suggestions of the aspects as follows, welcome to discuss with YC in K2K #1! Feel free to share your ideas below this thread.
The most valuable features of Mi 10 & Mi 10 Pro;

Outstanding rear camera of Mi 10 & Mi 10 Pro;

Expectations about next Mi flagship and better technology experience.




Timeline:
31st March - 6th April
Prize & Selection
There will be two lucky fellows in this event.
YC will pick one participant whose reply would be considered to be the most meaningful.



The other lucky fellow will be selected from 4%, 12%, 23%, 35%, 57%, 68%, 79%, 87% and 97% of the total number of replies which are encrypted in the file below.

Mi 10 for K2K.zip (260 Bytes, Downloads: 1006)

Each lucky winner can get a Mi 10 Pro!
Get started and leave your comments to YC!
Looking forward to your enlightening replies!
Rate