Announced on 8th April:
Hei Mi Fans,
We are thrilled to announce the winners of our "Why Redmi Note Series Not to Be Missed" Story contest. Thank you for your time for voting, the Admin have reached a final decision as follows;-
Congratulations to the winners! Please send your real name, complete residential address (including city, state, postcode and country name) along with phone contact and email to
feds64
and
Elaine2046
via PM within 7 days, failing which the prize will be forfeited. Thank you!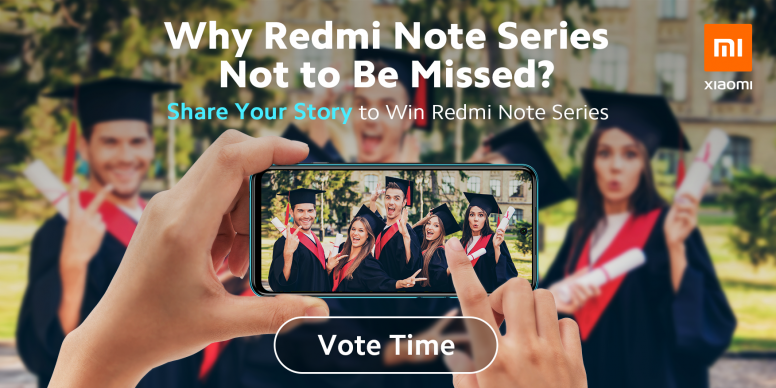 Hi Mi fans,
It's time to Vote the Winners! We would like to say a big thanks to our Mi fans for participating zealously in [#StoryofMiFans] [#PowerToWin] Why Redmi Note Series Not to Be Missed stories. It has been a great pleasure reading your stories and journey, they were all amazing! And now it's time to Vote for the fantastic story!
Browse and cast your Vote for your Favorable Story to assist the undoubted Mi fans to WIN Redmi Note series prizes!
Top 10 shortlisted entries:
Voting timeline:
March 30h - April 4th (Beijing time)
Prizes:
1st Prize: Redmi Note 8 Pro
2nd Prize: Redmi Note 7 Pro
3nd Prize: Redmi Note 7
Voting Terms & Conditions:
By participating in this Vote you agree to be bound by the following terms and conditions:
Voting time is as stipulated.

Eligibility of any vote is at the sole discretion of the Admin.

The Admin reserves the right to disqualify votes if it has reasonable grounds to suspect that fraudulent voting has occurred or if it considers there has been any attempt to rig the voting.

Admin's decision in relation to all matters affecting the Vote and Winners is final based on Admin's choice (60%) + Voting (40%).

The Admin reserves the right to amend these Terms and Conditions without prior notice. Any changes will be posted on the Mi Global Community and such posting shall be adequate notice to all participants.

The winner will be notified via Mi Community PM and must provide their details to claim their prize. If a winner does not respond within 7 days, then the winner's prize will be forfeited and the Admin shall be entitled to select another winner.

The prize is non-exchangeable, non-transferable, and is not redeemable for cash or other prizes.