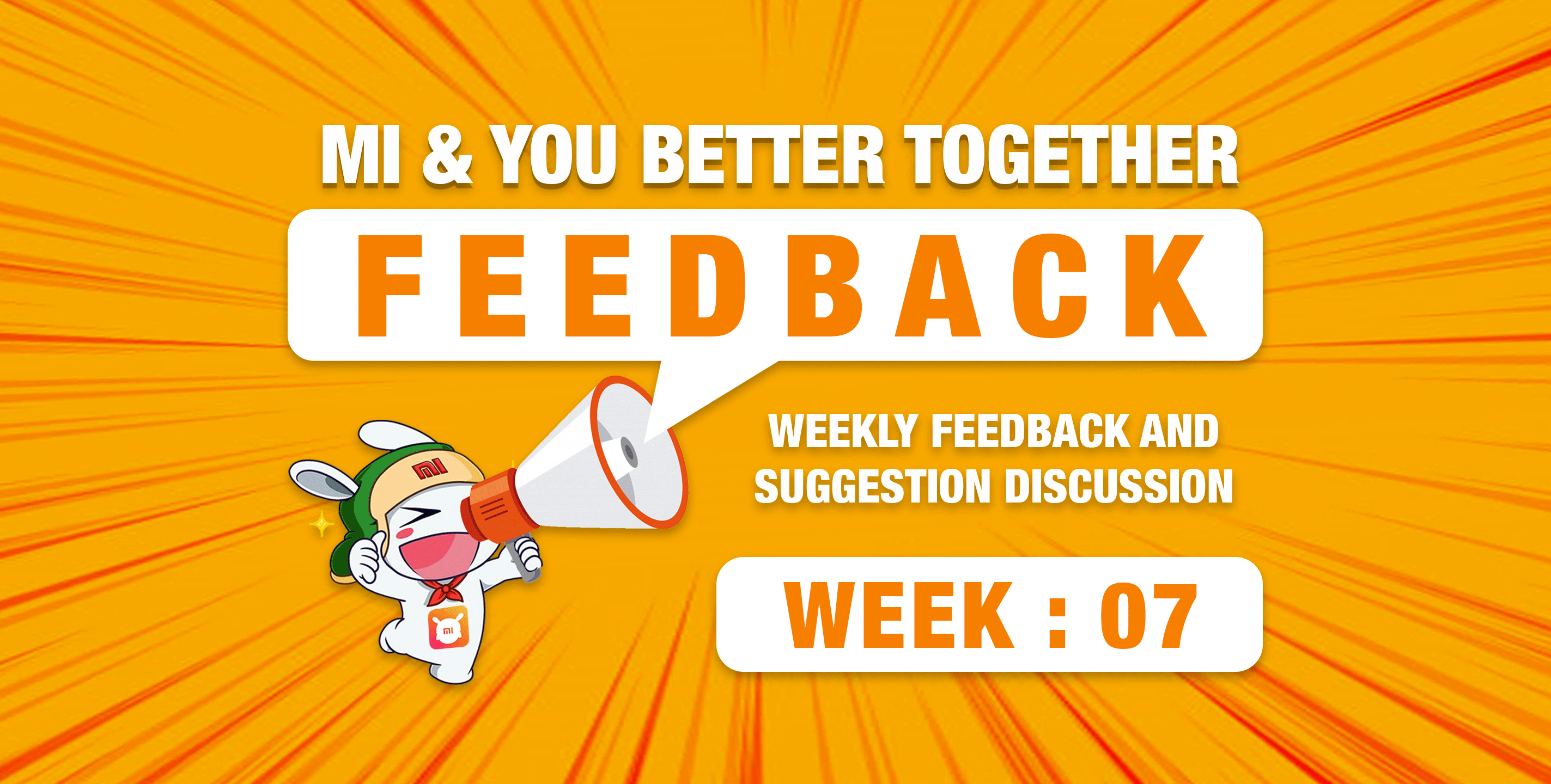 Hello Mi Fans,
Welcome to our brand new series "Weekly Feedback and Suggestion Discussion". When asked about the secret of Xiaomi's success, the answer is largely robust Mi Fan base. Mi fans have shared their excitement, input, and advice from day one and help create a unique Xiaomi culture that spans the globe. We welcome users to participate in our product development and advancement. In fact, Xiaomi users improved the MIUI system and with many users. The best part of Xiaomi is its ability to let fans be part of their family and listen to them. Appreciation for our Mi Fans comes from the very top.

Weekly Report:
This week MIUI users around the globe help us to detect some bug and requested some awesome features which are already reported to developers. This week we had 256+ reports, 90%± general queries answered & solved, 5%± queries lack of details & waiting for users reply and others are feature requests which forwarded to developers successfully. System stability will be improved in the latest beta version, stable rom will release by schedule.
Can't log in GetApps Issue has been fixed in the Server
The display at the bottom has shadows Next OTA will fix this issue
MI A2 Lite After update to V11.0.2.0.QDLMIXM having some issues will be solved with new update.
No ringtones after upgrading V11.0.2.0.QDLMIXM Next OTA will fix this issue
Camera FC/No response when select Pro mode MI A3 V11.0.7.0.QFQMIXM Issue has been fixed
Flash and HDR are not working to V11.0.2.0.QGGEUXM Next OTA will fix this issue
Many Apps Force Close V11.0.7.0.PCPINXM / V11.0.3.0.PCPEUXM / V11.0.3.0.PCPIDXM / V11.0.3.0.PCPRUXM / V11.0.5.0.PCPMIXM / V11.0.4.0.PCQINXM / V11.0.5.0.PCQINXM rollout has been stopped due to this issue next update will be rollout soon.
Echo during calls V11.0.4.0.QDIMIXM / V11.0.5.0.QDIMIXM Fix has been submitted: Disable "hotword input" during the call New OTA has been released, continue to monitor user feedback.
System UI isn't responding Merged fix caused by Null Pointer, Also create case for Qualcomm New OTA has been release, continue to monitor user feedback.

Let us know your Feedbacks & Suggestions
in the "Comment Section" to improve user experience
.
Note: None of your comments will count as a bug report because this is a kind of survey thread. You must submit your report in Feedback Subforum to get a quick solution about your issue under a relevant category.
How to submit a report in Feedback Subforum to get a quick solution about your issue?
Open Mi Community App.
Select the MIUI Icon under the banner slider.
Select Feedbacks Icon from the top menu.
Select the Compose Icon from the top right corner.
Write a meaning full sort title.
Write details about your issue.
Select a relevant category.
Attach screenshots about the issue for better understanding.

Rate